LOUDPVCK Making More Noise Than Ever Before
Even though genre labels are clearly becoming an antiquated convention, it's still impressive to see artists swing from one stylistic extreme to another without coming off as though they have a few screws loose.
Los Angeles–based duo LOUDPVCK—made up of Kenny Beats and Ryan Marks—is emblematic of such off-the-wall artistic fluidity. In the last month alone, they kept trap arms strong on the overtly accessible "More Than I Can Take" and then lunged directly into the freak-flag-waving bit "Traffic." It's a testament to their uninhibited workflow, which has made their output feel like a grab bag of bangers that is impossible to put down.
The rest of the year will see them flexing their dynamic even further, though, with plans for them to roll out a new single each month. Before they go on to pack these fresh weapons into your bass-loving life, we shot them an invite to handle business on the Night Owl Radio decks this week, so tune in tonight. Also, if you're cruising over to their Exchange LA show this weekend, make sure to keep tabs on any of the IDs LOUDPVCK sneak into their set.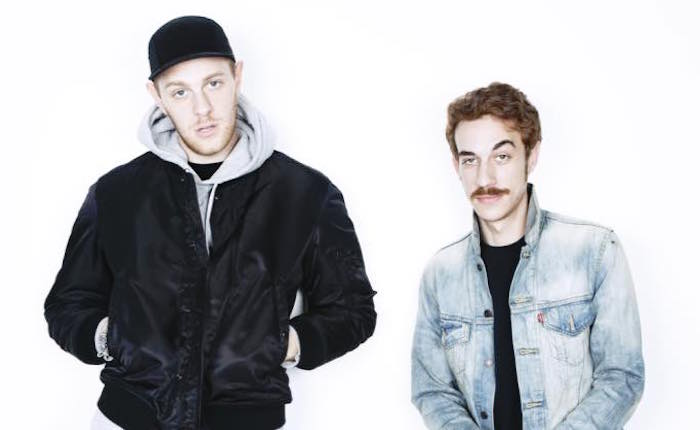 Your new collab with Botnek, "Traffic," is next-level. What do you think it says about where your head is at musically right now?
"Traffic" was made to break speakers. We have put out a lot of super melodic music lately and just wanted to give kids a taste of something more ruthless.
Los Angeles traffic can get ridiculous. What advice do you have for dealing with rush-hour traffic?
Smoke one and listen to a podcast, or call your mom!
Throughout the rest of the year, you're planning on dropping one song per month that cover a wide array of styles. What are some of the more unexpected artists or influences you're currently drawing from?
We hardly listen to any EDM stuff outside of the studio, so our influences are literally everything else. I think last week we worked on a dubstep song, a weird trap anthem thing, and four rap beats. We listen to everything, so we make everything.
Peter Tarka has been tasked to do all of the art for the aforementioned releases. What made you want to go after him, and why is he a good fit for your brand?
We found Peter through some ad work that he did. We felt these releases needed a more polished vibe to accompany the sound of the songs, and his work fit the bill perfectly. Peter's art is similar to our music, in that it's vibrant and aggressive but also extremely precise. Wait till you see the next few he did for us.
You're graduates of Berklee College of Music; what are your families' thoughts on your career paths as DJs/producers? Have they ever given you feedback on any of your work?
Both of our families love the fact that we are doing what we love for a living. Anyone who knows either of us was probably sure we would be doing something in music no matter what—this is just where it took us. Our moms both critique all our stuff, and the reviews are always very positive, lmao.
Your FB post about getting locked out on the balcony of your hotel is hilarious. What other sidesplitting stories do you have from your life on the road?
We have usually one of those a week. Every city we go to, we try and hit at least one local spot or frat party or whatever. After a while, you get caught in a few tricky scenarios, lol. Last week, we ended up on a farm in Michigan, shooting guns and riding ATVs with an entire family we'd just met that day. It was amazing, haha.
This Saturday, you're swinging into Exchange LA with the homies Krane, Vindata and YDG. Whom do you predict will black out first?
We will be blacked out long before Krane and Vindata, but hopefully they will keep the show in check, haha. Realistically, they are two of our favorite acts right now, and we are beyond excited to have them on our hometown lineup. See you guys there.
Follow LOUDPVCK on Facebook | Twitter | SoundCloud
---
Share
---
Tags
---
You might also like