What "Push the Button" Means to Above & Beyond and Their Fans
It's a testament to both EDM's popularity and the transformative power of the music itself that Above & Beyond's "push the button" moment has grown into somewhat of a rite of passage for the group's fans. They come with intricate, hand-painted signs and flags—and make the daunting trek from the back of the crowd to the front of the stage—in hopes of being handpicked to come on stage and drop the beat in front of tens of thousands of their fellow ravers. It's an empowering moment for the fan, but as we found out from A&B's Tony McGuinness and Paavo Siljamäki, it's also an empowering, affirming moment for the artists themselves. We spoke with the two performers about the phenomenon shortly before their set at EDC Las Vegas and then caught up with 21-year-old Jose Campos, a Headliner from Tijuana, who was lucky enough to push the button that night.
Tony & Paavo of Above & Beyond
What inspired you to create the "push the button" moment?
Tony McGuinness: It sort of came about by accident, as most of the things we've ever done, really. We had been playing "Sun & Moon" quite a lot, and obviously we hear it three times a week when we play, but most people only hear it maybe once a year. In order to spice it up a little bit, we put a gap in the middle of [the song] so we could make the drop whenever we wanted it. So we put this cue point, made a long reverb-y end, and for maybe two shows we were pushing the button ourselves. People would wait for it to go, and then we'd go, "Waaaaait" and made a big point of it. There was a guy onstage with a video camera somewhere—I can't remember the show—and I was sort of doing a big, dramatic pause before he started up, so I grabbed his finger and made him do it. Before you know it, people are holding up signs reading, "Please let me push the button." It was one of those things that just birthed itself almost by accident, and now it's become a real big deal. People put a lot of effort into making signs, and they're so excited about the idea of doing it, that I'm starting to feel a little bit guilty because there's so many more people that want to do it than can do it.
Paavo Siljamäki: It's the people as well. We've had people crying, we've had people not knowing what to do, and that's the beauty of it. Everybody is different. The experience every night is different.
"We're up there trying to capture the imagination of the people in the audience, and they—not us—decide whether that process happens or not."
Do you think that element of fan empowerment is something that's getting lost the bigger EDM gets? Are those personal, intimate moments and that up-close connection to DJs getting lost?
TM: I think the fans are the ones with the power. I think we harness it in a judo-like fashion, but if they don't like what we do, we ain't got a job. We're not necessarily in a position of authority. We're up there trying to capture the imagination of the people in the audience, and they—not us—decide whether that process happens or not. A lot of the guys who were big superstar DJs [in the early 2000s] are still around, and I think the reason why is they're doing something that interests people, so the power really is in the hands of the people. I think we're lucky and privileged to be able to be on the stage instead of being in the audience. The whole thing with our show and our mentality has always been: It's about everybody in the audience, not just about us. It's about their experience—singing along, coming up onstage, pushing the button, and interacting with each other. We really try to make that moment with everybody in the room as powerful as it can be, and we play a part in that, but they do too. And if they choose not to, then we have to get a job somewhere else.
How do you go about finding the person who's going to push the button?
TM: If I'm going out to choose somebody, I try and make it as spontaneous as possible. The only time I've really pre-planned it was when a girl had a sign [that said], "Please pick my mum to push the button." I was like, "Absolutely." There was a time at Avila Beach [when] I managed to get four or five people up onstage. We had a fairly coordinated five-hand push, and that was nice. It would be great to get more people if we could.
PS: I still love it when we get someone who doesn't know what it is.
Does that happen?
TM & PS: Yeah.
PS: I just did it in Korea. I was like, "Come, give us your hand, we need you to press play," and she's like, "What do you mean?" And I'm like, "There, that one. Press it." And then she presses it. She's there in the Olympic Stadium with 40,000 people going crazy, not having quite realized what's going to happen. It's just funny seeing the shock.
TM: On the mixer, the illuminated effect button and the button they've got to push are quite close together. Sometimes they push the wrong one. Actually, having a fucking big, red button would be great. We had one the other day at the beach party, and it made the CO2 come down, so you can obviously get those big buttons.
You could probably buy an "Easy" button from Staples and have someone hot-wire it.
TM: Or while they're pushing it, we could surreptitiously push play ourselves with the correct button without holding our finger on it like some people do to make it go "diga diga diga diga."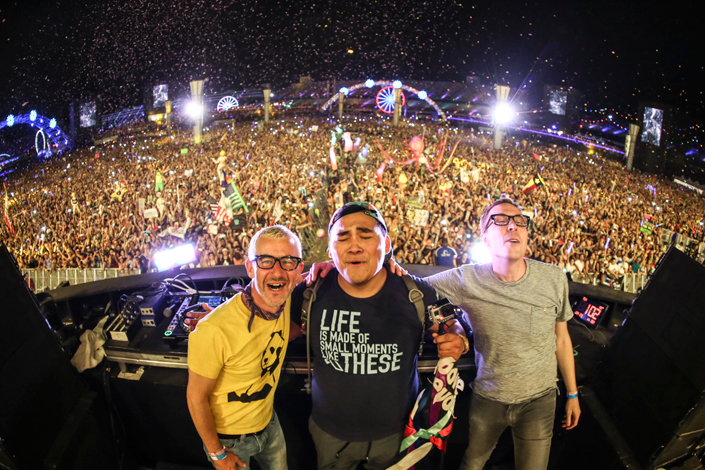 Jose, Headliner
Jose, were you nervous?
Jose Campos: I wasn't really in my body. I just thought it was all a joke. "Really, you gotta be kidding me, this is really happening right now?" I was just singing my lungs out. For the rest of the day, I couldn't speak because I had completely lost my voice. I still can't believe it.
What did the sight look like?
JC: I can't even find the words to describe how it felt being in front of all those people. It could have been anybody, and they happened to choose me.
Are they your favorite group?
JC: Yes, they are!
How many times had you seen them before?
JC: This was my fourth. I saw them at EDC 2012, 2013, and their acoustic show at the Greek Theater.
What happened right after you got offstage?
JC: When I got offstage, I happened to pass right by Axwell and Sebastian Ingrosso, so I freaked out there also. The security guy walked me down, and he asked me, "Where were you in the crowd?" [And I said] "All the way up front," and I thought he was just going to just let me off to the side, and I would have to make my way again to the front, but he just simply told me, "Oh come up front, man. I'll take you back where you were," because I was with my girlfriend and my other friend. He was really nice to take me back where I was.
Did you cry when you got offstage?
JC: When I got back to my [hotel] room later and [watched] the video, that's when I started to cry.
What did the whole experience mean to you?
JC: I don't have the words to say exactly how I felt. I was on top of the world when I was right there in front of everybody. When I came back, all my family was here, and they were just hugging me and saying, "Oh my God, you're going to be a superstar!"
How did they find out?
JC: Through Facebook. My mom gets up early, and she saw the picture [I had posted] and that's when she started freaking out.
---
You might also like