Love Snails' Music? Thank His Mom, He Says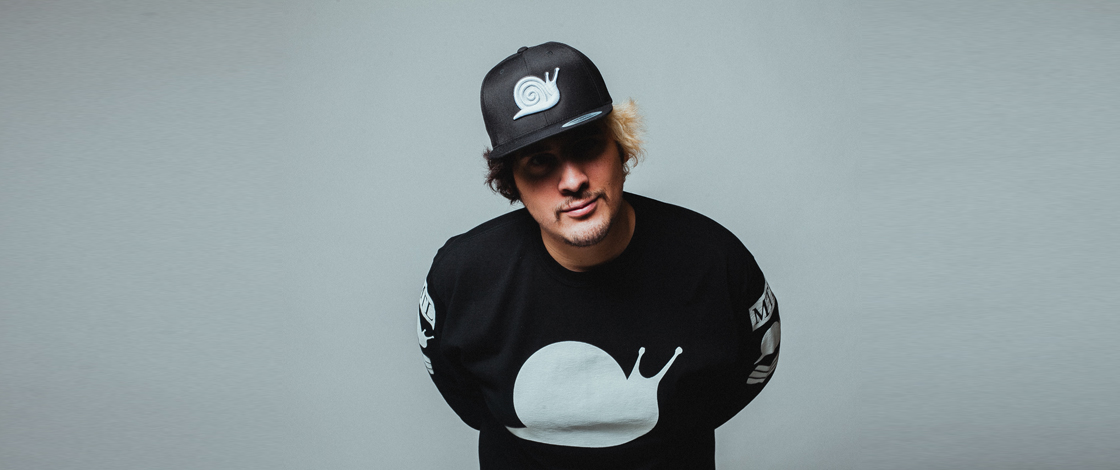 When Snails came onto the dance music scene in 2012 with a signature sound he coined "vomitstep," he didn't know it would hit; he just knew he liked music. But the sound—a kind of squelching, dirty bass subgenre that would make great fodder for a "grandparents react" video—caught fire in the dubstep crowd.
The Canadian producer, known in real life as Frédérik Durand, was on to something.
He'll be the first to say that none of this would be possible if it weren't for his mom. For Durand, that sentiment isn't a passing mention in an award speech or a way to show his softer, behind-the-music side. It's really, just plain and simple, the truth.
Durand grew up in Montreal, the only child of his parents. The family split time between their Canadian home and Acapulco, Mexico, where his dad's family lived. Durand has always been close with his family—for much of the beginning of his life, he was attached at the hip to his cousin, who lived in the same building—but his relationship with his mom is something special, even by those standards.
"She's always supported me, however she can. When I was a kid, I loved to play video games; I loved Zelda on Nintendo 64. She'd sit with me with a dictionary, and we'd look up every word in the game to figure out what it was," he says. "That's how I learned English."
When it came to his pursuit of music, she kept his head level.
"I brought my mom to EDC Vegas last year. When I was young, she used to bring me to her job, so this was me bringing her to mine."
"I was in college doing graphic design when I started DJing," Durand says. "I remember telling my mom that I liked it so much that I was going to quit school. She told me if I quit school, she'd kill me," he laughs.
He tried a few more times to sway her, unsuccessfully; every attempt was met with a demand that he finish his degree.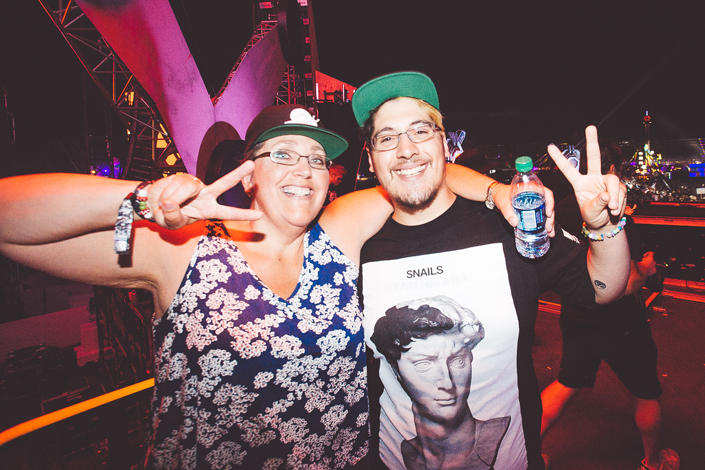 "It ended up being the best thing," he acknowledges. "I finished school and worked as a graphic designer for a while, always DJing on the side."
A few years out of school, he entered his plea again. "I told her, 'Mama, I like music so much. What would you think about me trying to do it?'" At that point, his mom got real with him. With the money he had saved up from doing graphic design, she told him, he had about eight months to make music work. After eight months, he'd run out of cash, and that would be that.
"That's when the countdown started," says Durand. For two months, he closed himself up in his house, refusing to see anyone, and produced. He came out with a handful of tracks that formed the basis of his career.
"Every time she saw what I was doing, she'd say something like, 'Well, if you don't do a show, it won't work,'" Durand says. "Then I did a show. And she said, 'You need more than one show to make a living.' So I got more shows. She was always pushing me, but I was meeting every challenge."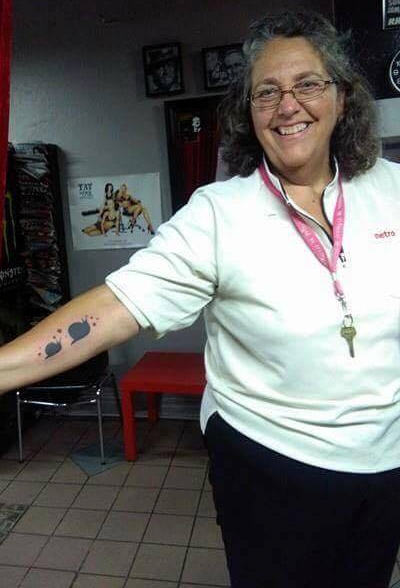 As his bookings started getting bigger and better, his mom realized: This is for real. An accountant by trade, she quit her corporate job to work on the Snails project full-time. Vomitstep isn't exactly her genre of choice, Durand admits—her musical background is more mariachi than murderous sub-bass—but she understands the vibe, and she appreciates his songs.
"She really likes 'Funk With Me,' the track I did with Big Gigantic," he says. "It's more sax and funk."
Though they might not see eye-to-eye sonically, their tastes match up in other ways. "We like to cook together," Durand says. "She has all these Acapulco recipes from my grandmother, and she's been showing me how to make them. Ever since I was a little kid, she's been throwing taco parties for me and my friends. She'll cook up all the stuff and invite everyone over. Now, we bring that same concept to shows. At practically every one, we have a taco party, and it came from that."
In lots of little ways, Durand has tried to show his mom just how far he's come—all thanks to her help, love, and support.
"I brought her to EDC Vegas last year. When I was young, she used to bring me to her job, so this was me bringing her to mine," he says. "She's seen it in pictures, but you have to feel it. The first show she ever saw me play was in Montreal. I opened, and there were like 50 people there. Then she comes to EDC, and there are probably 8,000 people at the Bassrush stage. It's crazy. It was a proud moment for me to show her. She gave me the opportunity to go there; it was all because of her. And there she was, just dancing and being so cute. I was just laughing."
Mama Snails won't make a second appearance at EDC Las Vegas—"'One time is enough,' she said," laughs Durand—but she is hoping to head to EDC Orlando, and Disneyworld, soon. "For me and all my family and everybody in Canada, Disney is the biggest thing ever," says Durand. "Every time I go to Orlando, it's like a life achievement. So, Disneyworld is going to be the next big trip my mom and I make for ourselves."
Even when the two aren't together, they carry reminders of each other right there on their skin, in the form of twin snail tattoos.
"Last year, I went to get a new tattoo, and she came with me. She never told me that she was going to get one, too. When she showed it to me, I got super emotional," says Durand. "She has two snails. One is bigger than the other, with a star around it. The name my family in Acapulco gave her is 'Estrella,' which means 'star' in Spanish, so she's the one with the star helping me, the smaller one. It's a permanent reminder of how much she's supporting me."
"For me, Snails is me and her," says Durand. "I would never call it a solo project. I give her pretty much all the credit for where we are today. I'm super happy about it, and I'm still super thankful."
You can catch Snails doing his thing at Nocturnal Wonderland 2017, which takes place Friday, September 15, and Saturday, September 16, at Glen Helen Regional Park in San Bernardino, CA. For more information, visit the official website.
Follow Snails on Facebook | Twitter | Instagram
---
Share
---
Tags
---
You might also like