Life's a Beach With Aly & Fila
The sun pierces through the horizon, leaving purple and orange streaks in an otherwise somber, grey and blue sky. Leading up to it is a boundless ocean with a single, substantial rock on the sandy beach. Next to the rock is an empty bottle, its contents unknown.
Seeing this brooding, beautiful scenery means you have reached The Other Shore, the third studio album from trance producers Aly & Fila. Throughout their career, the Egyptian duo have never wavered from the genre that first ignited their musical passion. They've gone from listening to imports of Paul van Dyk's records in their rooms in Egypt to becoming colleagues with him. Here, they talk about organizing the world's biggest free trance event of 2014 (FSOE 350), reminiscing about discovering music in the pre-digital age, and the approach on their latest album.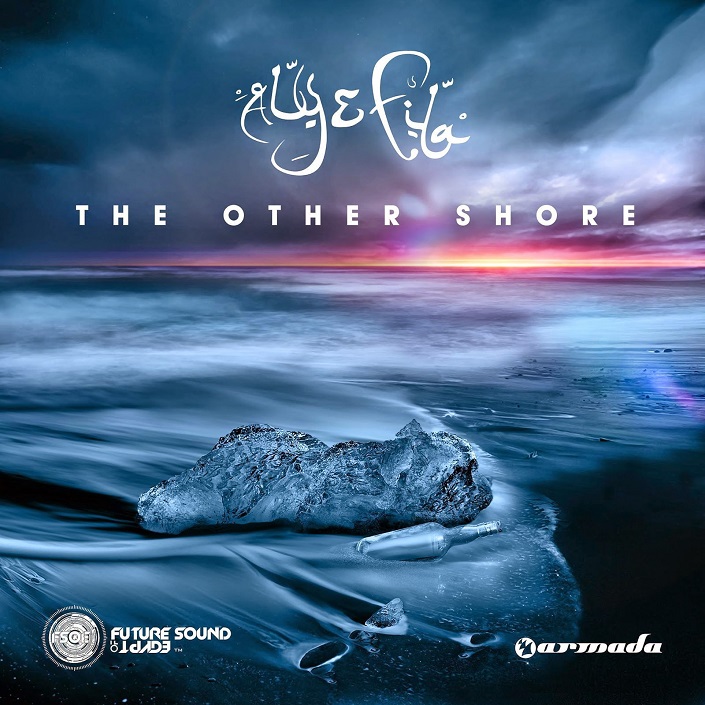 The first and last tracks on The Other Shore ("In My Mind" and "Shine") are more stripped down and instrumental compared to the other songs on the album. Why did you choose to bookend the album with these two songs specifically?
We wanted to showcase some downtempo tracks, and we think they add to the variety on the album. The vocals on both are also really great, and we are very happy with the outcome of the tracks.
Which track on The Other Shore was the most challenging to produce, and why?
Possibly "Altitude Compensation." It was challenging creating such a long track that is different to what we are used to releasing without losing the uplifting, melodic elements.
What has been your favorite fan reaction to The Other Shore, and how did it make you feel?
A girl from Argentina messaged our management and told us the album helped her cope with life's daily demands. She thanked us so much for bringing our music to her life, and it was a very nice message to receive. We are glad that our music not only helps people when they're on dancefloors, but also in everyday life. It really inspires us to work hard.
FSOE 350 was the world's biggest free trance festival. From organizing the show to playing your set, how did everything come together?
We hosted FSOE 300 in Holland as a free event, and for FSOE 350 we wanted to again be able to host a free event in Europe. We approached the promoters of Electrocity in Poland from Soundtrade with our idea, and it came together really well. The promoters and the DJs, and of course the clubbers, helped to make it one of the most special moments of the year for us. FSOE 350 in Lubiaz, Poland, was the world's biggest free trance event of 2014, and we are very proud to say that—so thank you to you all. See you at FSOE 400!
You both like to work separately and then come together to produce a finished track. Was that the same approach used on The Other Shore?
We have always had our own way of working—first separately, then together in the studio. We feel it works really well because we both have our own roles in the process. Why break something when you don't think it needs fixing?
Let's talk about the album artwork for The Other Shore. How did it come about, what does it depict, and how did you decide on this particular design?
We think it is not the obvious shore, with the beach and the sea. We feel that this design is different—it's The Other Shore. We really love the uniqueness of the design with the colors, the bottle and the rock.
Unlike many producers, you two haven't moved out to cities with bigger dance music scenes, such as L.A. or Miami. Why have you chosen to stay in Cairo?
Home is home.
You found out about dance music through CDs that people would bring back from Europe to Egypt. Do you think some of that sense of discovery and excitement is lost in the internet age?
Yes, 100%. We would bring back tapes of Paul van Dyk from Germany in the mid 1990s, and sitting in our room and listening to them was an amazing feeling. We remember when you would go to buy records and the rush and excitement of flicking through them and finding an absolute gem. Then, you would go home with a huge smile on your face and not even say hi to anyone as you ran to your room to play your new finds. Those were amazing days. Now, you have to move with the times. The world is evolving, and technology is evolving. Who would have thought that in 2014 we would be using a small USB with our music on it. Even so, we would love to play a vinyl set (it's in the cards).
Paul van Dyk was a huge influence who inspired both of you to start producing. At what moment did you know you had crossed over from being fans to being colleagues and friends in your own right?
Paul was a huge inspiration to us, and "For an Angel" is our favorite trance track of all time. In the last two years, we have become closer friends and colleagues, and we always look forward to spending time with Paul when we see him and his crew.
Aside from music, what else brings you the same positive energy and solid vibes that you aim to bring your fans?
Our family and friends.
Follow Aly & Fila on Facebook I Twitter
---
Share
---
Tags
---
You might also like