Aly & Fila Tour Diary: Part 2
At Café Gelato in the Bellagio Hotel, we met up with Fadi of Aly & Fila after his EDC Las Vegas set. He closed out circuitGROUNDS during the last sunrise of the show, and he was clearly reeling from the excitement of it all—either that, or from his rigorous touring schedule, which had him playing four shows in four different cities in a row. He spent Thursday to Sunday traveling from Ibiza to Toronto to Chicago to Las Vegas. Sound exhausting? You bet.
"Sometimes I wake up in the room and wonder, 'Where am I?'" Fadi says. "I'm not joking; it takes me 20, 30 seconds to remember. It happens two times a year, at least."
If you haven't already, check out part one of Aly & Fila's tour diary, and then jump into part two below.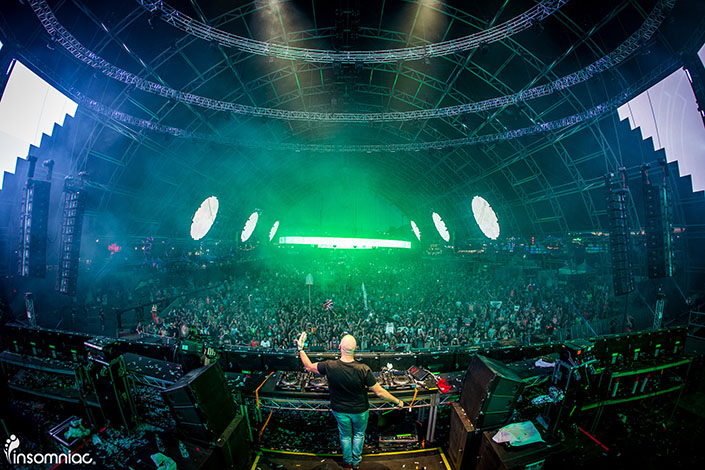 I played the closing sunrise set at circuitGROUNDS (the same set I did last time I played EDC Las Vegas, in 2012), and this time it was even more amazing. It was great vibes, a great atmosphere, proper fans and a really strong crowd. The size of the crowd made a strong statement, and I was so happy to see that trance is growing in the US. My favorite moment at that set was playing our track "We Control the Sunlight" as the sun was coming up; everybody was loving it.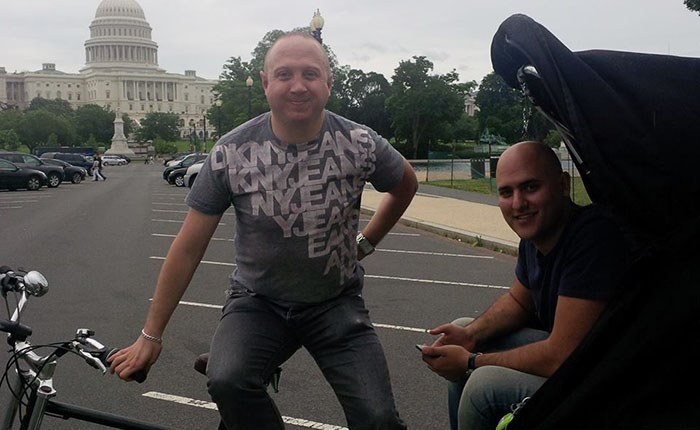 This is me and Stuart (our general and tour manager), in Washington, D.C. It actually started raining right after we took this picture. We've been to the city many times but never done the tourist stuff, so this time we decided to do it properly by renting bikes and going on a tour. I have to say, Washington, D.C. is one of my favorite cities. It's such a clean place—so nice and beautiful—and it has a lot of history.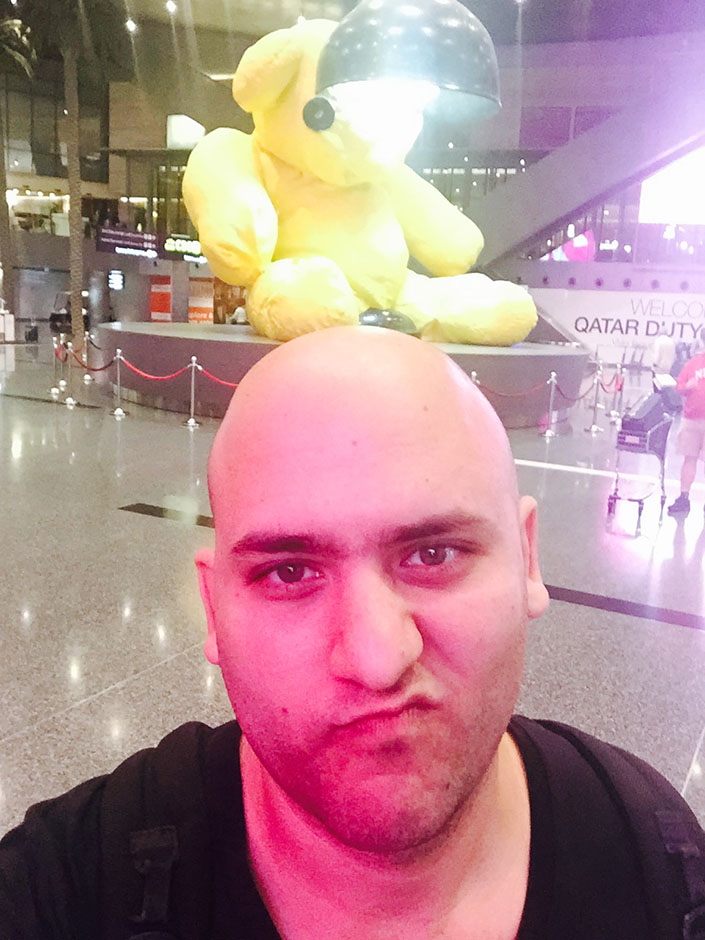 This was at the Doha airport in Qatar during a 10-hour layover. Normally, if you have more than an eight-hour layover, the airline gives you a visa and hotel for the night—but not this time. I was so disappointed and mad. I actually tweeted this picture to Qatar Airways and said to them, "Now I have to spend 10 hours with your stupid bear." They responded with a useless comment saying they would check my case, but they never did. To be honest, Qatar Airways is an amazing airline once you're on board. For ground stuff, it's the worst.
Insomniac: Do you have a favorite airline?
Lufthansa. Their service is very good. They treat their platinum members really well. Whatever you need, they will do it.
Insomniac: Do you have a least favorite airline?
Air France; I had the worst time on it. I traveled on it one time, and for a DJ to travel on an airline one time says a lot. I always try to avoid it.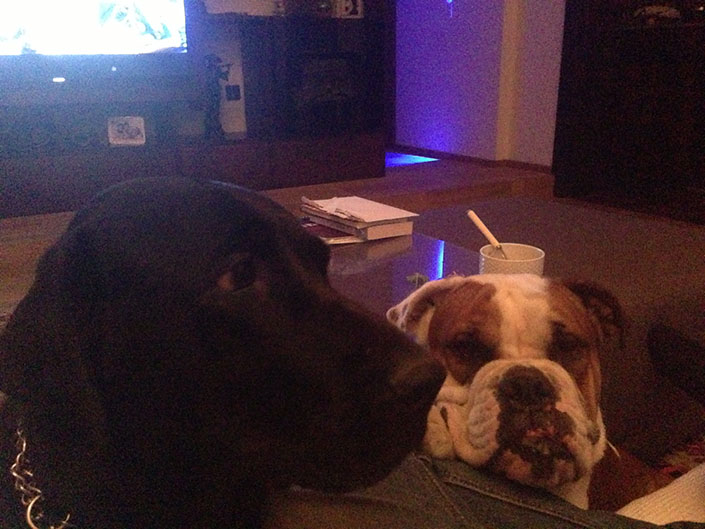 These are my dogs: Joey (on the left) and Toros (on the right). Joey is a female labrador and Toros is a male English bulldog. Since Naguib (my son) was born, I've been neglecting them a bit, but they're both amazing dogs. When Naguib is sleeping, Joey is always in front of the door to his room and only allows me and my wife Sandra in. If anyone else tries to come in, she won't allow it. She's a really friendly dog, but with our kid, she's very protective.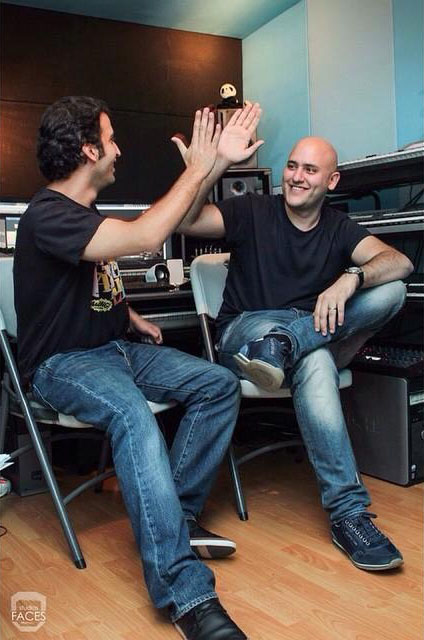 This is Aly and me in his studio. When we've completed a solid track, this is what we do. He's my best friend; we were in the same kindergarten class and have the same friends. Now when I'm in Egypt, I go to the studio, finish work and run back home to spend time with my family, so I don't have as much time to spend with Aly like we used to, going out and having fun. It's really tough these days.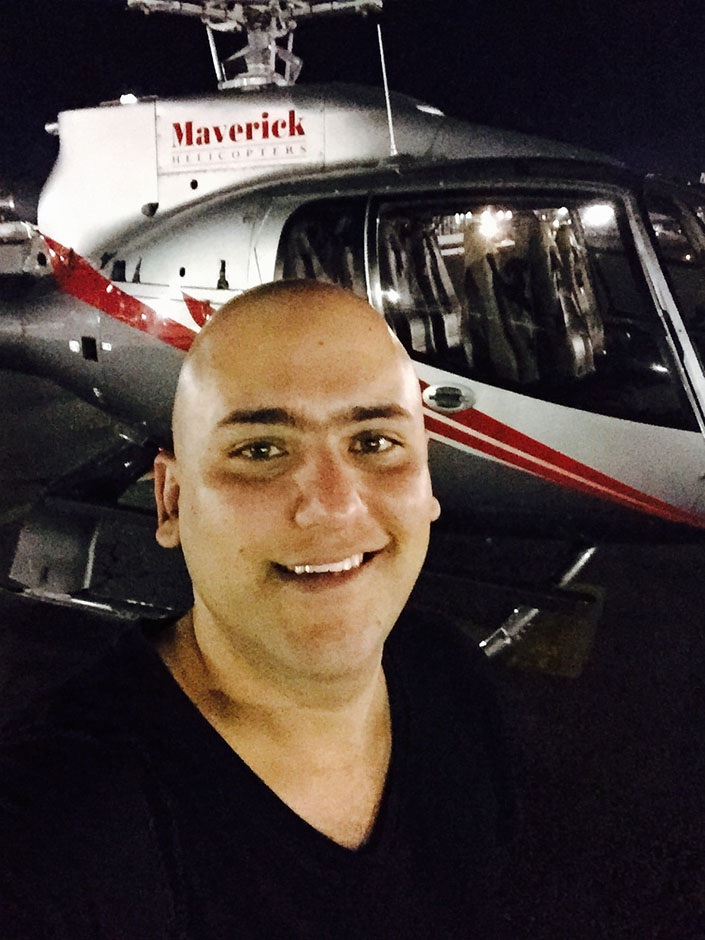 This is on the way to EDC Vegas. It was actually my first time going via helicopter to the site. It's nothing like being on a regular plane, however; it's so different. When it gets bumpy, which happens over the strip, it's a bit scary, actually. At one point, I was thinking I shouldn't have taken the helicopter, but it was cool.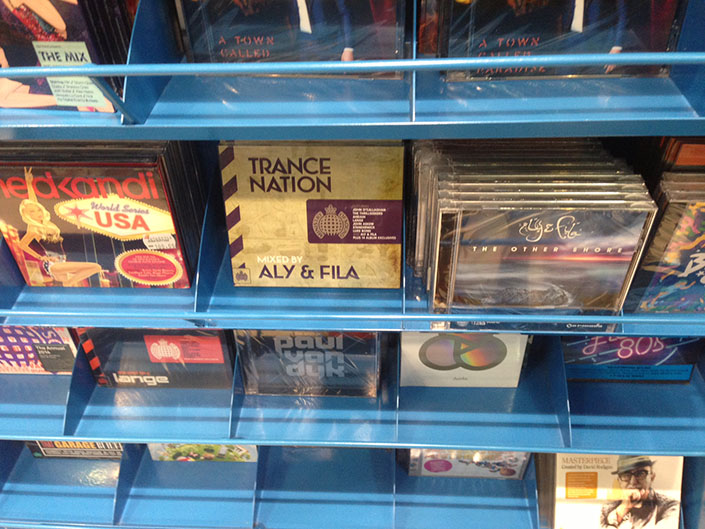 This was in the Dubai airport. It's always fun to go inside a record store and find your own CDs; it feels good.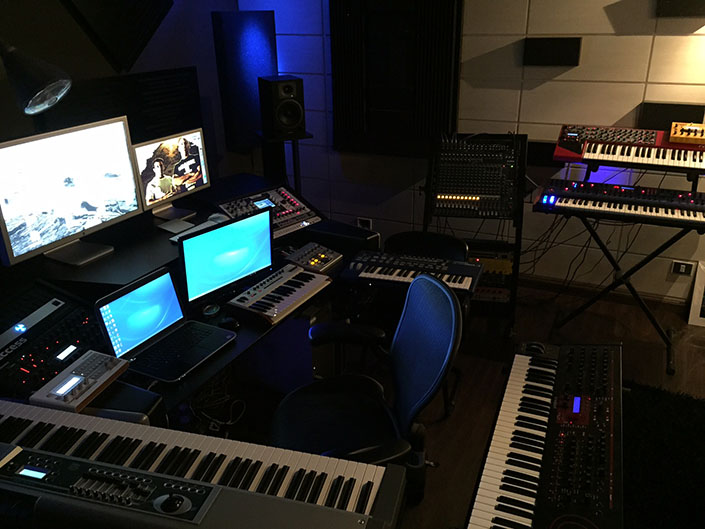 This is my studio and office, my workplace. I'll spend two days here, then go one day to Aly's studio. I don't like to have my studio in my home; I like to separate it. I'm more productive, and when I'm home and see my son, I won't work. I want to play with him, so it's better to separate work from family and home, 100 percent.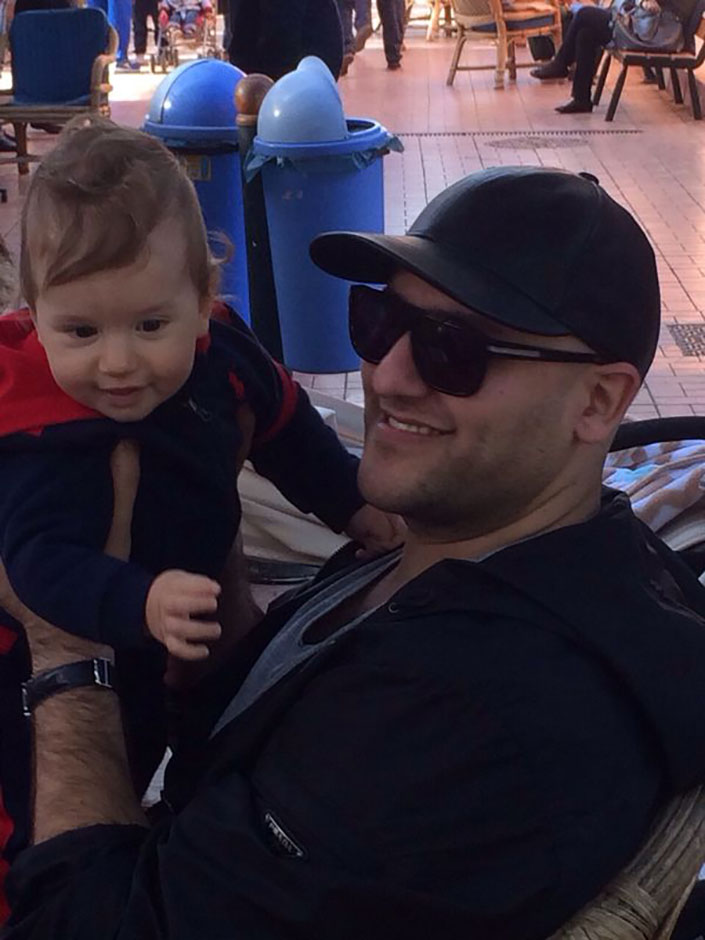 This is Naguib and me. Most days, Sandra, Naguib and I will go to a social club in the mornings, where I play tennis, have breakfast and hang out with friends before going into the studio. In a typical month, I'm at home 40 percent of the time and away 60 percent. It's very hard, especially when you have kids. Look at that; how can I stay away from him?
This is Stuart showing off our new merchandise in the train in the UK. Any normal manager won't also tour manage to save money or for other reasons, but not Stuart. We've known each other for over 10 years, and I've been lucky to be working with him since I started.
Stuart: I joined Twenty4Seven Management in London, and they gave me the choice of which DJs to sign; the first act I signed was Aly & Fila back in 2006. We've grown the brand together, been away together, and done everything together. We're best friends, so it doesn't just feel like work, work, work. We enjoy each other's company, and it's good for Fadi so he's not always alone when he's touring.
Fadi: Yeah, it gets really boring when you're alone, and he really helps me. Sometimes I go to sleep and I fear I won't wake up in time for the show, and he will wake me up. I'm quite lucky to have a manager like him.
Stuart: Even when I'm at home and he's away, I'll always call to make sure he makes the show.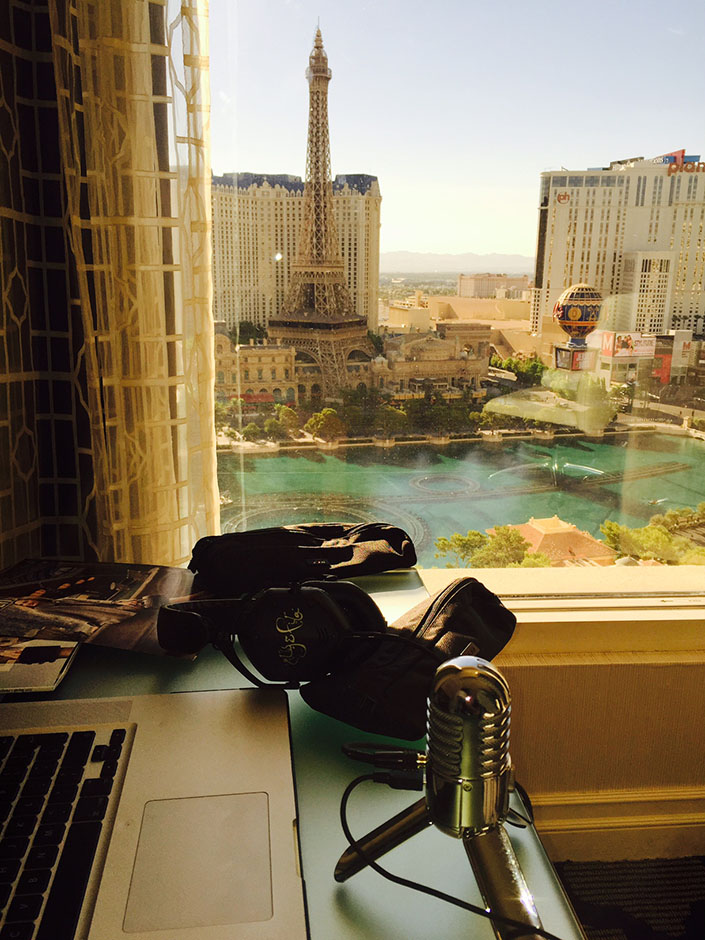 After four days of nonstop touring I had to come straight back to my hotel room after my EDC Las Vegas set to do the radio show. I only had three hours to finish it before it aired, so I came back, opened up the curtains, set everything up and started recording.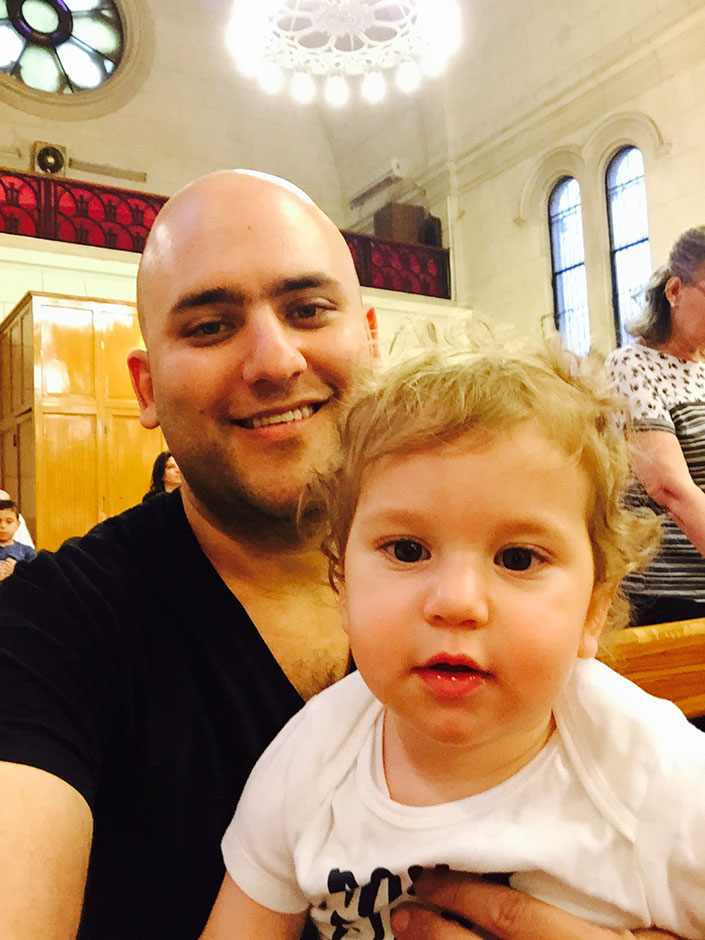 You can really see how much I love Naguib here. Sometimes when I have Sunday off, I take him to our church in Cairo. I love being there; it's a very peaceful place, and I always feel good there. Naguib also likes going. He didn't cry at all there; he was enjoying it.
Follow Aly & Fila on Facebook I Twitter I SoundCloud
---
Share
---
Tags
---
You might also like