Aly & Fila Tour Diary: Part One
Egypt, Germany, Vietnam, Argentina, Singapore, Cyprus, the US: These are just a few of the countries Fadi of Aly & Fila visited on tour this year. Now back home in Cairo with his wife and baby, he took a break from the studio to share his 2015 tour diary with us. For a look into the life of an internationally touring DJ, check out Fadi's photos below.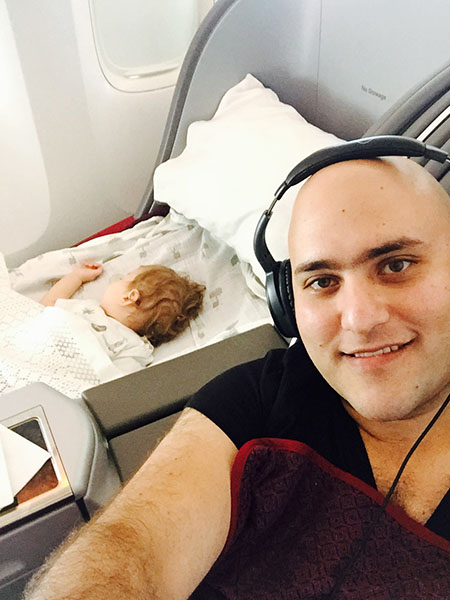 This is my son Naguib; he's a year and a half old. If I have a long tour going on, like if I'm in America for a month, I'll take him and my wife with me. To be honest, since I've had him, the worst part of my job has been being away from him.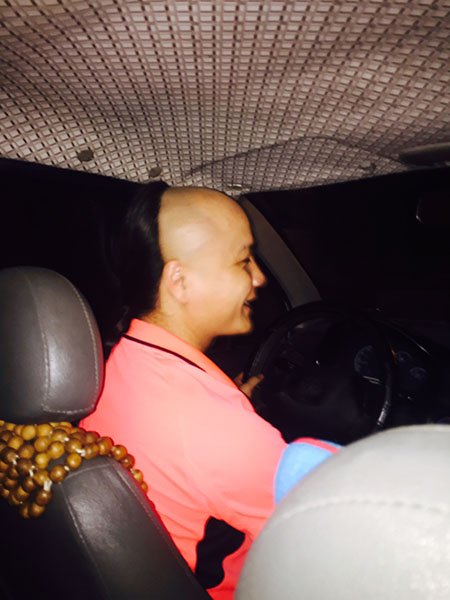 This is the weirdest, most ridiculous haircut I've ever seen in my life! The driver was taking us back to the hotel after our show. After I saw his haircut, I was like, "I have to take a picture of that." He didn't even mind; he started laughing as I was taking the photo. He also took a picture with me once we arrived at the hotel. Not a lot of international DJs go to Vietnam, so it was a big thing for him.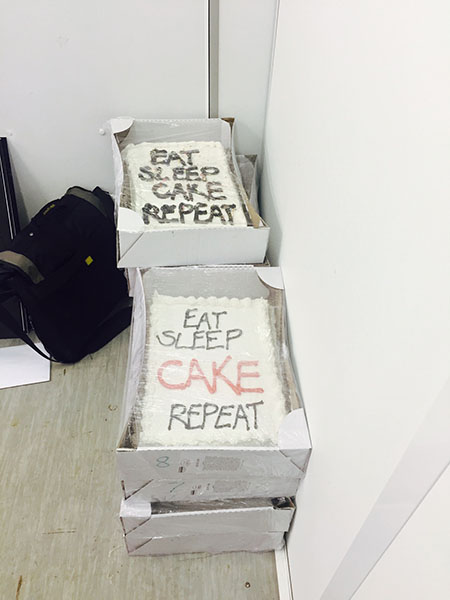 This was taken backstage at a Steve Aoki show last week in Glasgow, Scotland. All the cakes were ready for him to throw at the people, which I find ridiculous. Aly & Fila would never do something like that. If you counted all the cakes Steve Aoki has thrown on people in his career, you could feed all the poor people in Africa.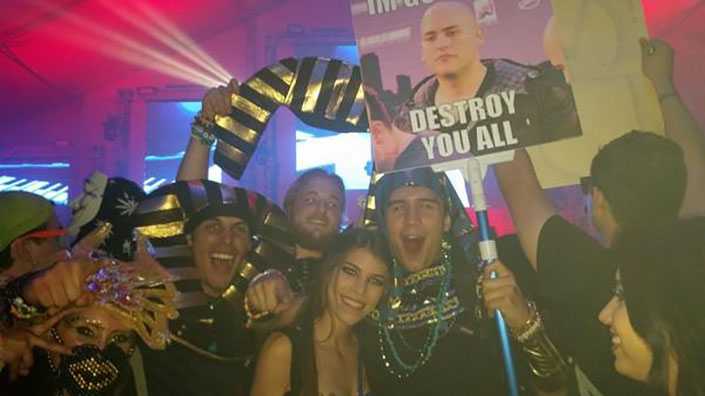 Our fans like to show their support by wearing Egyptian pharaoh costumes. Some of our merchandise has an Egyptian theme, which people are really excited about. It gives a different flavor to our brand and separates us. It's something special.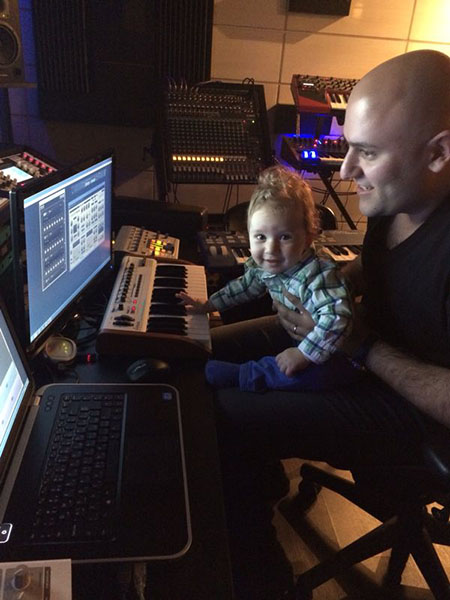 When my wife was pregnant with Naguib, we used to put on a lot of trance music for him. When he was born, we continued playing music for him. He always reacts, especially to dance music, and when he's in the studio with me he's over the moon. He's all over the keyboard and having such a great time.
To me, it's very important that he learn an instrument. I think those that do music are special, in a way. People that are into any kind of art open their mind, which is why I want him to be an artistic person.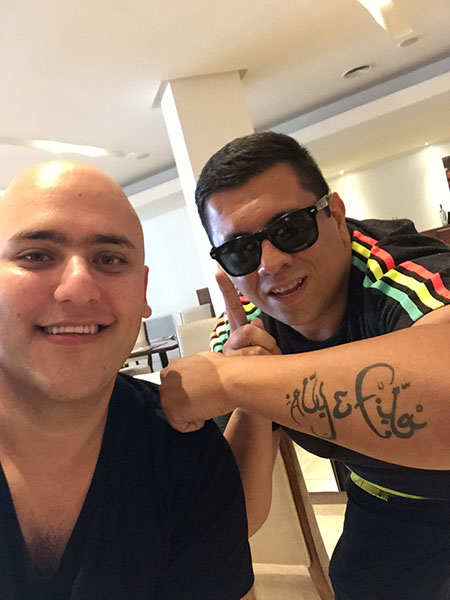 I was having breakfast at the hotel after a gig in Argentina, and a bunch of people came over, and we started taking pictures (I don't know how he knew I was there). There are a lot of Aly & Fila fans with tattoos. It's a big honor seeing how much dedication they have.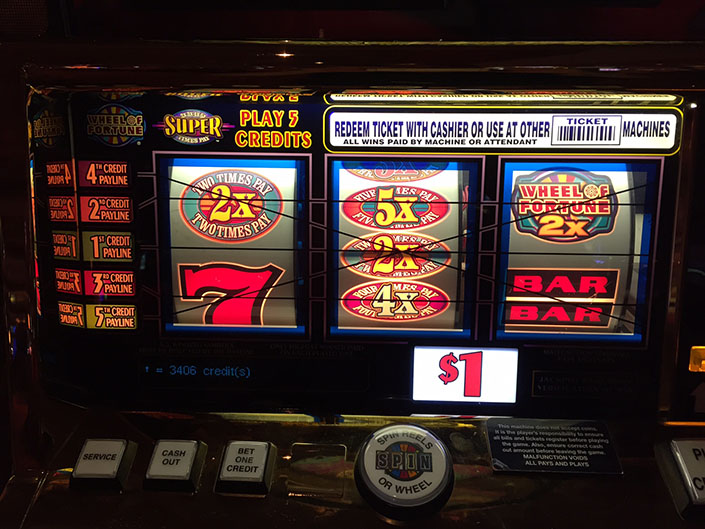 I played slots in Vegas and also on a cruise in Miami. I have to say, I'm a pretty lucky person; both times, I got a mini jackpot.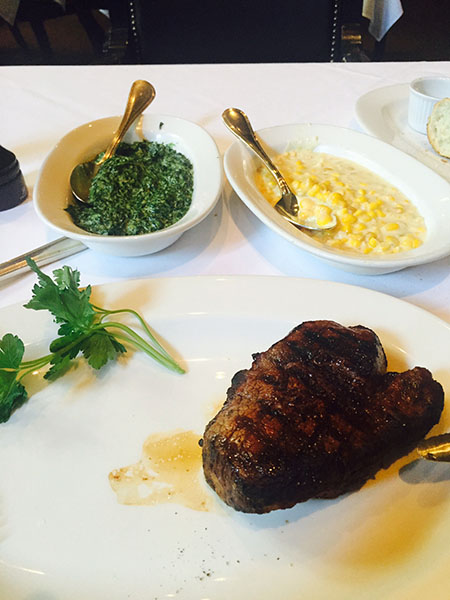 I always like to check for the best steakhouses when I travel. One of my favorites is Rockpool in Australia. You can find it in Sydney, Melbourne, and Perth—but only in Australia. It's the best steakhouse I've ever been to.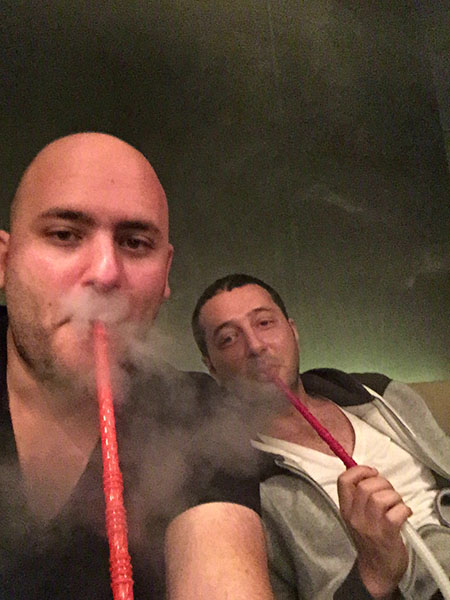 This is our social media manager and me during one of our meetings in Cairo. Smoking hookah is one of our traditions.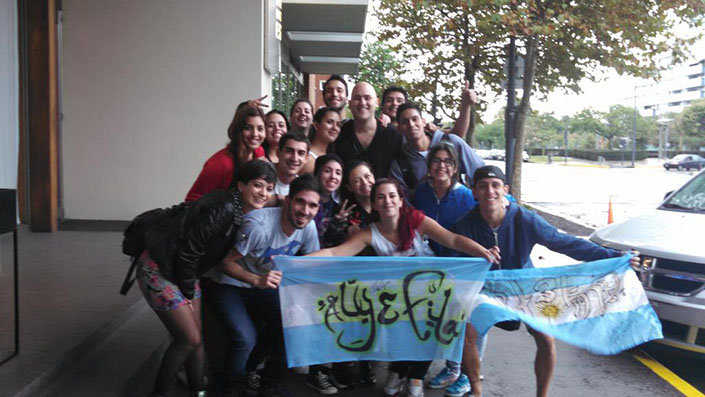 This was in Argentina. Starting from Mexico, going through Central America down to Argentina, that region has our craziest fans.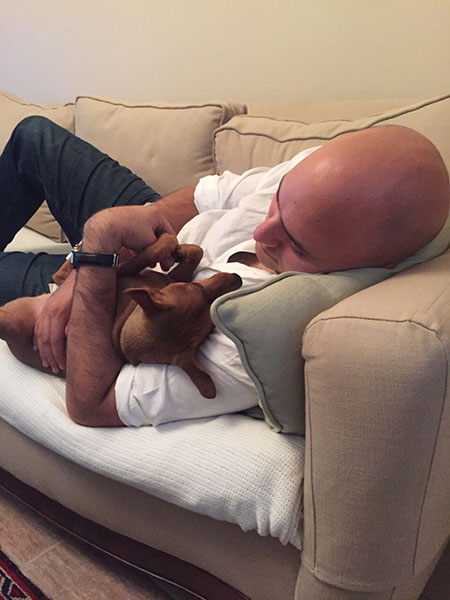 I have two dogs, but this one, Yupi, actually belongs to my sister-in-law. Since she lives abroad, she'll stay with us when she visits Cairo.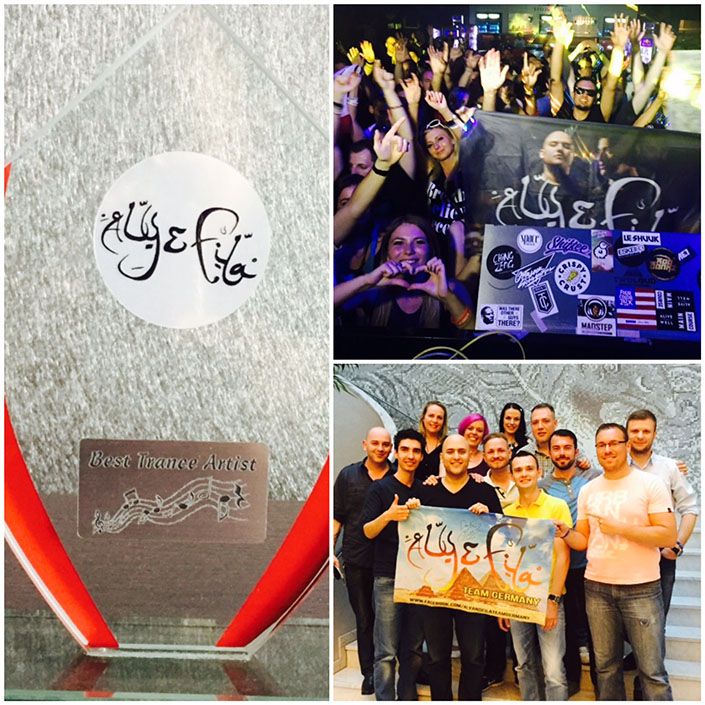 This was in Germany last week. I was doing a special gig for a trance family. They aren't promoters; they are a group of people who love trance music, and they've formed this family in Germany. They were throwing an anniversary event and doing everything by themselves. I was very happy to do the gig for them and get the award from them for Best Trance Artist.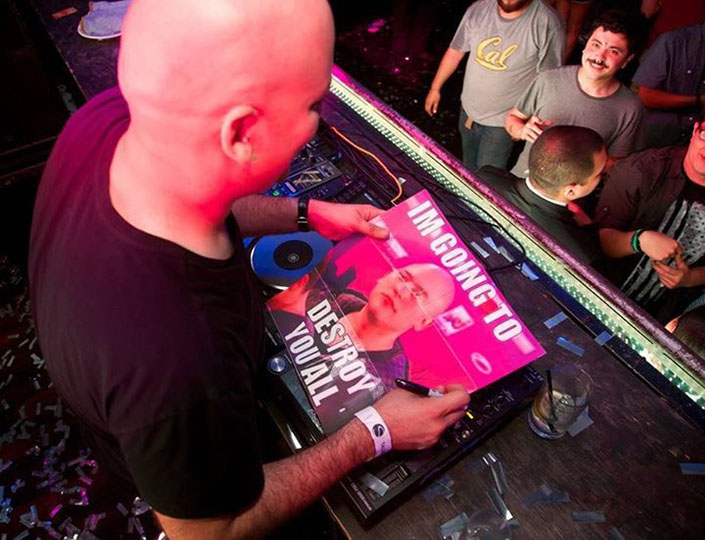 This picture of me was taken through a live broadcast of one of our shows, and it spread all over the world. People printed out the meme and brought it to the show; it was really funny. Our fans are always trying to surprise us, and it's refreshing for us as artists. With a hectic tour schedule, seeing these kinds of things puts a smile on my face.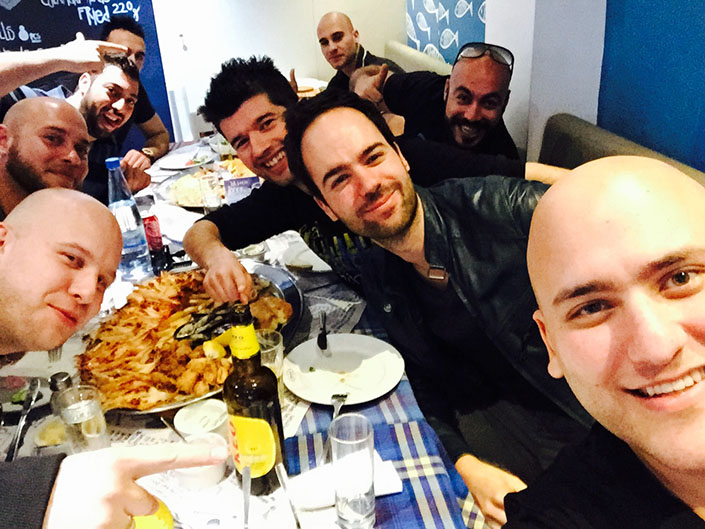 Mark Sixma, Alexander Popov, the show promoter and some friends got a proper seafood meal before a show in Cyprus. It's one of the best places for seafood.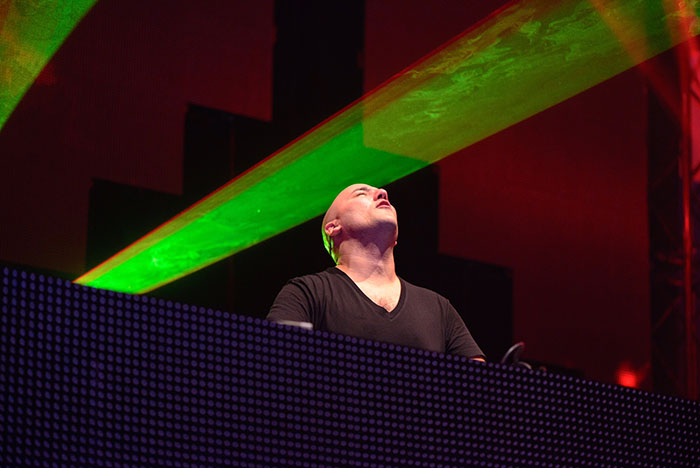 I actually don't remember what show this was at, because it could be any show. People tell me when they watch me perform, they always feel the music so much because of how much I enjoy it. If I don't enjoy the music that I'm playing or don't get into it, how can I expect the crowd to be into it? You have to really enjoy it so you can deliver to the people in front of you.
Aly & Fila's The Other Shore (Remixes) EP is out now on Armada. 
Follow Aly & Fila on Facebook I Twitter I SoundCloud
---
Share
---
Tags
---
You might also like