If You Like RL Grime, You'll Love…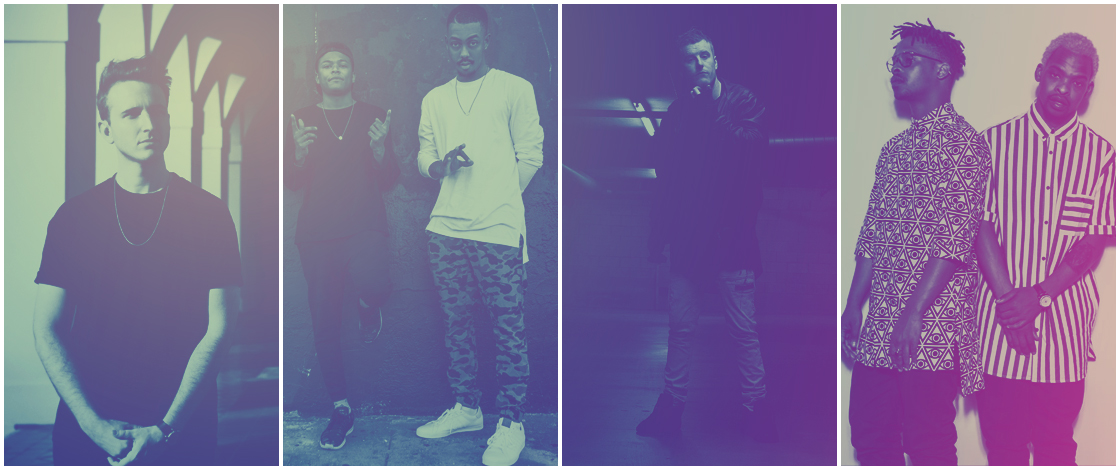 Upcoming Event
Hey, what's up, hello. It's a trap theme, so you better get low. When you hear them sirens, run and hit the dancefloor. Road-trip to EDC Las Vegas, bangin' out the window. In love with the bass, you know we gonna give you more.
EDC Las Vegas 2016 is embracing the bass like never before. We've enlisted a whole army of fresh faces to rain a dark and stormy deluge of awesome all over the festival. Whether you like it big and bright, weird and wonky, or hard and hyphy, there's a devilish blend of hip-hop swagger and electronic artistry perfect for you and your trap beau. Squad up, fam. It's about to get lit AF.
RL Grime
RL Grime is one of the big mac daddies of the trap scene. He busted out big with "Trap on Acid," an uptempo play on Afrojack's 2010 anthem "Pacha on Acid." It heralded RL Grime, at the time better known as electro artist Clockwork, as one of the newest names at the ever-developing crossroads of hip-hop and EDM. He's gone on to produce for Big Sean, Pitbull, and Tory Lanez and has remixed many more. He makes the creepiest time of year much grimier with his annual Halloween mixes, and he's going to rip your effing face off at this year's Las Vegas mega-gathering. If you love trap music, you already love RL Grime, but make sure you check out the rest of the artists on our list, too.
Joyryde
From: England
Releases on: Hits Hard
Why we like him: "The highway to success is paved with bass," claims Joyryde's artist bio, and in his case, it's definitely true. The British bloke has a decidedly American angle to his music. It's chock-full of Stateside rap and R&B samples, but it's the touch of UK garage funk that makes Joyryde's sound so addictively original. He uses dynamics to bring his tracks to life. He's not afraid to slow it down or speed it up, to get a little loud, to get a little soulful, or to just get totally weird. He's making a big debut at EDC Las Vegas, where he's performing his first show ever, which is no small feat for a rising producer of any style. Ride out with him into the sounds of the future, and make sure you #swurve on them haters.
Listen to this: Kudos to Joyryde for turning the mind-blowing ending of psy-horror flick Se7en into a damn good trap house banger. This track slams. It's full of crazy noises, gunshots, DMX growls, classic rap samples, and of course, lots of tweaked-out, angry Brad Pitt voice samplings. What's in the box, trap-heads?
Follow Joyryde on Facebook | Twitter
Stööki Sound
From: London
Releases on: All Trap Music, Hot Damn, Mad Decent and more
Why we like them: If Joyryde is what happens when you mash UK garage on top of trap, Stööki Sound is bringing the nasty style of UK grime and original-era dubstep to the hip-hop-tinged subgenre. The two friends are dedicated to pushing the popular sound beyond audience expectations, and listeners are better off for it. The success of its #StookiMovement landed the duo an opening slot on Keys N Krates' tour earlier this year. It also snagged them a spot at upside-downHOUSE, hosted by Insomniac Records, Friday at EDC Las Vegas. The Stööki dudes stay true to themselves, and after you've been inducted into their live experience, you'll see why being yourself is the only way to be.
Listen to this: London grammar, wonked-out swagger, and booming low register make this track a standout. Sometimes, it's about the noise that isn't there, rather than the sound that is. Stööki shows how minimalism can be the grittiest of all.
Follow Stööki Sound on Facebook | Twitter
Two Fresh
From: Nashville to Los Angeles
Releases on: Firepower, Ultra Music, Smog Records and more
Why we like them: In the spheres of music and fashion, the '90s are still trending hard, and Los Angeles implants Two Fresh know how to work soulful samples from their childhood into emotional reworks that are raw, exciting and wholly original. They won't make your ears bleed; they just want to lay you down and show you a groovy time. This is space-age love-makin' music with a nostalgic throwback feel. This is introspective walks alone, good for the soul, with beat-heavy heat. It's a sound so sweet the Insomniac Records crew had to slap it on the EDC Las Vegas 2016 compilation. Don't miss the pair tearing it up at upside-downHOUSE, where they'll join a few fellow Insomniac Records artists featured on the album.
Listen to this: Are you ready? Because Two Fresh finna take your sinful ass to church. No judgments—just good-old, slow-cooked Southern soulful charm. This ish is finger-lickin' good. Hungry for seconds?
Follow Two Fresh on Facebook | Twitter
EDC Las Vegas 2016 takes place June 17–19 at Las Vegas Motor Speedway. For more information, visit the official website.
Follow EDC Las Vegas on Facebook | Twitter | Instagram
---
Share
---
Tags
---
You might also like