How to Talk to Your Kids About Breakcore
A couple months back, the popular Boiler Room video series got shaken up with an appearance by a Berlin-based artist from Australia called Anklepants. Wearing a ridiculous pink and green court jester costume and a mask that looked like a scrotum with eyes (complete with a schlong for a nose), he proceeded to throw down 42 minutes of some of the most bizarre music Boiler Room has ever showcased.
For weeks after the set debuted on Boiler Room's YouTube channel, the EDM blogs were abuzz. What was this stuff?
One popular answer to that question was "breakcore," but that just spawned another question: What the hell is breakcore? Google the term and you'll get 10 different answers, plus links to a dozen or more artists who sound nothing like each other. Clearly, as genres go, breakcore casts a pretty wide net. It also tends to get really, really weird.
Breakcore traces its origins back to the mid-'90s, when a handful of DJs, mostly in Europe and Australia, began experimenting with existing styles of dance music like jungle, drum & bass, ragga, breakbeat and digital hardcore—speeding them up, slowing them down, and above all, taking the drum patterns that tended to rigidly define these other genres (especially the classic "Amen" break) and reprogramming them into choppier, more distorted forms.
Many of breakcore's earliest producers had their roots in punk, metal and industrial music, and their love of noise and aggression carried over into early breakcore and got baked into the genre's DNA. Labels like London's Ambush, headed by breakcore pioneer DJ Scud, and Australia's Bloody Fist, which featured super-aggro acts like Nasenbluten, threw their earliest parties in grimy, abandoned warehouses and squats occupied by homeless crust punks. It was music for outsiders, and in those early days, it tended to position itself in direct opposition to the house, trance and big beat of more mainstream dance music.
By the early 2000s, breakcore was becoming more popular, picking up elements of glitch, IDM and even early dubstep as it evolved. But it had become, in the words of one producer (Christoph Fringeli of Berlin's Praxis Records), "a hybrid strategy rather than a genre," defined more by its punk-rock attitude and experimental nature than by its sound. The crazier and more extreme a producer or DJ's music was, the more it was quintessentially "breakcore," even if (especially if) it sounded like nothing anyone else was doing.
It was during this era that some of breakcore's most influential and highly regarded producers, like Venetian Snares and Otto von Schirach (who you'll learn more about below), got their start. It was also when the first big raves and festivals dedicated entirely to breakcore began to appear all over Europe—including Belgium's popular Breakcore Gives Me Wood events, which are still going strong after 12 years.
So what does breakcore sound like in 2014? To give you an idea of the music's diversity (and sheer sonic insanity), here are 10 current breakcore artists pushing the genre even further into the outer reaches of experimental electronic music.
Venetian Snares
Widely recognized as the godfather of contemporary breakcore, Canadian producer Aaron Funk has been releasing music under his Venetian Snares handle since the late '90s, when the genre was still in its infancy. Over the years, he's released everything from abstract glitchcore noise experiments to ornate breakbeat/symphonic mashups, mostly for the Planet Mu label. He's revered among fans of glitch and breakcore for his intricate drum programming, which is some of the genre's most complex and polyrhythmic. His latest album, My Love is a Bulldozer, released in June, continues to feature orchestral elements, along with some of Funk's first vocals and experiments with pop song structure.
Otto von Schirach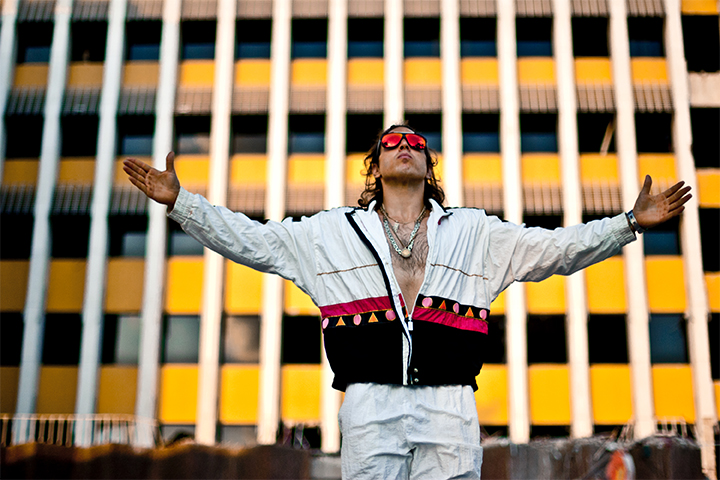 Miami's Otto von Schirach's sound has evolved considerably since his 2001 debut album, 8,000 B.C., which was heavily indebted to early breakcore artists like Venetian Snares and DJ Scud, as well glitch and IDM producers like Amon Tobin and Squarepusher. These days, his music is a more party-ready mix of sci-fi-themed breaks and dirty Miami bass, with elements of hip-hop, moombahton and dubstep thrown into the soup for a little extra crunch. He delivers it all in ghetto-fabulous superhero drag, rocking gold T-shirts and black Zorro masks and describing himself as an alien from the Bermuda Triangle. "Earthlings need to categorize and box music," he says, but "I will always make all types of music and never try to limit myself."
Enduser

Originally from Cincinnati and now based on New Orleans, Lynn Standafer has been releasing breakcore and hard jungle tracks under the name Enduser (pronounced "End User") since 2003 for labels like Hymen, Ad Noiseam and Ohm Resistance, as well as his own Sonic Terror imprint. Enduser tracks range from hardcore bangers to expansive tracks meant more for headphones than the dancefloor, but all tend to be characterized by chopped-up jungle drum tracks and an emphasis on melody. "Anyone who was into old jungle or even the early breakcore/hardcore stuff might agree that the music back then had more of a 'soul' or a bit more feeling behind it," he said in one interview. "With my music, I still focus more on songwriting/composition rather than just creating a 'killer loop!' and 'smashing the dancefloor!'"
Anklepants
When he's not producing his tongue-in-cheek EDM experiments, Josh Head designs prosthetics and animatronics for the special effects industry; he's worked on the X-Men and Star Wars franchises, among many others. So it's no wonder that for his breakcore prankster persona, Anklepants, he designed himself a disturbing monster mask, complete with an animatronic penis for a nose. Anklepants' music covers a wide array of electronic genres, from breakcore and drum & bass to house and techno, all of which he approaches with both seriousness and satire, playing them on a combination of laptop software and homemade synths and sequencers. Of breakcore, he says, "I was really just fascinated with the technicality of it," but he doesn't consider himself part of any breakcore scene, either in his hometown of Sydney, Australia, or his adopted home base, Berlin. "The generic breakcore scene in Sydney… it just annoys me."
drumcorps

Aaron Spectre DJs dancier sets under his own name, but his drumcorps project is an uncompromising, gut-punch fusion of breakcore, grindcore, drum & bass and death metal. Originally from Massachusetts but now based in Geneva, Switzerland, Spectre's been a fixture on the European breakcore circuit since the mid-'00s, famous for his flying dreadlocks and for igniting mosh pits at electronic music festivals with jackhammer beats and live guitar. "Breakcore is sorta the new punk," he said in a 2007 interview, "but it's different this time around. It's not about subdividing into a little insular clan; it's about enjoying the music."
Renard Queenston
Canadian producer Dave Remmler churns out insanely intricate breakcore, glitch, chiptune, "digital punk rock" and happy hardcore under a bewildering array of guises, all of whom are represented by various anthropomorphized animal characters, both male and female. His best-known persona, Renard Queenston, is a gender-neutral fox/raccoon hybrid frequently portrayed in a nurse's uniform. Other characters include a keytar-playing shark called Mayhem, a jackal in quasi-Nazi attire called Jackal Queenston, and a badger/skunk named Darius who makes ambient music. Renard is an active member of the furry community and DJs most years at Anthrocon, an annual furry convention held in Pittsburgh.
Bong-Ra

One of the elder statesmen of breakcore, Dutch producer Jason "Bong-Ra" Kohnen was classified early in his career, in the mid-'90s, as a jungle or drum & bass DJ. But his background as a death metal musician always steered his productions in a darker, heavier direction. At first, he coined the term "darkbreaks" to describe his sound, but he eventually grew to embrace the breakcore genre. Many of his tracks incorporate elements of dub, reggae and heavy metal; a few, like his notorious 2007 release "Sick Sick Sick," sample interviews with murder witnesses and serial killers.
Igorrr

Possibly the most exciting producer currently within—or at least in the general vicinity of—breakcore, France's Igorrr (real name Gautier Serre) takes Venetian Snares' experiments with mixing electronic and classical music one step further, using breakcore's stuttering drum loops to jump-cut back and forth between baroque chamber music and extreme metal, with pit stops at jazz, chillout, bluegrass and even cartoon soundtracks along the way. Serre's kidding-but-not-really name for this crazy stuff is "baroquecore." Listening to it feels kind of like channel-surfing on too much Ritalin, but for adventurous listeners, it's basically a roller coaster for your earholes.
DJ Scotch Egg
Under his DJ Scotch Egg alias, Shigeru Ishihara uses Game Boys to produce a hyper-digitized mix of chiptune, breakcore, gabba and experimental electronic noise that is not for the faint-hearted. Born in Japan and now based in England, where he co-founded the influential Wrong Music night in Brighton, Scotch Egg is famous for his live antics, which include crowd-surfing and, of course, throwing his namesake eggs into the crowd.
Xanopticon
Representing the harder end of today's breakcore spectrum, Ryan "Xanopticon" Friedrich's tracks tend to be dense onslaughts of carefully constructed, high-BPM breakbeats and heavy, distorted bass. A quote on his website is telling: "Will you dance? Or will you peel your obsolete flesh from your fragile, useless body?" Like a lot of breakcore producers, he was into metal and industrial music before discovering breakcore at a Venetian Snares show. Based in Pittsburgh, he's released tracks and EPs for influential breakcore-associated labels like Hymen, Peace Off and Tigerbeat6.
---
Share
---
Tags
---
You might also like