Head to Head: Patrick Topping vs. Nathan Barato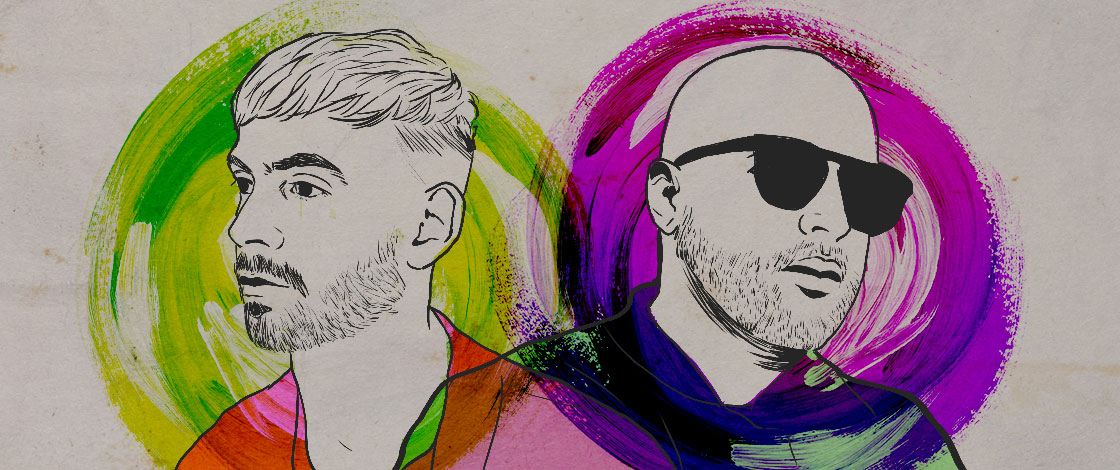 The Head to Head series explores the minds of two genre greats in one in-depth and personal interview together.
A steady shift is happening as fans who were brought up on EDM begin to discover the more well-established sounds of the underground. And for Jamie Jones' Hot Creations imprint, that just means more ears tuned in to the fresh and forward-thinking sounds of the label's roster of heavy-hitters. Among that long list stand two of the label's most in-demand artists: Patrick Topping and Nathan Barato. Together, the two producers are leading the launch of the new Paradise on Earth DJ mix series from Hot Creations.
Named after Jamie Jones' celebrated club night, Paradise, the mix series kicks off with a tag team double-CD mix from Paradise residents and label regulars Topping and Barato. The inaugural installment of the series, a Mexico-inspired special, sonically summarizes exactly why both artists represent the label's longtime penchant for high-caliber talent, unparalleled energy, and wide appetite for exceptionally tasty beats.
In this Head to Head chat, Topping and Barato dig into the sounds of Hot Creations and explain how they brought the sounds of Paradise on Earth to life.
How do you feel about creating a physical product when the music industry has largely shifted away from the medium?
Barato: For me, it's kinda cool. There are a bunch of older tracks [on my mix] that I actually have [in record format]. It's nice to have a CD you can look at and touch with your hands. It feels good.
Topping: I was quite surprised when I saw it was coming out on CD. I'm quite nostalgic, and a lot of music collectors can be as well. I thought it was going to be a nice addition to the release. They've got the vinyl coming out as well, so they've really thought of everything.
What can you tell us about your respective track selections for your mixes?
Topping: I wanted it to be quite club-focused. I know sometimes when people do these CDs, they take it a different angle; they make it for more home listening and go more ambient. I wanted it to be quite reflective of my sets, but I also appreciate that it was getting listened to in a home situation. I found it quite a bit of a challenge, because normally when I'm doing a mix, you don't have to get agreement from the label to include a track. This time you've got these constraints. You have tracks you want, and if the label doesn't want to release them, it changes the whole direction of your mix.
Barato: I had a tricky experience. Like Patrick, I had never done this before, so it's really a mind-fuck to take a bunch of music and hope that all of them would be approved for licensing. Then you have to put this mix together with what was approved. It was an interesting challenge. I went for a more reflective [angle], showing a bit more of my own personal diversity via a lot of music that I don't really get a chance to play in some club settings. [My mix also shows] where my history is and a lot of music I was raised on.
Topping: I had never really thought about these constraints before when I had been listening to the fabric series or the DJ-Kicks series or something like that. When I had listened to the mixes, I never really thought about the fact that they had loads of tracks turned down that they wanted to use. It gives me great appreciation for the art of the DJ mix.
This is the first time both of you have had to do a licensed DJ mix. Did you find yourselves overshooting how many tracks you were sending in to get licensed?
Both: [Laughing] Oh, yeah!
Topping: I sent through a first round of tracks. I got it back, [and] I did another [round], but it was nowhere near the amount of tracks as the first time, 'cause I felt cheeky. I kept asking, "Can I send the label more?" and they were like, "No, I think you've been after enough now."
Barato: On my first round, I sent in 70 tracks.
Topping: [Laughs] Jesus fuck!
Barato: [Laughs] I didn't know!
Topping: I sent in 30 at first and then like 10 the next time. I wish I had asked for 100 now!
Barato: They didn't accept it, and they told me I had to cut down the list—a lot. [At first,] I just thought I wanted some freedom, but they told me it would take too much work to see if we could even contact the labels to even try to license [the tracks].
I imagine, since you picked out a lot of older tracks, there were some issues in seeing if some of those record labels still even existed?
Topping: That was it. Some of mine didn't even get a reply. Some of the labels were defunct.
Barato: Same with me.
Did you two speak at all during the process to see how the two CDs would fit together?
Barato: I don't think we did. We talked a bit about, "Hey, I'm excited to do this with you."
Topping: No, we didn't. Maybe we should've. I think that we've got similar taste in music anyway, so we just knew the CDs would fit.
The Paradise on Earth mix series is inspired by the Hot Creations Paradise club night at DC10 in Ibiza. How did the vibe of that particular brand play into how everything came together for your respective mixes?
Barato: For me, I didn't have a massive focus on Ibiza itself. I really thought about the label, Hot Creations, and the sort of energy I get from the output the label pushes. I took it from there.
Topping: I think that Ibiza sound is what I play anyway, so it was just coming out.
You both speak highly of Hot Creations and Jamie Jones. Is there something in particular about him and the label that keeps you coming back?
Topping: Musically, my releases fit best with that label. I think we're just quite a good match. The standard of music they put out is really high. I'm quite biased, [but] it's probably one of my favorite labels.
Barato: Same for me. It's definitely one of my favorite labels. I play a lot of their releases. It's not just because I'm affiliated, but because I genuinely like a lot of the releases on the label and their artists. One thing I really loved about this coming out on Hot Creations and this coming through Jamie Jones [is that] I felt really true freedom to do what I wanted, without any kind of pressure. Freedom is the biggest thing that comes to mind when doing this with a label like Hot Creations and a guy like Jamie.
Paradise on Earth 01: Mexico mixed by Patrick Topping and Nathan Barato is available now on Hot Creations.
Alexander Dias lives on paradise on earth. Follow him on Twitter.
Follow Patrick Topping on Facebook | Twitter | Soundcloud
Follow Nathan Barato on Facebook | Twitter | SoundCloud
Follow Hot Creations on Facebook | Twitter | SoundCloud
---
Share
---
Tags
---
You might also like