Head to Head: Slander vs. NGHTMRE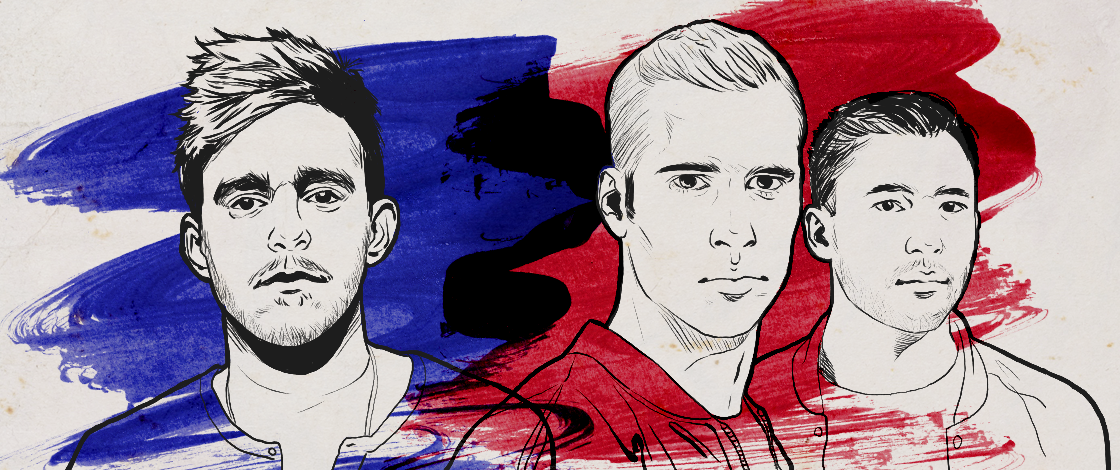 The Head to Head series explores the minds of two genre greats in one in-depth and personal interview together.
It's Gud Vibrations time as NGHTMRE (Tyler Marenyi) and Slander (Derek Andersen and Scott Land) return to SoCal for another epic night of Gud Vibrations. Having recently smashed it separately at EDC Las Vegas 2017, the boys promise the best is yet to come, as their mega b2b reunion—taking over the NOS Events Center in San Bernardino, CA, Saturday, July 29—is about to unleash all manner of unholy basslines and epic feels.
From early memories of DJing local clubs and fraternity functions on through to their budding friendship at the Icon Collective Music Production School, Slander and NGHTMRE discuss their rise to world domination in this exclusive Head to Head conversation.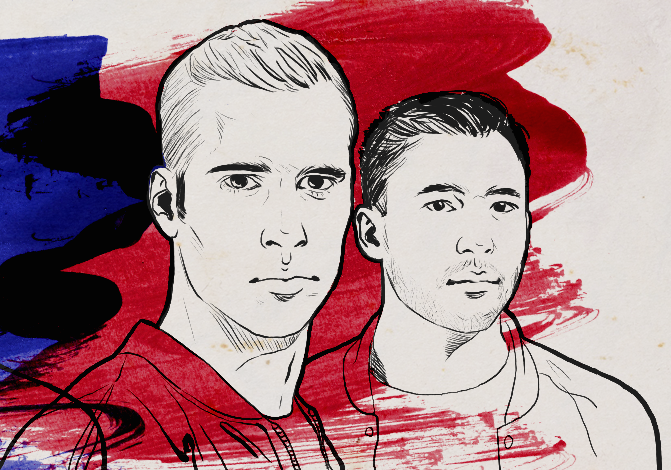 What kind of music do you remember hearing around the house growing up?
NGHTMRE: My parents definitely weren't musical, but I remember listening to a lot of the Doors, Cream, Led Zeppelin, Janis Joplin, Pat Benatar—those were always the CDs in my dad's car, and [they] got me into the rock side of things. In high school, I started to listen to more alternative rock like the Black Keys, Red Hot Chili Peppers—that kind of thing.
Derek: My parents had me in singing and dancing classes ever since I was little, and I used to sing at church and in musicals and do all that kind of stuff. I did piano lessons religiously until I was like 14, and then in middle school I gave up doing music, but I got really into finding new music. I was into everything from Three 6 Mafia to Avenged Sevenfold and everything in between. Rock and hip-hop were basically my thing.
Scott: I played cello in fourth grade but never kept up with it. Really, my musical taste started formulating when I was in middle school; I just remember listening religiously to Eminem. I got really into that 2000-ish hip-hop like Nelly, Dr. Dre and all that.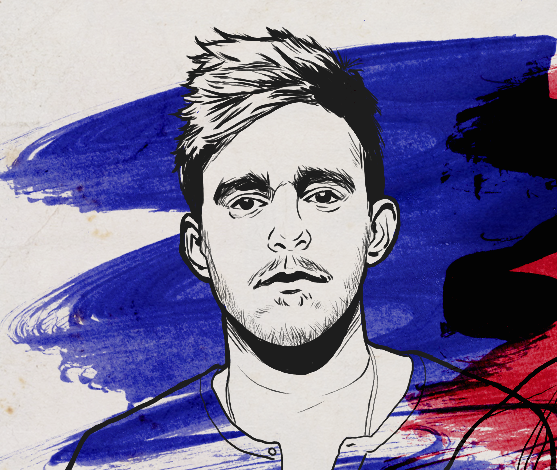 When did electronic music enter the picture for you?
Derek: I remember my very first quarter at [University of California, Irvine]. I met this guy named John Gonzalez, and he was the first person that showed me electronic music for real. I never went to a show or anything, but he just kept showing me new tracks—trance, old David Guetta stuff, whatever—and I really, really loved it. I remember listening to Pendulum in high school, but without any context; I never even knew what it was. But now that John was introducing me to all this electronic music, I realized the two were connected. From there, I listened to nothing but trance for about two years, before I started dabbling in house and linked up with Scott and started DJing in Orange County at our fraternity. It all went from there.
NGHTMRE: Producing was my main thing. DJing was something I wanted to do eventually, but it wasn't something that grabbed my attention. I went to Elon University, which is a pretty small school in North Carolina, and it was really me and maybe one other person who did electronic music production. There was a student record label that I started working with, and they were like, "We should do shows, and you should DJ." I did a few shows around campus, but the whole time, I was producing every day after class.
I remember getting into Girl Talk—remember him? He would take some AC/DC riff and mash it up with some new hip-hop song, and the whole combination would sound old, but also new and fresh and exciting. I got into the idea of making that kind of stuff, and I remember one of my friends telling me about Reason, this program where you can make beats. I remember installing the software and looking at it and having no idea what to do. I even emailed Girl Talk and was like, "Yo, how do you do this? This doesn't make sense." [Laughs]
Did he respond?
NGHTMRE: Yeah, he was like, "I sample everything and make my own beats," and I was like, "All right, sick." I still had no idea what to do, so I just spent hours and hours watching tutorials online and learning a bit about sound design. I took a music production course in Garage Band and began learning how to make synths and basslines and that kind of stuff. I could write down the melodic ideas I had in my head, but that was about as far as I could get.
How did you end up at Icon?
NGHTMRE: My degree was in finance, but I just loved making music. It didn't feel like work at all, and while I obviously liked making my own music, I just wanted to be a great producer, even if it was working for other people. About three months before school ended, I remember hearing about Icon, so I checked it out online and thought it looked amazing. At the time, Icon had announced they were moving to a new location in Burbank. I looked up the address, and it was literally two blocks from my brother's apartment, who was living [in Los Angeles] at the time. My brother was like, "Yeah, one of my roommates is moving out, so we have an empty room." It was like it was meant to be. I told my parents that it was only a year, and if I saw no progress and couldn't get a job, I'd move back and do finance or whatever.
Scott: I was doing executive recruiting down in Orange County. Derek just called me and was like, "Yo, I've thought about this a lot, and I know that this is what I want to do for a living. The next step is Icon."
What was it about trap that captured your ear?
Derek: I was always looking for new music, and every time I'd find something interesting, I'd go to this house where all three of my homies lived, and I would play it for them to see what they thought. One guy is an old-school hip-hop head, one guy is a dubstep head, and the other guy has the same diverse taste as me. I remember the day the "Original Don" remix by Flosstradamus came out and thinking how it was really different, but also really tight. I went over to my buddies' house and started blasting it in one guy's room, and all of them ran in there like, "What the fuck is this?" At that moment, I knew that this was it! If an old-school hip-hop head and dubstep head can agree on something, this is the future.
Scott: We had been playing four-on-the-floor, 128-BPM trance stuff for 2.5 years at this point, and when Derek started talking to me about trap, I was like, "OK, but I don't really know how to do this." We decided for our next gig to play the first 75 percent normally and then try all this new trap music we were finding for the last 25 percent. We had a gig at Proof Bar in Orange County; just like we planned, toward the end of our set, we transitioned into trap. Remember, this was when it was just taking off and was all-new music [people] had never heard before. But when it came on, it was the wildest shit we had ever seen—the crowd just went wild. I just remember looking at Derek and thinking, "What the fuck—this is crazy!"
Once again, we return to Icon, where it seems to have come together for all of you—and not just for the development of your production skills, but for what has eventually become this series of Gud Vibrations projects between Slander and NGHTMRE.
Derek: We talked about this for a long time, even when we were in class at Icon. We'd imagine doing a bus tour together and had always said we should do a track together, but we never got around to it until Christmas break of our year at Icon.
NGHTMRE: I was in North Carolina for Christmas break, and we were both remixing the same song [Showtek's "We Like to Party"] without even knowing it. We literally sent it to each other within minutes of the other, and it was the same song! Eventually we merged them into one song, but I feel like that's how everything's been. We didn't really know what our show was going to be called, but then when we had the song "Gud Vibrations," [so] we were like, everything has to be Gud Vibrations—it's just the perfect name for a show, a label, a club night, whatever. Once we had that name, that brand, we [felt] it described our music so perfectly: positive, but also high-energy.
Derek: A lot of producers collab just because they're trying to boost their careers, but we work together because we're friends, and you can tell it's a genuine thing. I think it also helps that our branding is different. Tyler is a little more bass-heavy, and we're a little more—well, we have more girl fans; that's our thing. Tyler brings in all the super-producer heads.
All the dudes, in other words?
Scott: I hate to say it, but I've never seen more dudes wait after a show to be like, "Oh my god, dude, your snare is so fucking tight," or "You've got to explain exactly how you EQ'd that one sound in that one song right now." But that works out for us, because it actually touches so many different types of people. If a girl doesn't necessarily like "Lighters Up" because it's too hard for her, but she likes "Love Again," then she'll still buy into the Gud Vibrations brand. The same with some really snarky producer-type who looks at our old edits and thinks they are simply done, but is into Tyler's intricate melodies or sound design—he'll still buy into the brand. I think that's what's really dope about it.
NGHTMRE & Slander Present Gud Vibrations takes place Saturday, July 29, at the NOS Events Center in San Bernardino, CA. For more information, visit the official event page.
Chris Muniz is a bass-head for life. Follow him on Twitter.
Follow NGHTMRE on Facebook | Twitter | SoundCloud
Follow Slander on Facebook | Twitter | SoundCloud
---
Share
---
Tags
---
You might also like