Head to Head: My Nu Leng vs. FineArt
The Head to Head series explores the minds of two genre greats in one in-depth and personal interview together.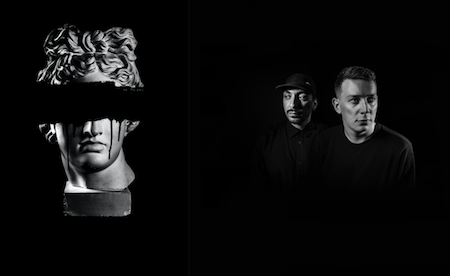 From shared memories of their old-school drum & bass days, to a glimpse into the numerous ways in which bass music culture continues to evolve, join us as we touch down for a special Head to Head conversation with My Nu Leng and FineArt.
Better known to all the drum & bass heads out there as Friction, FineArt's explosive emergence as a force to be reckoned with on the bassline and house dancefloor may come as a surprise to those who don't know. But for those who've been watching his collabs with My Nu Leng climb the charts while he continues to explore the 130-ish BPM range of things, his debut EP, In Too Deep, proves that FineArt is here to stay.
Released on the newly minted Maraki imprint that he and My Nu Leng have launched, the crew already has their eyes set on cultivating the future of bass music, while channeling the very best genre-blurring darkness on the planet. With My Nu Leng (aka Tommy and Jammo to their mates) already having charted a course that combines influences from drum & bass, dubstep, garage, and grime into a dark and sizzling vibe that always gets the dancefloor moving, the duo seem to have found not only a new calling as label managers but a newfound source of inspiration as they promise the best is still to come.
With My Nu Leng and Friction set to unleash their blistering respective sets at Middlelands only a few days from now, we can't help but sit back and marvel at the way the crew have come full circle from the days when they used to all mash it up in the dance and dream of charting their own course to the future.
What kind of music do you remember hearing around the house when you were kids?
Tommy (My Nu Leng): My dad was into '80s electronic music, like Duran Duran, Flock of Seagulls, and that kind of thing. I still love that era a lot. He would also listen to a lot of Boards of Canada and Air, and things like that. From there, I went into hip-hop and drum & bass.
Jammo (My Nu Leng): For me, it was quite of lot of bands, crossovers between dub/reggae, but like pop music at the same time: Pink Floyd, Steely Dan, Santana, that kind of thing. I think that was the reason why I got into being in a band when I was younger.
Ed (FineArt/Friction): You were in a band?
Jammo: I was, yeah.
Ed: Did you play an instrument then?
Jammo: I played guitar, mate.
Ed: I didn't know that—you learn something new every day, don't you? What kind of music?
Jammo: It was scream, hardcore stuff. It was quite heavy, aggressive music. You wouldn't imagine it now, but I used to love to listen to all those American hardcore bands.
Ed: That does make sense, as you do got a bit of a rebellious streak in you that comes out sometimes.
[All laugh]
Ed: I think I went from band to indie and a bit of grunge, and then from there, got into rave. I went mad for rave music and jungle, and that's how I got into electronic music in general, really.
Jammo: There was a pub we used to play at, and on weekends, they'd have a little rave there instead of having live bands. I just started interacting with different circles and started going into London a lot for drum & bass nights, borrowed some decks from some friends and, using his vinyl, learned how to mix quite early on. It's interesting how a lot of people have done that transition from live, heavy bands into drum & bass. For some reason, it transitions pretty well.
Did you know of Friction when you guys were coming up?
Jammo: We'd been big fans of [his drum & bass imprint] Shogun—since we first started learning to mix, really. We've got some of the early releases on vinyl, we've been to some of the nights as punters, and we've done the whole thing. We've gone to tons of raves at the End, and Shogun was one of the labels that we supported.
Ed: I started my DJ upbringing at the End, actually. I came through as a DJ playing at Renegade Hardware nights at the End, then managed to get my own night at the End, which, for those who don't know, was an iconic club in London. That was where I came through, and it just so happened that Tommy and Jammo used to go out to drum & bass parties there.
Tommy: It was our favorite club.
Had you guys formed My Nu Leng at this time yet? Did you even know of each other yet?
Jammo: That came quite a bit later, actually.
How do we go from being punters at drum & bass nights to My Nu Leng and the rest of it?
Tommy: It was quite a strange process. I moved in with Jammo randomly without really knowing him, as I just needed a place to live.
Jammo: We geeked out on each other's vinyl collections, just like you do when you first meet someone—you find out who they are through their record collection—and we realized we had a lot of the same records and a lot of the same interests. I'd be hearing new music, Burial and that kind of vibe, which influenced some of our early music, and we just started mixing. About a year or two into it, we started making music together.
At what point do you link up with Ed?
Tommy: I don't think we ever really interacted properly with him when we were coming up. I mean, we may have a dodgy photo with him at a rave somewhere, but I think we just probably bumped into each other at festivals, had some drinks, and talked about getting in the studio to write some 130 [BPM] stuff.
Ed: No, no. This is what actually happened: How we met was about four/five years ago, I heard a few of your tunes, when your first stuff was kind of doing its thing. And I got you to remix one of my tracks—a big vocal tune. The guys did a wicked job and did what I wanted, which was turning it into a dirty, bassier version of the track. It really impressed me at the time, because the tune was quite euphoric, but they managed to turn it into something quite dark, which was pretty cool. After that, we just kept in touch with each other at festivals and the like.
How did FineArt and Maraki come to be a thing in the first place?
Ed: I stumbled upon it completely by accident, to be honest. I had a piano riff and basically couldn't get it to work at 170 BPM, so I put the BPM down to 128, and it was like, I've got a tune here, but it wasn't a Friction tune. I finished the track, and it was a vocal, housey, garage thing ["Don't Wanna Rush"], and then I made another track called "Ruffneck." I was sending what I was doing to Tommy and Jammo to say, "Hey, look what I'm doing with these vibes," and then we just got in the studio and made the track called "Set It." And then, eventually, we made "Border." And we were like, "What are we going to do with this one?" And one night while we were drunk in Brighton, we came up with the plan to start the label—and that's it, really.
Speaking of journeys, was there any worry on your part about how the drum & bass community would receive you branching off into another genre?
Ed: I was worried about what people would think, and that kind of thing—but to be fair, it's not like I'm not active within the drum & bass community. I've got three record labels, my Radio 1 show, I'm writing my album, I release things all the time… so it's not like I'm not doing my drum & bass duty.
You're still paying your union dues.
Ed: Exactly: I'm still a member of the drum & bass union. At the end of the day, I just love music, and the fact of the matter is, even from when we first started getting involved in each other's music, something just clicked between us straight away.
Jammo: To get into something as serious as a label, you've got to click. As Ed said, we all really got on well. That night in Brighton was just a massive laugh, and we had the greatest time talking about future plans.
What's your vision for the label moving forward, and what do you want it to stand for?
Tommy: We're just really happy to be able to put out music we believe in. When me and Jammo started making music, there was nothing really putting out the kind of music we were into. We didn't have people giving us that kind of support, so it's nice to be able to recognize talent and be able to put that out.
Jammo: All the small, independent labels that backed us from the beginning are the reason why we're here today. So, just like those people that put their belief in us and invested their time in us at the beginning, that's what we want to do for others.
This In Too Deep EP from FineArt kicks it off proper. I love how it has that familiar, dark soundscape of jungle/D&B but is expressed in a unique way.
Ed: The thing is, when I was doing my first few things as FineArt, I made them in a rush and didn't actually know what I was doing… I'd been writing my drum & bass album for the past three to four years, so it was like a little escapism for me, where I just needed to have a little break and write some different beats. I didn't actually know what I was doing, in a way. I didn't have a direction with FineArt; it was literally just me having a little bit of fun. But when writing this EP, it all came together, as far as a style and direction go; it feels natural. I'm not trying to make FineArt tunes, if that makes sense. As a crew, we're not trying to be pop stars and make millions. We're just writing music that we like. I know it's cliché, but for the three of us, all 'round, we write music that we like, and it works.
Let's say FineArt blows up, and it starts squeezing out Friction; is that an okay thing?
Ed: To be squeezed between Friction and FineArt?
Tommy: I just watched the movie Split, and I'm already starting to see the signs.
Ed: I do feel kind of like that. I'll be spending however long working on drum & bass, and then I try to switch over and focus on Maraki, and it will be like, Hold on a minute, let me just… I need to have a cup of tea and a break and sort my head out and then come back to it. It's funny, because it is quite a lot to take in sometimes, but I really enjoy it.
Where does bass music go from here?
Tommy: At the moment, there's just so much, it's almost oversaturated—where everyone is doing the same thing and same sound, and so much unoriginality, it can overdo itself. But I think as long as people do try and think outside the box and try and be original, then it's got a lot of life left in it. Obviously, that's what we're trying to do with the label.
Jammo: I think like Tommy there, that some of the stuff we're hearing is a bit repetitive, and Maraki is all about finding the stuff that stands out and keeps this kind of style that has developed over the last four or five years into something new and fresh.
Ed: Wherever it goes, we're just going to keep doing our thing and putting out music that moves us.
Follow FineArt on Facebook | Twitter | SoundCloud
Follow My Nu Leng on Facebook | Twitter | SoundCloud
Follow Maraki on Facebook | Twitter | SoundCloud
---
Share
---
Tags
---
You might also like