Head to Head: Billy Kenny vs. Maximono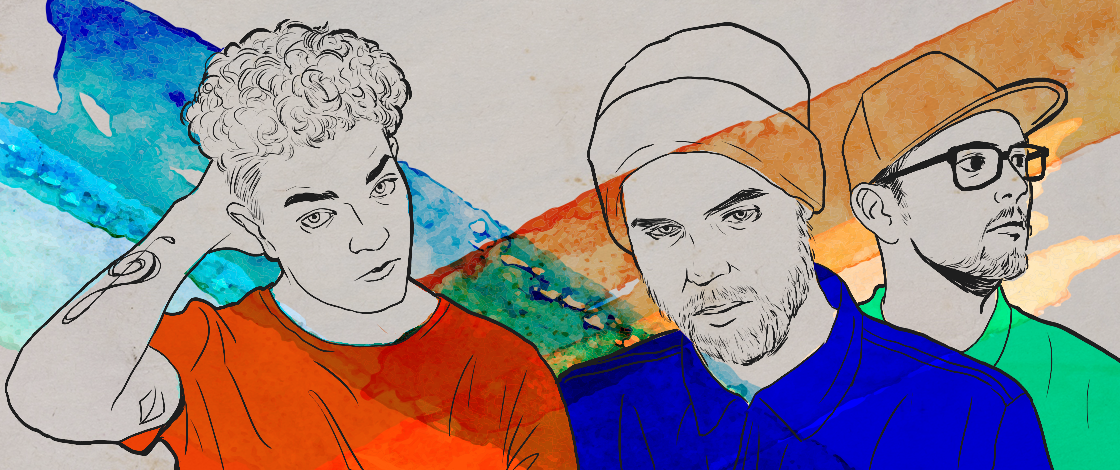 The Head to Head series explores the minds of two genre greats in one in-depth and personal interview together.
Billy Kenny and Maximono didn't set out to be cultural influencers when they launched their This Ain't Bristol imprint. Still, the success of their Selection compilations and releases via high-profile house-heads like Ardalan, Cause & Affect and Low Steppa have put them in the big leagues alongside the likes of the Dirtybird crew, pushing a new sound that combines their many influences: tech house, booty bass and drum & bass. With their much-anticipated b2b set at Escape: Psycho Circus 2016 only a few days away and on the heels of their debut collaboration EP, One Night Stand, Billy Kenny and the Maximono gents—Sebastian "Sebi" Wolters and Nick Hill—sat down for a special Head to Head chat to discuss the growing global influence of This Ain't Bristol, the importance of fan connection, and the future of the dance music underground.
Would you say Billy Kenny is an influence on the Maximono sound?
Nick Hill: When I first started getting into writing house music, which was only about three years ago, I was listening to a lot of Billy's tunes. It was actually like a sound I instantly connected to, because I really liked his production. I think that's why it's come together quite nicely on this EP—because we both found a similar point at which we met in between both of our sounds. I would definitely say Billy has influenced our sound.
Sebastian "Sebi" Wolters: And I'll say maybe we've influenced him with our drum & bass stuff, as well.
Billy Kenny: I've influenced them [laughs].
Sebi: Without him knowing [laughs].
Billy: I know, I know.
Why do you think there's such a cult following around boutique underground labels like This Ain't Bristol and Dirtybird?
Nick: I think America's such a huge territory, and this EDM wave that came in just absolutely went crazy for the past 5–6 years. But now, there's a real shift going on. It's been so heavily saturated with that sound that the younger kids who are coming in don't just want to jump on these bandwagons. I think people always want to see something different, something exciting and fresh and new. Even though Dirtybird is nothing new, I think people are just starting to really get it now. I think the EDM wave, although it's huge in America, is on its way out. I think this new sound we're doing, which verges on the tech house stuff, and the Dirtybird sound and our sound individually as [Maximono are] becoming more interesting and appealing to people, because it's not just jumping on the same sound everyone else is doing.
Sebi: Another important point: This personal connection is because it's still a smaller scene. The young people still feel personally connected to the labels and the artists. And at events like the Dirtybird Campout, you can really see and feel it.
Nick: People want to be a part of something, and that's why the Dirtybird [Campout] works so well. You can hang around and meet all the artists. It really feels like they've built this incredible thing that people can really feel like they're a part of. It's such a huge thing, like how other things in America have just blown up so huge, with millions and millions of fans. It's a bit cooler and more credible. People are getting more over here, which is really good, because America should be the #1 place for house in the world.
Speaking of connecting with your fans…
Billy: That's so important, because there's always been this case that you can't get close to these people, or you can't meet these people. They give off a God-like persona. For a long time, people did that, and it made them more interesting, too; you couldn't ask them questions, and you couldn't hang out with them. They gave off the image that they were way above you. I think now [that the connection with fans] is really strong with the Dirtybird family, it's a big part of why they've done so well. They sacrifice their time to make sure they can say hello to someone, take a photo with someone, and just hang out with people who love what they do…
Sebi: That's why we set up the Booty Call number for our [North American One Night Stand Tour].
Billy: Which, by the way, has not stopped ringing. My fingers ached so much yesterday from replying to everyone. At 9pm, I had to shut it down.
The Booty Call number?
Nick: The EP is titled One Night Stand, and one of the leading tracks is called "The Booty Call." It's about a guy calling up a girl in the middle of the night for his booty call; we played on that.
Billy: Our guys Phil and Benski from the team thought of having this American number we could give out to the public. They can say whatever they want, they can send pictures, they can call us, and we're always at the other end of the phone—obviously, within reason. We let it go live yesterday, and I think I must have replied to about 110 texts and five phone calls, which were all quite amusing. It's another part of connecting. It's a whole different concept that hasn't been done.
Nick: Have you had any pictures sent to you?
Billy: Stop it, Nick! No, I haven't had any dirty pictures!
Is it difficult to work with three artists all trying to put their input into a track?
Billy: That EP came together like a thousand times easier than I thought it would, since we're not all in Hannover. Nick is in London; I'm with Sebi in Hannover. What would happen is, me and Sebi would work for some time on something, and then we'd send it to Nick, and he would send it back. If all three of us where in there, I can imagine it might get a little hectic. I think we did so well, and we did it all in such a short span of time. I did a lot of collaborations—and I'm sure you guys have, Nick and Sebi—under aliases and under this alias, too. It's really just a luck thing, as well. You've gotta have a little bit of talent, but it's really just down to luck, whether it will work or not.
Nick: We're all busy doing our own thing, and we managed to find two weeks where we all really concentrated on it. I think that's the way these things come together really well, instead of dragging it out over a couple of months.
Billy: So we didn't lose motivation.
Nick: We just got to work. I wish I could have been out there in Hannover with these guys; I could see us having a bit of fun in the studio. But it was really cool for us to have a vibe on it. I'm really happy with it.
Are you guys working on any more music together?
Billy: Nothing together at the moment, but I've got a Selections album [coming out in December]. We started off originally with these Selections things. I think that's what helped us get our foot in the market. They did so well the first two [times around], we decided to shed some of our spotlight on the artists. We did Maximono Selections. So I've got one coming in December. Maximono actually have the first track on the compilation. There's one of mine on there as well, and then a load from some new artists; we let in some old ones, too.
Sebi: You never know what happens. We might end up writing a track together while we are on the road somewhere.
Billy: Never say never.
With the underground becoming more mainstream, how do you see dance music and underground culture being preserved in the next 10 years?
Nick: By constantly coming up with cool, new, experimental stuff that will always be a bit left-field and underground. "Underground" doesn't really exist anymore. There will always be an anti-movement against what's popular, as long as that keeps happening in America. It's always there; it just has its moments where people notice it more or not. I think as long as that cycle keeps going, it will always have that side of it over here; it will always have that culture. There are new producers coming out all the time who are just mind-blowingly good, and they're really super young.
Sebi: It's just with the artists themselves. Everyone has to reinvent themselves all the time. They have to come with fresher ideas and fresh grooves every half-year, maybe even faster. As long as people keep reinventing themselves, the music will stay interesting, and it will keep people attracted to it.
Nick: We live in a much more digital age now with everything on SoundCloud and YouTube, people giving away music for free. It's a lot more transient than it used to be, in terms of the shelf-life of tracks, so in a way that could be really good for the scene. It makes people do more, and with people writing more, there are going to be more angles [from which] people can come at it. I think it's going to get a bit crazier because for so long now, it's been a bit safe in this EDM world; people know how to explode and make money from it. People aren't totally stupid; they can see through that shit.
Catch Billy Kenny b2b Maximono at the sold-out Escape: Psycho Circus 2016 Saturday, October 29, at the NOS Events Center in San Bernardino, CA. For more information, visit the official website.
Alexander Dias is available day and night via his own booty call number. Follow him on Twitter.
Follow Billy Kenny on Facebook | Twitter | SoundCloud
Follow Maximono on Facebook | Twitter | SoundCloud
Follow This Ain't Bristol on Facebook | Twitter
Follow Escape: Psycho Circus on Facebook | Twitter | Instagram
---
Share
---
Tags
---
You might also like