Marten Hørger and Maximono Fuse a Grip of Foot-Working Elements on "So High" for IN / ROTATION
Germany's Marten Hørger and This Ain't Bristol's not-so-secret-weapon Maximono have teamed up to drop a fiery piece of music on IN / ROTATION. On "So High," there's no denying the talents between the three minds that have come together here. With slightly disparate backgrounds—between Hørger's boundary-pushing electro and bass legacy and Maximono's emergence from drum & bass—this track lands firmly in its own lane.
Launching with an almost radio-friendly sensibility, "So High" floats on soulful yet somber organ chords that are pushed by house claps and pads that feel almost like vocal samples. From there, Emma Lanford's superb vocal refrain belts in with house grandeur, while club beats shake along. Soon enough, things ratchet up toward a massive build that drops into a chunky bassline and grooving rhythms that sort of feel lifted out of classic UKG. All of these elements play into and against each other in captivating and organic ways that are as seamless as they are foot-working. For an added bonus, the second drop is absolutely mental.
Hørger and Maximono have incorporated a wide range of styles and sounds here, but they've synthesized them through a crystal-clear vision of what this track should sound like. What you end up with is something with an epic scope that elevates it in a number of ways. "So High" was made to grab listeners by the heart and the body at the same time and thrust them into action.
Marten Hørger and Maximono's "So High" is available here.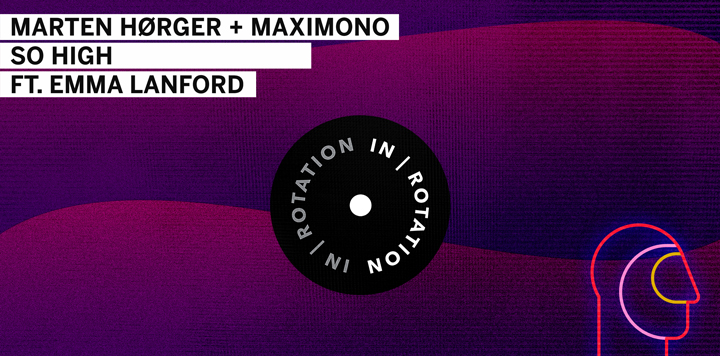 Marten Hørger
What was your concept for this track, and how did that play into the collaboration process?
For me personally, "So High" is influenced by all the music that I currently love, combined with everything I grew up with. This really reflects in the people involved in the record, too. I'm a big fan of what Sebi (Maximono) is doing. And Emma is the voice of one of the biggest German dance/radio tracks of the '90s. On top of that, I really enjoy working with Sebi. It feels like we complete each other in a way—so good!
You're in the middle of a crazy touring schedule right now. How's that been going, and what shows are coming up?
It's been amazing. I love being on the road! North America and Europe have been so good to me over the summer. Right now, I'm home to repack and finish music before I fly to Australia for seven shows next week. Then, back home for more Europe adventures.
How have you been able to balance this against your also-stacked release schedule this year?
I've never been good at working on the road. So, I try to keep the touring and studio periods separate. When I tour, I do only that and focus on DJing 100 percent. When I get home, I usually take two months off to focus solely on writing and turn all the experiences and impressions I had around the world into music. I had so many amazing things happen to me recently; it was pretty easy to turn all of it into lots of music.
What directions are you interested in taking your sound next, and what's inspiring that?
I've always done what felt right to me, and I'm incredibly grateful that it resonates with the people that follow my music. I'm planning to keep on doing exactly that. There are no borders between house, broken beat, techno, and drum & bass anymore—so, I can't wait to keep on throwing all of that together and do stuff that is 100 percent me.
Anything else you've got on the horizon that you'd like to mention or plug?
There's a rumor going around that there will be more music from Marten Hørger and Maximono…
Maximono
What was your concept for this track, and how did that play into the collaboration process?
Sebi: It's the first track we ever wrote together, so there was no certain concept behind it—apart from just jamming in the studio and getting to know each other's workflow and abilities. Marten came up with the melodic parts and a vocal sample, so as soon as I jumped on it, we worked on the main groove.
As soon as we finished the track, we decided to ditch the vocal sample we used and get a real singer involved, as we had this "So High" phrase going up and down in our heads whilst listening to the track. As some people might know, I worked for Peppermint Jam Records back in the days; I'm still in touch with some of the people from that time. One of them is Emma Lanford, the girl who sang "Horny" and some other big hits in the '90s and 2000s with Mousse T. She loved the song, so we got her on board.
What was your impetus to move away from drum & bass and into a slower, more four-on-the-floor production style? What's been the most interesting part of that transition for you?
I simply got bored and felt too restricted in the D&B world and tempo. Slowing down the BPM from 170 to 120 gives you so much freedom in the grooves and basslines. I'm pretty sure someone who's been writing house or tech for 20+ years and is trying drum & bass would possibly say the same. It opens a new spectrum, and that's important for any producer. But in the core, most D&B productions and arrangements are very complex and full. In house music, all that counts is a super solid groove and way less elements that all need to be so well produced to stand out. It's a completely different way of working, and I love it.
It sounds like Shambala Festival was epic for you. What were the standout moments there?
Man, Shambala was something else. The whole setting and production was so impressive. I was super sad that I had to leave shortly after my set, due to an early set in Denver the next day. But I had a couple of hours before my set to hang out with some friends (thanks to Neon Steve and Smalltown Pete for showing me around).
My standout moment was playing into the sunset at Pagoda Stage and seeing the crazy world of lights and projections coming alive. The stage lineup was packed with great artists, so I met tons of friends and had a good laugh. Also, meeting some friends from the D&B scene that I haven't seen for ages (like Alix Perez) was great.
Are you ready for Australia?
I'm absolutely ready for Australia/NZ again in 2019. The debut tour this year was too good; big up Poster Child and UTA for killing it on this. We've got some big plans in the making for 2019, so stay tuned.
What else do you have coming up?
I've just finished a super busy summer of touring the States, Canada and Europe, so I'm actually looking forward to a few quieter months where I can sit down in the studio and write music for 2019. At the same time, I'm already looking forward to coming back to the clubs and festivals even stronger in 2019 with a bag full of fresh material and releases.
My last shows for 2018 will be at ADE Amsterdam and some This Ain't Bristol residencies. I've got a track called "Trippy" coming out on This Ain't Bristol for ADE, which is getting some massive support, and I've also got some more collabs with Marten and other people dropping toward the end of 2018 and into 2019. Planning tours for 2019 also, which is exciting as always.
Follow Marten Hørger on Facebook | Twitter | SoundCloud
Follow Maximono on Facebook | Twitter | SoundCloud
Follow IN / ROTATION on Facebook | Twitter | SoundCloud
---
Share
---
Tags
---
You might also like