First Gig Flashback: Flux Pavilion
Before the international tours and headlining time slots, every big-name artist had to start out somewhere. In our First Gig Flashback series, we tap the most in-demand DJs to trace the first steps they took out onto the stage to grab their first taste of the limelight. 
It's a full-time job being the provider of friction for the dancefloor, and Flux Pavilion has given us every reason to believe he has all of the qualifications to deserve his spot in dance music's upper management. The UK producer has been running the show since the world first fell bass-head over heels for his trailblazing dubstep productions, incubating the genre and eventually making it a global phenomenon.
He's enjoyed an artistic promotion since those days, making an exec decision to rebrand and rethink his musical options. His recently delivered Tesla LP gave him enough wiggle room to escape the expectations set before him and push past his own limitations. Regardless of whether you're on board with his new direction, no one can deny how much Flux has done to continually break the mold.
Before he swings by Countdown to do nasty things to the decks on New Year's Eve, we're going to take a trip to the place where it all started for Flux Pavilion.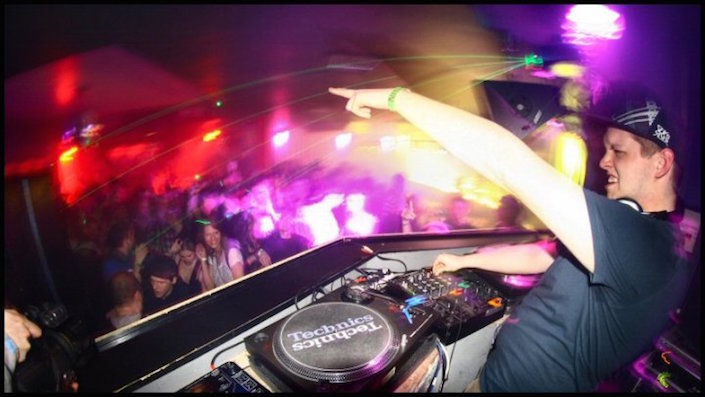 Where and when was your first gig?
Hard to say, really, because I played a lot of free parties—but my first proper booking was in Brighton, UK, in 2009.
Who else was on the bill?No one. Just me in a small bar called Om Bar.
How did you land the booking?
I used to frequent Dubstep Forum and post all my music up for people to download, and someone sent me a message asking me to play.
Was your name listed on the flyer, and do you have a copy of it tucked away for safekeeping?
Not entirely sure there was a flyer, to be honest!
What was your compensation for playing?
£50, but my train tickets cost £60, and I never got paid in the end.
How many hours of practice did you log up until that point, and what setup were you using at the time?
I didn't own any decks. I had only practiced at parties. I always focused on my productions, and I hadn't really thought about how to play to people.
How many people were on the floor when you took the decks?
No one, literally. An MC came with me, and he went outside for a cigarette, and the bar staff went out, too. The speakers cut out halfway through, but my monitors still worked, so I didn't notice. So, my first gig was basically an empty room with no music, haha. Classic.
What was going through your mind the moment you got onstage?
"How do I use this mixer," probably. Back then, I had to use whatever I was given. It was always interesting!
Did you make any rookie mistakes, either onstage or while dealing with the promoters?
He told me he couldn't pay me, and I just went home. Probably should have pushed a little bit, but I was just glad to be out and about. Didn't really matter.
Name one track you played that defined this moment for you.
Can't remember any of it. Used to love playing "Down" by DZ.
If you could go back in time, what would you tell yourself before walking onstage?
Nothing, really. I had a fun time playing some music I love. I think the foundation of my performance hasn't changed.
How long after this show would you say you caught your "big break"?
robably a year or two later.
Did you learn a lesson from your experience that you carry with you to this day?
I suppose it helped me to just relax and enjoy myself, no matter what's going on. Life's too fun to take it seriously, and I had a good night. Didn't stop me doing my thing.
Follow Flux Pavilion on Facebook | Twitter
---
Share
---
Tags
---
You might also like