'Night Owl Radio' 156 ft. Dr. Fresch and Flux Pavilion
Always up to the task of warming up your weekend like a pro, Pasquale bursts into the studio with another solid show. He refreshes the rotation by breaking open a new group of groovers, slappers, and bangers you need to wrap your ears around immediately. On top of the tunes he's turning loose this week, he welcomes on two guests who have their ears all the way down to the ground.
The first person on the docket is a name we've been championing since the L.A.-grown producer first started making moves. In the last few years, Dr. Fresch has blown up on the back of his very own "future ghetto" genre, which he showcased in the highest degree on the No Introduction EP he recently put out on Insomniac Records. For his Up All Night appearance, the ghetto house head prescribes three tracks with a heavy dose of street swagger.
Filling out the guest mix section this week is one of the most household names in bass music. Flux Pavilion is a bottom-end wizard; the dubstep scene wouldn't be where it is today without the guiding lines put down by Pavilion himself. For the last 30 minutes, the UK legend makes those bassbins shake uncontrollably to get you hyped for his set at Nocturnal Wonderland in September.
Night Owl Radio is available via iTunes, so get to subscribing on your iOS devices.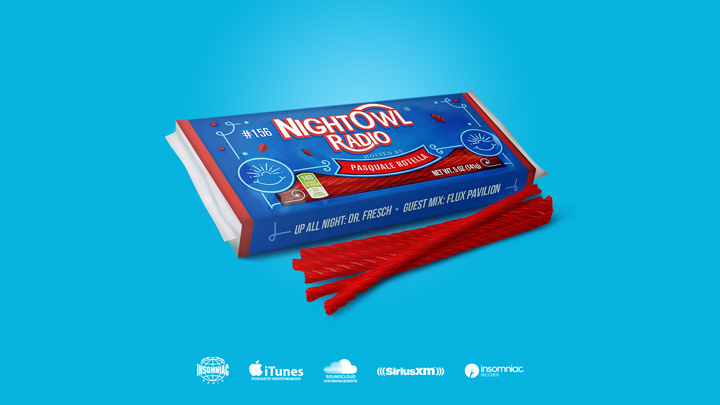 'Night Owl Radio' 156 Track List:

Moguai vs. Macon "I Like It"
JYYE "Fooling Me"
Malaa "Bling Bling" (VOLAC Remix)
Kyle Watson x Franklyn Watts "Chomp"
SLVR "Old Picta"
DJ Drew "Massive"
Tyler Clacey & Khésis "I Want You"
Mike Vale & Angel Anx "I Get Lost"
Paul Woolford "Hang Up Your Hang Ups"
Valy Mo "No Joy"
Botnek "Days of Disco"
Del-30 "Slow Down"
Alex Session ft. Graziella "Move" (Das Kapital Remix)
Hervé "Jungle Is Massive"

Dr. Fresch – Up All Night
Kendoll "Stop Calling Me"
Habstrakt "Vibin' Work" (Dr. Fresch Mashup)
Dillon Nathaniel "Riot"

Locked Groove "Drop the Midrange"
Herobust "WTF"
UFO Project "Awen"
G-Buck ft. Keno "Beat It"

Flux Pavilion Guest Mix

Liquid "Sweet Harmony"
Follow Dr. Fresch on Facebook | Twitter | SoundCloud
Follow Flux Pavilion on Facebook | Twitter | SoundCloud
---
Share
---
Tags
---
You might also like