Between 2 DJs: Zeke Beats x Champagne Drip
If you've been keeping your ears locked on the Bassrush Records camp, then you're probably already familiar with the big homies Zeke Beats and Champagne Drip, two up-and-coming producers who are killing the game with their unique, mind-melting styles of bass.
We first met Australian bass wizard Zeke Beats in 2016 when he performed at the inaugural PROJECT:Z. We were so impressed, we anointed him an Essential Artist that July. He fired back later that year with the neuron-numbing "Bounce" for Bassrush Records. Our ears haven't been the same since.
The same goes for Champagne Drip, the Los Angeles–based producer who's been bending brains and melting faces with his so-called DripHop sound, a futuristic, genre-blurring take on bass-centric music. No stranger to the Insomniac stage, Champagne Drip has been on our radar since at least 2016, when he dropped in on a mega Head to Head interview with big brother 12th Planet. Since then, he's been keeping our headphones busy with two massive releases on Bassrush Records in 2018 alone: the Offworld EP and his most recent track, "Screw Up."
This month, Zeke Beats and Champagne Drip officially join forces as they ring in the New Year at Countdown 2018, which takes place Monday, December 31, at NOS Events Center in San Bernardino, CA, where they'll deliver their first-ever b2b set together. Zeke Beats' dark and deep beats will meet Champagne Drip's melodic and trippy freeform bass style in an epic set that's bound to send you into the deepest realms of bass music.
Insomniac checked in with Zeke Beats and Champagne Drip ahead of their debut b2b performance at Countdown 2018 to chat all things bass, New Year's Eve, and yodeling.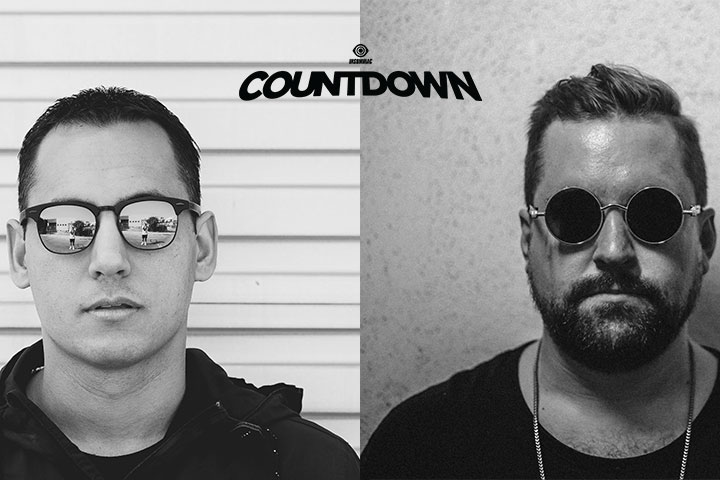 What do you appreciate about each other's stage presence/online persona?
Zeke: Sam is a crazy sound designer and is one of those artists who continually push boundaries. I also love his sense of humor; it's super quirky and awkward. When we first met, he reminded me a lot of Zach Galifianakis.
Champagne: Zeke is a phenomenal turntablist and a world-class producer. He's also really honest, kind, and positive, despite comparing me to Zach Galifianakis.
Name your favorite track by your b2b partner.
Zeke: There's an unreleased collab that he has with Space Jesus, which is my current favorite from him. It's so heavy, and the synth design is mental.
Champagne: His new unreleased collaboration with Liquid Stranger is super nasty, from what I have heard of it so far. They are both two of my favorite producers, so their skills coming together create a force to be reckoned with.
What's one thing you wish people knew about him?
Zeke: He studied the art of yodeling for like 10 years when he was a child.
Champagne: He actually makes all of the sounds in his music with his mouth.
If he weren't a DJ/producer by profession, what do you think he'd be doing for a living instead?
Zeke: Something related to video games, tech world type of stuff, graphic design… and, of course, professional yodeler.
Champagne: He'd definitely be a stripper. Or garbage man. Actually, a stripper in a garbage man costume, for sure.
What's one thing you would NOT be surprised to see on his DJ rider?
Zeke: Pickle juice or pickled pepper juice. A pair of shoes (personal joke).
Champagne: Probably coffee. And the shoes thing has got to stop.
What do you think makes him smile the most?
Zeke: Really dumb and awkward humor—same as me, TBH.
Champagne: When he makes this one "yoy-yoy" sound for his tunes. He actually has to smile to make the sound.
What's one song you like that your b2b partner has probably never heard before?
Zeke: Damn, this is a tough one! Itch-E & Scratch-E "Sweetness and Light."
Champagne: Franzl Lang "Einen Jodler hör i gern."
If he needed a new DJ name and you were tasked with giving him one, what would it be?
Zeke: Wine Pour.
Champagne: Zeke Turnips.
What are you looking forward to most about playing Countdown?
Zeke: The entire energy and vibe from all of the lovely supporters and fans, the excitement of doing our first-ever b2b set together, and ushering in the New Year with nothing but positivity and love around amazing people.
Champagne: Dude, same. I love Insomniac events because [they] bring me back to a sort of old-school rave feel that got me hooked on this music. I'm also stoked to DJ with someone who really inspires me as a fellow artist.
What can fans expect from your b2b set?
Zeke: Lots of edits and unreleased material, as well as some scratching from me, and hopefully a camera setup so we can cut back and forth between visuals and the camera so peeps can see what's happening up there on the decks!
Champagne: Yes, tons of edits and unreleased production. We're sitting on so many IDs right now.
What are you working on right now? What's coming up?
Zeke: I am always working on music. I am currently on tour in Australia and come back home to Portland in three days' time. There are a ton of shows coming up, which you can find information on through my social media. I've been working hard on sorting out a camera setup for my shows, so that way I can get the feed projected onto a massive LED screen behind me. One thing I notice is that a lot of the time, if I am not close enough to the crowd, they can't actually see me scratching and going nuts. So I am super excited for this!
Champagne: I'm wrapping up my next EP for Wakaan and some tunes for the EP after that. [I'm] also prepping for this massive tour coming up with Liquid Stranger. Recently, I've been working on some of my own visuals for my shows. This has been an interesting new experiment, and so far, the results have been super fun.
Zeke Beats and Sage Armstrong will be going back-to-back at Countdown NYE 2018, which takes place Monday, December 31, at NOS Events Center in San Bernardino, CA. Tickets are on sale now. For more information, visit the official website.
Follow Zeke Beats on Facebook | Twitter | SoundCloud
Follow Champagne Drip on Facebook | Twitter | SoundCloud
Follow Countdown on Facebook | Twitter | Instagram
---
Share
---
Tags
---
You might also like