Sinden Dials Up the Blog House Nostalgia on 'Sinden's House Line' Compilation on Insomniac Records [Free Download]
The concept of music blogs acting as the gatekeepers of dance music may seem like a distant memory for some, but this was the mode of dissemination back when blog house came into the equation. It was a time when digging took place on the web rather than in low-key record shops, and few artists were more instrumental during this era than Sinden. The UK-born producer helped lay out the blueprint for the genre, with remnants of its sound now permeating through the very foundation of the bass house scene. Because of his heavy involvement in both circles, no one is better equipped to connect the dots between the two movements than Sinden, who tackles this concept flawlessly for his new compilation on Insomniac Records.
Sinden's House Line is more than an appeal to the nostalgia-hungry heads; it's a reinterpretation of what once was and how it lives on today. He recruits a respectable cast of collaborators for the affair—some who were around since day one (Hervé/the Count) and other newcomers who are straight-up killing it nowadays (Marc Spence and LO'99). Even the artwork for the nine-track album merges the old- and nu-skool aesthetics, a modern take on the type of flyer you'd need to track down the location of an illegal rave. If you're feeling it as much as we are, it would be a smart move to grab the limited-edition tee that we've made for the occasion.
Make sure to hit up the hotline after the jump, and hear Sinden break down the album in a way that only he can.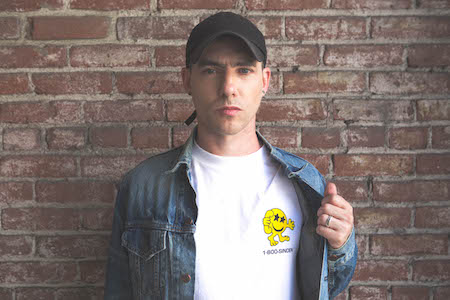 Give us the rundown on how this compilation came to be.
The idea for the compilation was proposed by the Insomniac Records guys some days after we were chatting one evening at Night Bass. We had a mutual appreciation for each other and also a fondness of electronic music old and new. We reminisced about blog house and the parties, but we're buzzing about new music, too. That intersection between now and then—what is current and what informed it—is how we arrived with the music we have now. I love geeking out on this music genealogy—the genres and their various strains influencing and mutating. Anyway, this conversation really birthed the compilation and its concept.
As a producer that started off in this blog house/electro house era, to operating now in this new bass house scene (like AC Slater, Bot, and Hervé, too), we wanted to link them up, drawing on a slightly retro vibe, but keep things relevant for today's dancefloors. It also links up fans that are familiar with my older catalog to fans that have recently discovered me. You have some of the old Count & Sinden titles like "Tamborzuda" and "Mega" remixed, and also a collab with Hervé.
The artwork ties in with that, too, recreated to look like an old rave flyer with alphabetically ordered DJs. It's really lo-fi, a bit like some of the music we would play that was quickly slapped together (mashups/bootlegs). The name House Line relates to "Beeper" (a track I made with the Count in 2008—our biggest track) and also is a nod to parties that required you calling up to get the address. All in all, it was probably about six months between the initial idea and it dropping. The collabs were the most time-consuming, since most of the producers I was working with live abroad. We wanted to nail the concept and get the artwork spot on. Also, the rollout plan, release schedule, timing—all these things had to be considered.
You and the Count/Hervé go way back. What's it like working with someone like that when there's a lot of history involved?
Yeah, it was great getting back to making music with him. The geographical distance makes collaboration harder, but we really have an understanding that goes way back—it's like second nature, really. I know what kind of sound design Hervé likes on his basslines, etc., or drums, and so there's less chance of you both delivering ideas and the other person downloads the file and screws their face up, haha. It definitely brought back a lot of good memories, and it made me remember to never stop having fun and trying something outside of your comfort zone.
The list of collaborators on the album is ridiculous. How did you decide whom you wanted to include on this project?
Once we pinpointed the direction that the comp is gonna take, it was easy to then look at who was a good fit musically and to get the cohesion. I called upon some friends that I know shared the same recognition, and we got to work. It's not about regurgitating; it's more channeling some of the essence.
Which of the tracks do you feel most connected to, and why?
The track with Hervé is special because of our history. Also, seeing some of the Count & Sinden back-catalog reinterpreted for today's dancefloor was a moment, too. I love hearing other people's takes. I love that R3ll took "Tamborzuda" and chopped it into a dope Jersey club record. LO'99 flipped "Mega," too, and did a breaks-y thing.
The artwork for this album is a riff on the flyer days, when hotlines were the only way to find the rave. Do you have any memorable stories to share from this era?
I was too young, really. Acid house was going on when I was a kid, and by the time I was getting into clubs at 18, all that stuff had been curbed by the government. The House Line art references '90s underground parties in L.A., but there is also a running thread that is paralleled in UK rave parties, too—illegal field raves with massive sound systems.
I remember growing up and dance music being absolutely flogged by the mainstream media in the UK, because they feared it. It had a reverse effect on me, and I fell in love with pirate radio, tape packs from the rave (as I was too young to get in), and buying Mixmag. Rave was a lifestyle at my school. You had the MA1 bomber jackets, record bags; we wore the ravewear, drawing tripped-out cartoon characters with bugged-out eyes and Om symbols on the covers of our textbooks… but I was too young to actually rave. Sigh!
Give us the gist of how you envision your recording would sound if we called the Sinden house line?
Probably like this, hahaha:
There's been a lot of talk about the return of blog house, which you played a huge part in shaping. What are your thoughts on the nostalgic mixes, new local L.A. parties, and the general discussion happening right now?
I think it's always good to acknowledge what came before and celebrate that. Also, nostalgia for the music brings people closer together, and it's cool to share our memories and have a good laugh. As much as I do love it, and I may play the odd old tune, it's always new music coming out that keeps me motivated and excited.
What are your plans for the rest of the year?
I'm looking forward to touring this year and also hitting the festivals—particularly EDC and Electric Forest (first time!)—continuing to hone my craft, make tons of bangers, and also start working on a full-length album. 🙂
Follow Sinden on Facebook | Twitter | SoundCloud
Follow Insomniac Records on Facebook | Twitter | SoundCloud
---
Share
---
Tags
---
You might also like