'Night Owl Radio' 428 ft. Apocalypse: Zombieland 2023 Mega-Mix
This week is the APOCALYPSE: ZOMBIELAND 2023 Mega-Mix.
Night Owl Radio is available via iTunes, so get to subscribing on your iOS devices.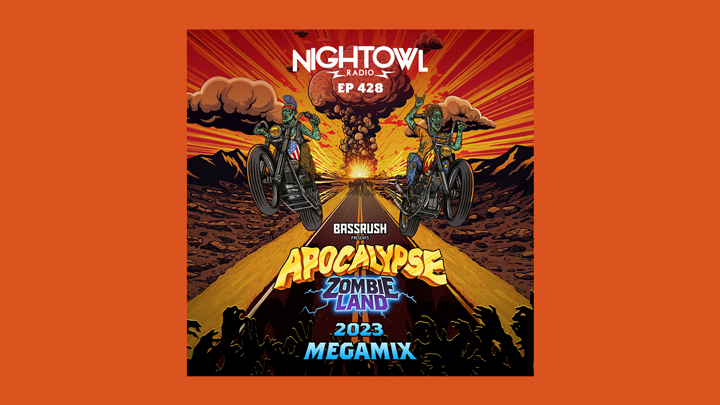 'Night Owl Radio' 428 Track List

Blanke "Monster"
Chase & Status, Hedex, ArrDee "Liquor & Cigarettes"
Point.Blank "GHOST"
Zeds Dead x Blanke "The Machines"
Sonny Fodera & MK ft. Clementine Douglas "Asking" (K Motionz Remix)
Rusko "Everyday" (Netsky Remix) (REAPER Remix)
London Grammar "Lord It's a Feeling" (goddard. Remix)
Andy C ft. DJ Rae "Ghost"
Replicant "Vibrating"
Grey ft. Virtual Riot "RAVEN"
Kumarion & Slang Dogs "You Ain't Tough"
Kumarion "Want It" (DnB Edit)
1991 "Chant"
Bou "All U Gotta Do"
Dr. Apollo & Richter ft. Bzrkr "Can't Stop"
Kanine ft. INDI "Release Me"
Koven "Never Have I Felt This" (VIP)
Phibes "Bassdrop"
Mersiv, SuperAve. "How I Step" (SuperAve. VIP)
Netsky & Montell2099 "Broken"
Tisoki & Oliverse "Dream About You"
Zomboy ft. Micah Martin "Monsters"
Sub Focus ft. Hayla "I Found You" (Grafix Remix)
Monty ft. Visages "Vibin'"
UBUR, HVDES "Six Feet Deep"
Yellow Claw "Sex Drugs Energie"
SampliFire, Automhate "Incantate"
BloodThinnerz "Gravestones"
Jalaya & Xotix "Elevate"
Skrillex, PEEKABOO, Flowdan, G-REX "Badders"
SweetTooth X LazyFlex "Don't Be Afraid"
Excision & Wooli "Name Drop"
GHENGAR X CARBIN "PUSH EM"
Chef Boyarbeatz "Mic Check"
Executioner X SEVNN "RELAPSE"
NotLö x MYTHM "LIES"
Saka "Leviathan"
Alix Perez, Eprom, The Gaslamp Killer, Shades "Purification"
VEIL "Activate"
VUlllGUR "CLASSICAL SQUARE"
INFEKT "Game On"
Emorfik "Into the Mind"
HEYZ x DNMO ft. MAYLYN "Turn the Tide"
smith. "Break Yo Self"
Kompany, Kai Wachi "PUMPANY"
Subtronics "Hieroglyph" (Of the Trees Remix)
DIESEL & Kompany "MIDDLE FU"
FuntCase "Asylum"
ILLENIUM, Wooli & Grabbitz "You Were Right" (Kill the Noise Remix)
Barely Alive & Kompany "T.O.A.D."
Midnight Tyrannosaurus, Jiqui "Gluttonous Heretic"
Rated R & CELO "Land of Darkness"
Benda & HAMRO "Crypt"
DIESEL & Hairitage "BANG YOUR HEAD"
Excision & Sullivan King "Bass to the Dome"
JEANIE "Psychosis" (VIP)
LAYZ, Vastive "Barking at Thunder"
RUVLO, Neotek "Unison"
GorillaT "Amnesia"
Eprom & ZEKE BEATS "Humanoid 2.0"
Liquid Stranger, LSDREAM "Take a Trip"
Hamdi, sumthin sumthin "Skanka" (sumthin sumthin Remix)
Ivy Lab "Ghost"
Conrank "Simulation Breach" (Green Matter Remix)
Camo & Krooked, Mefjus "Nebula"
Subscribe to the Insomniac Events YouTube channel now.
Apocalpyse: Zombieland 2023 takes place Friday, November 24 – Saturday, November 25th at the Queen Mary Waterfront. More info at apocalypsefest.com.
Connect with Apocalypse on Facebook | Twitter | Instagram | TikTok
---
Share
---
Tags
---
You might also like