Night Owl Radio 167 ft. EDC Orlando 2018 Mega-Mix
One week is left until we have the pleasure of returning to Tinker Field for what promises to be another extremely lit EDC Orlando. Florida always knows how to show us a good time. As the excitement quickly reaches the point of topping out, Pasquale gives it an extra push by showing some love to the lineup through a proper festival mega-mix. Cut after quality cut, he smashes his way through selections from more than a few of the folks who will handle the scandal behind the decks across both days. It's the perfect way to get warmed up for when we take on the Sunshine State next Friday and Saturday.
For those who will be stuck in L.A. and missing out on all the action, the Bassrush crew has your back. They are teaming up with the Disciple Records camp for a stupidly stacked takeover that counts off all the label's strongest talents. Instead of simply listing them out one by one, stick it through till the end of the show for a 30-minute sneak peak at the type of bassbin-rattling carnage coming through to the Hollywood Palladium.
Night Owl Radio is available via iTunes, so get to subscribing on your iOS devices.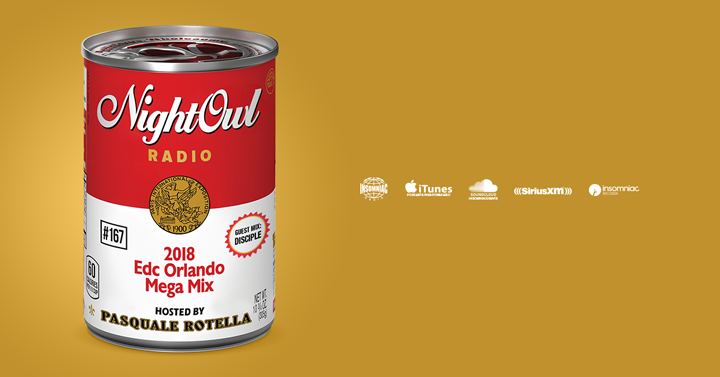 Night Owl Radio 167 Track List

Patrick Topping "Be Sharp Say Nowt"
George Acosta "Mamme"
Kevin Knapp ft. Baby Luck "Drug Birds"
Sacha Robotti & Kevin Knapp "King Midas"
Dombresky "Wait"
Valentino Khan "Feel Your Love"
Apashe ft. RIOT "Fire Inside" (Ganja White Knight Remix)
Malaa "Bling Bling"
Kelis "Milkshake" (KANDY Remix)
Mercer & 4B "Bounce"
Don Diablo "Save a Little Love"
GTA & Damien N-Drix "DunDun"
Henry Fong, Banx & Ranx ft. Richie Loop, Sophia Ayana "Hold Me Down"
Martin Garrix ft. Bonn "High on Life"
Angry Man "The Last of Us" (Denzo Remix)
George Acosta "Mamme"
Tchami & Malaa "Summer 99"
4B & TEEZ "Whistle"
G-Buck ft. Keno "Beat It"
Crizzly & YDG "Knocked Out"
Squinto "RTB"
Jayceeoh & Lit Lords "Bands Bands Bands"
TYNAN & SHARPS ft. Sam King "Shut It Down"
Alison Wonderland "U Don't Know" (Slushii Remix)
SAYMYNAME "Burn"
Dillon Francis ft. Jarina De Marco "Look at That Butt"
sfam & Boogie T "Out My Face"
Illenium ft. Annika Wells "Crawl Outta Love"
BadKlaat "No Joke"
The Prototypes "Pale Blue Dot"
Jupe & Reach "10 Years Later"
El Dusty ft. Happy Colors "Cumbia Anthem"
GTA "Mienteme"
Gryffin ft. Katie Pearlman "Nobody Compares to You"
Henry Fong, Banx & Ranx ft. Richie Loop, Sophia Ayana "Hold Me Down"
YDG "Sensi"
JOYRYDE & Skrillex "AGEN WIDA"
Moksi & GTA "Lights Down Low"
CID & Kaskade "Sweet Memories"
Pendulum "The Island"
Nitti Gritti & Eliminate "Drive"
Jochen Miller "Turn It Up"
NERVO "You're Gonna Love Again"
Tiësto & Dzeko ft. Preme & Post Malone "Jackie Chan"
Nitti Gritti & Jupe "Famous"
Yogi ft. Pusha T "Burial" (Moody Good Remix)
Jessica Audiffred "Ghost Valley"
KAYZO & Gammer "FOREVER"
SLØTH "Flamethrower"
Space Jesus & Dirt Monkey "Sofa Surfin"
BlocBoy JB ft. Drake "Look Alive" (Damaged Goods Remix)
Midnight Tyrannosaurus & EH!DE "Planet Purge Pt. 2"
LOUDPVCK ft. Naomi "Liar"
LOUDPVCK & QUIX "Pace"
Excision & Illenium ft. Shallows "Gold" (Stupid Love)
Vini Vici "FKD up Kids"
Talla 2XLC "Silesia"
Alok & Sevenn "BYOB"
Timmy Trumpet ft. Savage "Freaks"
Party Favor ft. Georgia Ku "In My Head" (Landis Remix)
Alesso "Move Like That"
Myro "Keep on Rockin"
Myro & Bar9 "Take Me Up"


DISCIPLE ft. 12th Planet, Barely Alive, Dodge & Fuski, Eliminate, Fox Stevenson, Hatcha, Modestep, Myro, Oolacile, Panda Eyes, PhaseOne, Truth, Virtual Riot "Get Lemon"
Virtual Riot "Pray for Riddim"
Panda Eyes & Barely Alive & Virtual Riot "Triforce"
Dodge & Fuski "Back With a Vengeance"
Modestep & Virtual Riot & Barely Alive "By My Side"
Dodge & Fuski "Brains on Fire"
12th Planet & PhaseOne "Slaughter Them All"
Virtual Riot "Dog Fight"
Panda Eyes "Death Rattle"
Infek "The Elephant"
PhaseOne ft. Young Black "Double Up"
Hatcha "Go"
Fox Stevenson "Peace of Mind"
PhaseOne ft. In Hearts Wake "Welcome to Mayhem VIP"
Barely Alive ft. Virus Syndicate "Bang Your Head"
MurDa "Explicit"
Eliminate "Reload"
Fox Stevenson "Miss You"
Hatcha "Light Up"
12th Planet "Let Us Prey"
Eliminate "House Party"



EDC Orlando 2018 takes place Friday, November 9, and Saturday, November 10, at Tinker Field in Orlando, FL. Tickets are on sale now. For more information, visit the official website. 
Follow EDC Orlando on Facebook | Twitter | Instagram
---
Share
---
Tags
---
You might also like