'Night Owl Radio' 200 ft. Electric Forest 2019 Mega-Mix
At the end of the month, we are floating back over to Michigan to get our enchantment at what will surely be another life-affirming weekend at Electric Forest. The hype is already out of control, and yet Pasquale still finds a way to pile it on even higher with a special Electric Forest mega-mix, which is two hours that is jam-packed with over 60 songs from artists who will be making moves behind the decks in just a couple of weeks.
Night Owl Radio is available via iTunes, so get to subscribing on your iOS devices.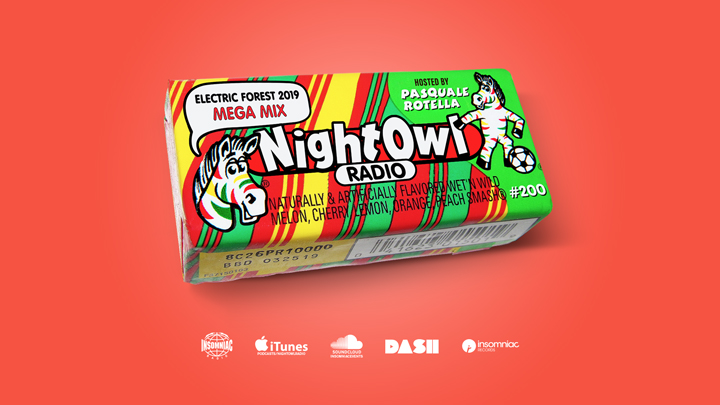 'Night Owl Radio' 200 Track List

Jaenga "Gravity"
Caspa "Get Higher"
SoDown ft. Homemade Spaceship "Stand Up"
NGHTMRE & SLANDER "WARNING"
Kygo, Chelsea Cutler "Not Ok"
Manatee Commune ft. Cassandra Violet "Famous"
PLS&TY "Feeling Forever"
BAYNK "go with u"
Gramatik "Puff Your Cares Away"
Snails "Frogbass"
Zeds Dead x DNMO ft. Tzar "We Could Be Kings"
Defunk "All Over Again"
NGHTMRE & WAVEDASH "Grave"
Ekali ft. K.Flay "Forgot How to Dream"
TOKiMONSTA ft. Selah Sue "I Wish I Could"
Opiuo "Patchouli Dump Truck"
Black Tiger Sex Machine ft. Panther "Zombie"
Whipped Cream "Bad for Me"
Digital Ethos "Like That"
Gorgon City "Delicious"
Ryan Clover "Right, Down, Right, High Punch"
Sacha Robotti "Restore"
Corrupt "Keep It Coming"
Alex Kisov ft. Honeycraft "Mystery"
Luttrell "Don't Forget to Breathe"
Daya "Insomnia"
Lettuce "Everybody Wants to Rule the World"
HALFNOISE "Who Could You Be"
The Animals "House of the Rising Sun" (Alex Kislov Remix ft. Arii)
Govinda ft. Krissy Abshire "Sometimes It's Not a Dream"
Lucid Vision "See Through"
ilo ilo "what u need"
CharlesTheFirst "Mercy Falls"
ODESZA "How Did I Get Here"
Crooked Colours "Just Breathe"
Cosmo's Midnight "C.U.D.I" (Can U Dig It)
Horse Meat Disco "Let's Go Dancing" (Dimitri From Paris Dubwize)
Jellybean "Little Too Good to Me"
GoodSex ft. Desi Valentine "Joy"
Cola Boyy "Penny Girl"
BoomBox "Mr Boogie Man"
Yung Bae "Must Be Love"
Hannah Wants "Love Somebody"
DJ Fixx & Keith MacKenzie "Got That Booty"
Whethan ft. Jeremih "Let Me Take You"


Lee Foss, Eli Brown, Anabel Englund "Brazil"

Electric Forest 2019 takes place Thursday, June 27, through Sunday, June 30, at Double JJ Resort in Rothbury, MI. For more information, visit the official website.
Electric Forest is produced by Madison House Presents and Insomniac.
Follow Electric Forest on Facebook | Twitter | Instagram | YouTube
---
Share
---
Tags
---
You might also like