Wish Machine Dreams: Clean and Sober Forest Resources
Every so often, a hero comes along to remind us that vigilant personal work and big dreams can have incredible results. From the Electric Forest family, hundreds reach out each year with hopes of achieving something miraculous. In their aspirations, we saw hope for the future and a chance to make small differences in the places where support, some love, and a little change are needed most. Leaders at Forest HQ got to talking about ways they could ally more with those who show up with such courage, and a short time later, the Wish Machine was born. The Wish Machine challenges The Forest Family to take action to turn their wish into reality. With it, several wishes are granted annually to inspire positive impacts to people and places all over the world, as well as back "home" at Electric Forest. To showcase and celebrate some of the most marvelous and dedicated among them, we're sharing the most inspiring wishes, one-by-one, in a new series called Wish Machine Dreams.
Project Title: Clean and Sober Forest Resources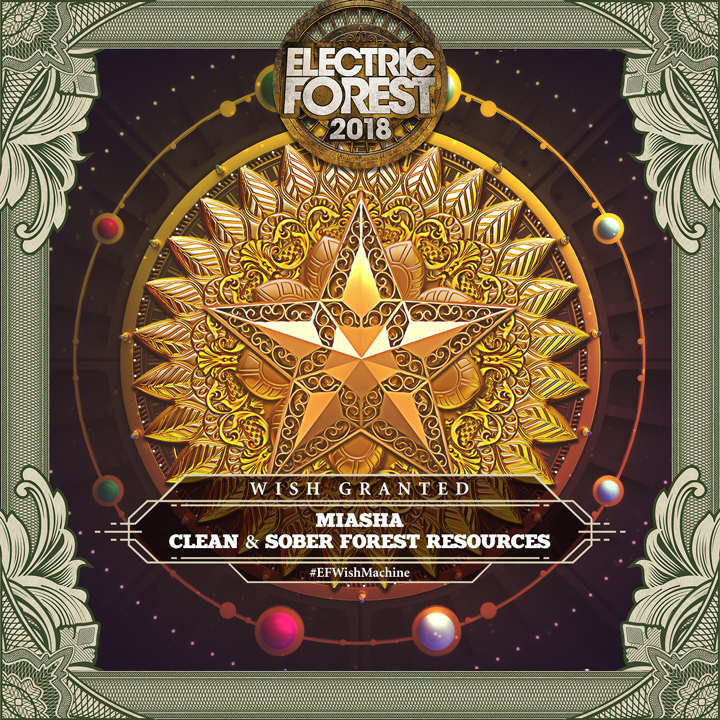 One of the best parts about Electric Forest is that no matter how different you may feel, you'll always find your tribe. That goes for anyone struggling with addiction, too. In the case of Miasha, she wanted to be present for every moment of the event, but she struggled with staying sober without a support system of friends. After a few years, she formed strong bonds with a sober family at Electric Forest, but she didn't want it to take that long for others facing the same challenge, so she asked the Wish Machine to help her get the word out about the resources available for sober members of the community. The resulting experience cultivated connections and growth in the community, and it catapulted her own personal growth, as well.
What's the origin of Clean and Sober Forest Resources? Where did it all begin?
My first three years at EF, I wanted very much to stay sober. But between struggling with addiction, not knowing of any resources, and lacking support and guidance from other sober Forest fam, I was unable to abstain. Once I got sober and started doing research, I discovered there are incredible resources and a large sober community that have been doing this for years. I wondered how I could help bring visibility to the programs and people that are huge supports to the Electric Forest clean and sober community.
Why did you bring your wish to Electric Forest? What was your goal?
The aim of this wish was to spread awareness, forge connections, and support the community. On a more personal level, like the saying "Be the person you needed when you were younger," I hoped the work we did last year might have made an impact on someone who needed it (like I did), someone just interested, and even those who hadn't even considered a sober Forest before.
How did the Wish Machine inspire you beyond The Forest?
It's hard to say whether the Wish Machine inspired me beyond The Forest, or if years of coming back to The Forest inspired me to participate in programs like the Wish Machine. The spirit of Electric Forest is a sense of connectedness created by strangers coming together to celebrate life, to celebrate the moment, to celebrate creativity, and to celebrate each other.
Before getting into addiction recovery, I couldn't articulate what the sense of freedom and serenity you feel in The Forest is. I've come to discover the "secret ingredient" that makes Electric Forest magical to me is selflessness and being of service. The Wish Machine is just that: The opportunity to be free from our personal melodramas by helping others. It is an invitation to find that sense of Forest magic, no matter where you are and no matter where you have been.
How did The Forest help support you?
Since my wish was granted, I continue trying to bring the spirit of generosity and compassion the Wish Machine inspires into my daily life. My Wish to help with the clean and sober resources in The Forest helped me turn a dark past (that so many people struggling with addiction share) into an opportunity to help and to heal. When I hit a rough patch, I try to remind myself that whatever we're being challenged by today, we can get through and use it to help someone else tomorrow. The Forest is a homebase; it is where I am reminded of how far I have come since the year before. It is where I am reminded of how much help I have been given to get where I am. The individuals I spent time with in the clean & sober Electric Forest community not only supported my sobriety, their years and years of service inspire my commitment to a legacy of people in recovery helping one another.
What was your favorite part of the Wish Machine program?
Meeting the volunteers and other sober festie-goers with years (and sometimes decades) of sobriety/recovery was amazing. I had only a year under my belt and was going without my old crowd, so even though I knew about all the resources, I still was a bit nervous I might feel like an outsider. Seeing sober people so happy and connected (looking more blissful and having more fun than any substance has done for me) was incredibly inspiring, and I felt extremely grateful to those who came before me and for getting to be a tiny part of this legacy at Electric Forest.
What unexpected challenges did you face?
The wish went off without a hitch. If anything, the challenges for me were internal. The Forest has always been an environment that supports introspection, as well as connection to the people and environment. This year, I was able to leave a lot of fear and emotional baggage that I hadn't even realized I was carrying, and take with me new friends and an overwhelming sense of gratitude for this wish being granted.
How did folks respond to Clean and Sober Forest Resources?
This wish helped connect people in ways that I couldn't have imagined. Our time together in The Forest was made so much more fulfilling by everyone in the community pulling together and coordinating during the two months beforehand. So many of us made new friends before we even went to the grounds, and the conversations and support continues online and at shows all across the country, throughout the year.
What does the Wish Machine mean to you?
My Wish Machine experience was a catalyst for much-needed healing. I've had plenty of ideas of ways I wanted to "make the world a better place," but it wasn't until getting sober that I became driven to make myself a better person. Having my wish granted epitomized this shift in my life. For many years, I struggled in isolation and stayed in a very dark place. When I was able to finally ask for help, I started to pull out of it. And when I shifted my focus to helping others, I began to feel a sense of peace. It's not a linear process and healing is definitely not just a feel-good experience, but the Wish Machine showed me that even the most painful experiences can become our greatest assets in helping others and making things right with ourselves.
What advice would you share with someone pondering their own wish?
My advice for anyone with a wish is: When you see an opportunity to make the world a better place, set your intention, take some steps, and trust your gut. I have tried to let my life be guided by this quote by Rolf Gates, which sums up my experience with Wish Machine: "We transcend our suffering to the degree that we are able to passionately employ our gifts in the service of others."
Learn more about Clean and Sober Forest Resources and how to submit your own Wish to the Wish Machine.
Follow Electric Forest on Facebook | Twitter | Instagram
---
Share
---
Tags
---
You might also like