Wish Machine Dreams: Burritos & Beats
Every so often, a hero comes along to remind us that vigilant personal work and big dreams can have incredible results. From the Electric Forest family, hundreds reach out each year with hopes of achieving something miraculous. In their aspirations, we saw hope for the future and a chance to make small differences in the places where support, some love, and a little change are needed most. Leaders at Forest HQ got to talking about ways they could ally more with those who show up with such courage, and a short time later, the Wish Machine was born. The Wish Machine challenges The Forest Family to take action to turn their wish into reality. With it, several wishes are granted annually to inspire positive impacts to people and places all over the world, as well as back "home" at Electric Forest. To showcase and celebrate some of the most marvelous and dedicated among them, we're sharing the most inspiring wishes, one-by-one, in a new series called Wish Machine Dreams.
Project Title: Burritos & Beats!
What's better than a tasty beat? A beat with a big, delicious burrito to go with it, of course! That's what Aidan discovered when he set out to share inspiration through music in his local city. What started as a way to make the less fortunate smile, quickly turned into an opportunity to use small gestures to make a big difference. A mountain of gifted burritos, free MP3 players loaded with mood-lifting playlists, and countless new friends later, Aidan has learned to define his Electric Forest Family not by what they give, but by the lasting impression they leave with others. Want to learn more from Aidan about his big idea to satiate the hearts and stomachs of the homeless? Read on!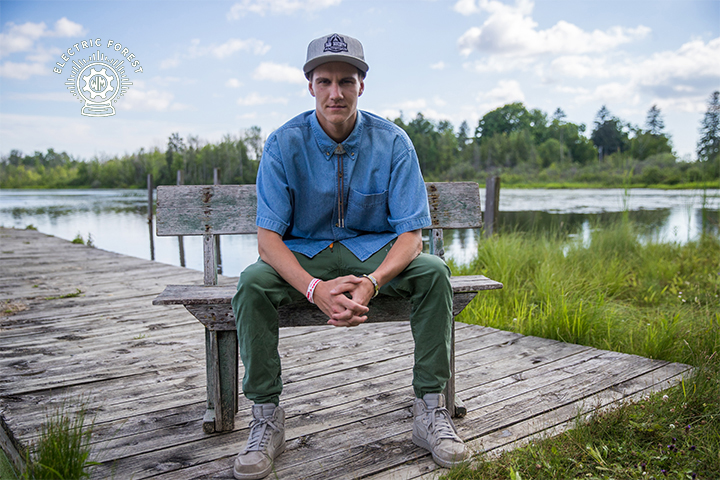 What's the origin of Burritos & Beats? Where did it all begin?
My wish originated from the idea that I wanted to get music to those who are not able to easily access it. I began brainstorming ideas on how I could make this come to fruition and ended up with Burritos & Beats.
Why did you bring your wish to Electric Forest? What was your goal?
When I stumbled across the Wish Machine program, I was instantly inspired to begin planning and preparing ways to make my goal become a reality. The most important goal for me was to spread inspiration through music.
How did the Wish Machine inspire you beyond The Forest?
The Wish Machine inspired me to think outside the box for ways I could help my community. It inspired me to connect with people that I would have not met otherwise and to learn about, on a personal level, those who are struggling in my city. It allowed me to use music in a positive way and, most of all, inspired me to always ask myself how I can use my musical lifestyle to help others.
How did The Forest support you?
The Forest helped me along the whole journey, and I could not have done it without them. As soon as I got connected with The Forest, I was asked what I needed to make this wish come true. After calculating some numbers and searching the internet, The Forest sent me 60 beautiful MP3 players with headphones. I then decided that I wanted to have food when talking to those who might be hungry. With the help of The Forest, I was able to order 60 hot burritos to pass out, as well. Throughout the whole process—from completing my wish to bringing me out to experience and perform at The Forest for my first time—the support of The Forest was astounding, and I am forever grateful.
What was your favorite part of the Wish Machine program?
My favorite part of the experience was connecting with each individual and hearing their stories. It was incredible to watch so many faces light up with joy after setting up the MP3 players and watching them listen for the first time.
What unexpected challenges did you face?
Originally, I had only planned on giving out the MP3 players, but I realized that I wanted a better way to approach people. I then added the burritos as a way to break the ice and see if they were hungry before offering the MP3 players.
How did folks respond to Burritos & Beats?
The overall response was an extreme level of gratitude and appreciation. Most people were very excited to hear about the project and to be offered something that was unique.
What does the Wish Machine mean to you?
The Wish Machine will always hold a dear place in my heart. To me, it embodies a form of karma. It spreads positive energy in the world by giving people the opportunity to do whatever they set their minds to. But it doesn't stop there; the Wish Machine then goes above and beyond to grant people whatever it is they would want in return for their positive actions. It is a program where everyone involved is benefiting and helping one another. The Wish Machine has a snowball effect of promoting significant positive change in the world. To me, that is priceless. It pushes me to be a better person and reminds me that all it takes is one idea and the call to action to change the lives of the people around you.
What advice would you share with someone pondering their own "wish"?
Reach for the stars with your wish, and be passionate about it. Think outside the box, and do not be limited by what you think the limits are—there are none.
Learn more about Burritos & Beats and how to submit your own Wish to the Wish Machine.
Follow Electric Forest on Facebook | Twitter | Instagram
---
Share
---
Tags
---
You might also like