'Night Owl Radio' 170 ft. NGHTMRE & SLANDER and WAVEDASH
Upcoming Event
It's Thanksgiving weekend, and there's an endless list of things we are eternally grateful for, including the piping-hot heat that Pasquale has cooked up for the holiday. In this week's show, he fills the airwaves with a feast of bangers that will help pull you out of that food coma from going to town on all those leftovers. He's also invited a few special guests to the dinner table to help round out the spread for the show.
NGTHMRE and SLANDER are almost as inseparable as mashed potatoes and gravy, expect they never make you feel guilty about reaching for an extra serving. The two massive forces in bass music have been spreading the Gud Vibrations nonstop for a hot minute now, and they are pouring those dope vibes all over the Up All Night segment this week, including their peak-time pick that sees them giving us a taste of their new collab with Crankdat.
Helping us wash is all down is WAVEDASH, the Texan trio who have been flying under the wings of the tag-team that is NGHTMRE and SLANDER. They've been picking up tons of steam with their own production, and the 30-minute mix of bass-heavy heat is the perfect way to top off all of the Thanksgiving gluttony.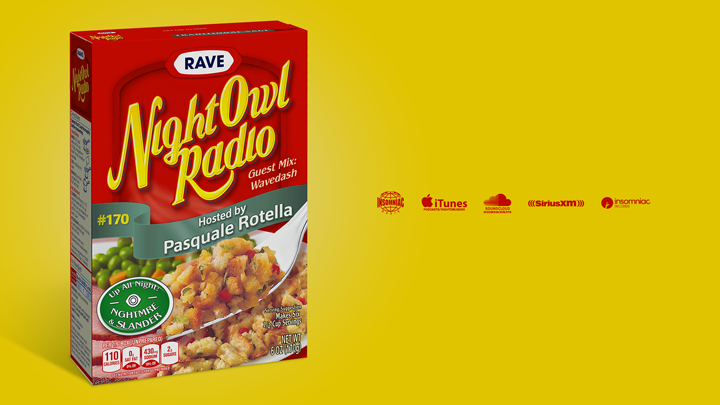 'Night Owl Radio' 170 Track List

PBH & Jack Shizzle "Zion"
Damien N-Drix "Hush Money"
Honey & Badger "Stoemp"
Breathe Carolina & SLVR ft. TITUS "Headshot"
Wongo & Cut Snake "Relax!"
Beowülf "Back to School"
Redlight ft. ETS "Missing"
BLR "Masuria"
Mindek "Tacushi"
Dances With White Girls X Bot "Ready to Fly"
Tiësto "Grapevine"
Che Crozz "Addicted"
ID "Who Got the Keys"
Maximono & Marten Hørger "Loco"
Das Kapital & MNNR "XTC"
Reebs "The Club"
Malaa "We Get Crunk"

NGHTMRE & SLANDER - Up All Night
Bret James "Girl Was Born to Freak" (Nighttime Remix)
SLANDER & Crankdat ft. Asking Alexandria "Kneel Before Me"
Shiba San "Okay"

Icarus "Echoes"
UFO Project "Apollo"

WAVEDASH Guest Mix

The KLF "3 A.M. Eternal




Follow NGHTMRE on Facebook | Twitter | SoundCloud
Follow SLANDER on Facebook | Twitter | SoundCloud
Follow WAVEDASH on Facebook | Twitter | SoundCloud
---
Share
---
Tags
---
You might also like