Upcoming Event
Derek Anderson and Scott Land are SLANDER, two SoCal DJs and producers who grew up getting hooked on trap and trance alike at Insomniac events, with the pie-eyed dreams of playing the festival one day. As their careers evolved and they found their signature "heaven trap" sound, this dream started looking more and more like a reality.
It took them half a decade, but they climbed the mountain to play EDC and take the mantle of their heroes to become fan favorites themselves among the EDC faithful. They still are some of our favorite DJs to rock us with an assault of low-end gurgling basslines and a true understanding of what EDC is all about at the end of the day: creating these once-in-a-lifetime memories. For SLANDER, this is how theirs went down: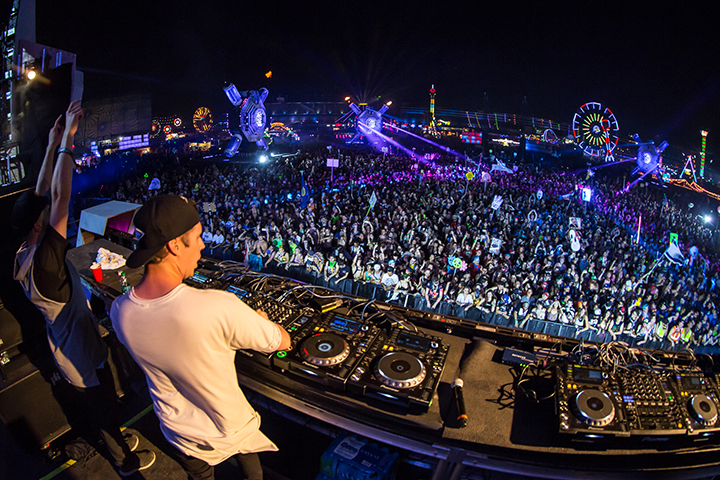 Playing EDC Las Vegas for the first time—in 2015, at bassPOD—was definitely a highlight. We had been dreaming about that day for five years. It was the biggest goal we had set for ourselves since we started SLANDER in June 2010. We came up in this scene, going to Insomniac shows in L.A. starting as early as 2009, so EDC meant everything to us.
To us, getting to play EDC is the pinnacle of DJing, like the world championship for electronic music. All the time and effort we put into the SLANDER project was to get to that goal, so when it was happening, it felt surreal.
We still remember when our Facebook page had zero likes—and coming from literally zero to that moment was such a grueling test of passion, hard work, and emotions. Finally achieving our goal was THE BEST FEELING EVER. It just made us feel like our hard work meant something, that all that time we spent working on music and playing small, local shows actually got us where we wanted to go. All we wanted was to give back the special experiences we had watching our favorite DJs at EDC as fans—memories that will stay with us forever. Also, we are so grateful for our fans who were there with us in the beginning. They got us to our first EDC performance. They are our true "Day Ones."
That specific memory stuck out because, on that day, we achieved one of our deep, personal goals, and it was so gratifying and inspiring.
The energy of the crowd at EDC is so pure—just love and enjoyment. Literally zero negativity can be felt, and the energy walking around in the festival is unmatched. It's one of our favorite places on earth.
Follow SLANDER on Facebook | Twitter | SoundCloud
Follow EDC Las Vegas on Facebook | Twitter | Instagram
---
Share
---
Tags
---
You might also like