'Night Owl Radio' 161 ft. Secret Project 2018 Mega-Mix
Next month, Factory 93 will be answering the wishes of many eager underground heads who have been holding out for a festival that could not arrive any sooner. The team has been working around the clock, planning and preparing for the inaugural Secret Project, an outdoor daytime block party happening in the streets of Downtown Los Angeles. The two-day fête will undoubtedly be the first of its kind, with an impressive roster of artists extending into the realms of house, techno, disco, deep house, and the more eclectic areas of electronic music.
As the collective underground community continues to count down the days until the secret is officially out in the open air, Pasquale is doing what he does best: getting busy on the mega-mix tip. He has cooked up a special two-hour episode, in which he reaches deep into the crates to pull out track after discerning track—all in hopes to get you as hyped about Secret Project as everyone at Insomniac HQ currently is. It might be a tall order, to be honest, because the entire office is fully fixated on the thought of dancing our hearts out while some of the most credible selectors from the underground treat us to an endless supply of top-shelf grooves and rhythms.
Night Owl Radio is available via iTunes, so get to subscribing on your iOS devices.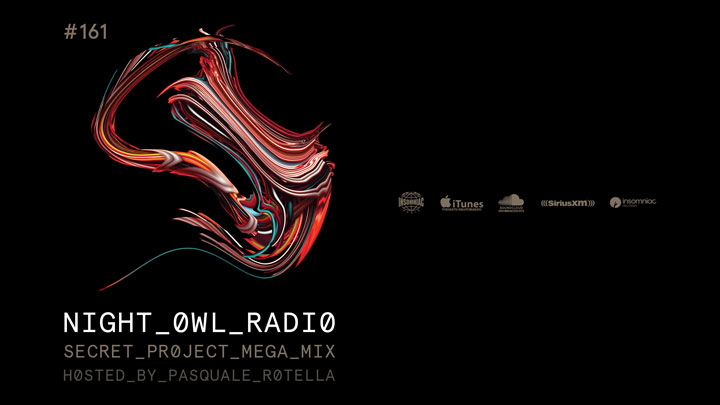 'Night Owl Radio' 161 Track List

Carl Cox, Reinier Zonneveld, Christopher Coe "Inferno"
The Juan Maclean "The Brighter the Light" (DJ Tennis Remix)
Peggy Gou "Gou Talk"
Raoul K, Manoo "Toukan" (Trikk Dub Mix)
Stephan Bodzin "Zulu"
Trikk "Voltaire"
Roman Flügel "Geht's Noch?"
Tale of Us & Vaal "The Hangar"
Sonns & Tavish "Roguish Days"
Trikk "Vilara"
Maribou State "Nervous Tics" (DJ Tennis Rmx)
Rodriguez Jr. "Mistral" (Stephan Bodzin Remix)
Marcel Dettmann & Ben Klock "Phantom Studies"
Shit Robot "End of the Trail" (Roman Flügel Remix)
Tale of Us "Nova"
Isaac Tichauer "Higher Level" (Bicep Remix)
Pachanga Boys "Time"
Stephan Bodzin "Strand"
Âme "No War"
Caribou "Can't Do Without You" (Tale of Us, Mano Le Tough Remix)
Maya Jane Coles "Something in the Air" (Bonobo Remix)
Kiasmos "Blurred" (Bonobo Remix)



Secret Project takes place Saturday, October 13, and Sunday, October 14, in Downtown Los Angeles. Tickets are on sale now. For more information, visit the official website.
Follow Secret Project on Facebook | Twitter | Instagram
---
Share
---
Tags
---
You might also like