'Night Owl Radio' 151 ft. SAYMYNAME and Party Favor
Upcoming Event
The Bay Area is about to blow the hell up this weekend, as Audiotistic returns to Shoreline Amphitheatre to straddle the space between dance music and hip-hop. In preparation for the two-day festival kicking off tomorrow, Pasquale turns his attention to two of the artists who will be cranking it out in NorCal when the party gets going. Before they creep into the picture, though, Pasquale pops his own selections to help you ease into what lies ahead.
SAYMYNAME has been running the streets with his special blend of hard trap, a crazy convergence of 808-laced hip-hop beats, and frenetic hardstyle drive. The L.A.-based producer is a regular on our festival lineups and has even made his way onto the Insomniac Records catalog with the emotional roller-coaster collab "I Can't Escape" he hammered out alongside SLANDER at the start of the year. The track still goes strong and is one of three picks SAYMYNAME slams down for his Up All Night spot.
Putting in work on the decks for this episode is Party Favor, the festival trap phenomenon who doesn't like to be put in a corner. His ability to shapeshift through various shades of bass has allowed him to become a pride and joy of the Mad Decent camp, as well as to team up with artists from all across the map—such as Gucci Mane, Bad Royale, and most recently, Bauuer. It's always an unpredictable affair when Party Favor steps up to the plate, which is precisely why you should not skip over his 30-minute guest mix (or his set this weekend, for that matter).
Night Owl Radio is available via iTunes, so get to subscribing on your iOS devices.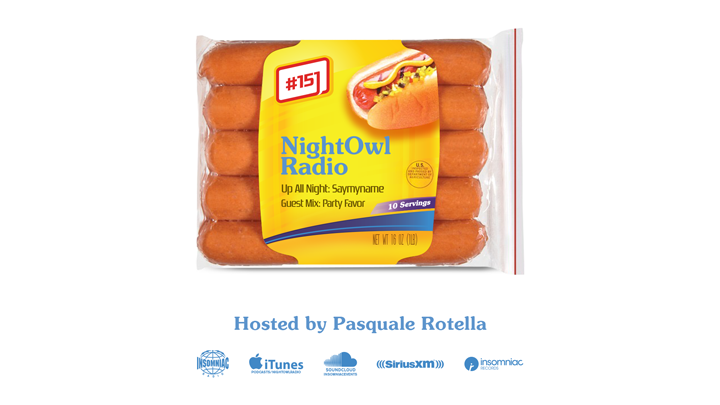 'Night Owl Radio' 151 Track List:

Robbie Rivera & L'Tric ft. Jordan Kaahn "On the Way"
TJR "Acid Nation"
Boombox Cartel "NBD" (Phlegmatic Dogs Remix)
Hervé "Jungle Is Massive"
Tombz ft. Jimmy Wit an H "Sweat"
Sqwad "Robbery 23"
Ninetoes "Finder" (Carl Cox Remix)
Krystal Klear "Neutron Dance "
Lee Cabrera vs. Thomas Gold "Shake It" (Just Us & AU-1 Remix)
Sirus Hood "Attention"
MOGUAI vs. Macon "I Like It"
Mad Joker "Mad Heart"
Nosk "Morning Song"
Redlight, Asabe "So Nice"

SAYMYNAME – Up All Night
SLANDER & SAYMYNAME "I Can't Escape"
Carnage "November Skies" (Junkie Kid Remix)
Chicane "Saltwater" (Sebastien Remix)

Zonderling x Don Diablo "No Good"

Party Favor Guest Mix

Massive Attack "Unfinished Sympathy"
Follow SAYMYNAME on Facebook | Twitter | SoundCloud
Follow Party Favor on Facebook | Twitter | SoundCloud
---
Share
---
Tags
---
You might also like