'Night Owl Radio' 193 ft. Party Favor and Kayzo
Knowing how to set the mood for the weekend is something Pasquale has deep within his DNA. He puts those weekend-ready genes to work in the next episode, as he goes straight for those prime-time vibes from the jumping-off point. The entire show is littered with cuts that land listening hours from all parts of the day. And Pasquale is not the only one who came out to crush; the two guests he's brought along also have the party-starting phenotype in their genetic makeup.
Pulling his own weight in the Up All Night department is everyone's favorite chameleonic producer, Party Favor. The Mad Decent-backed producer has made a name by flexing his versatility over the years, and he let's his hip-hop side shine on his Layers LP. He hopped into the game with an impressive roster of rhymers for the affair, including Juicy J, A$AP Ferg, Lil Baby, and more. He's touching down at Exchange LA tomorrow for his Layers experience, but not before he throws three curveball cuts into the rotation.
Holding it down on the ones & twos this week is an artist whose bark is just as big as his bite. Kayzo has a certain way of getting a crowd wild and rowdy. He's been building a movement through his own Doghouse brand, which sees him taking the leash off the nastiest breeds of bass music and hard trap. Dude has even been hosting his own Doghouse Radio show on our in-house Insomniac Radio station, and he doesn't sell himself short on the 30-minute guest mix he's handed over.
Night Owl Radio is available via iTunes, so get to subscribing on your iOS devices.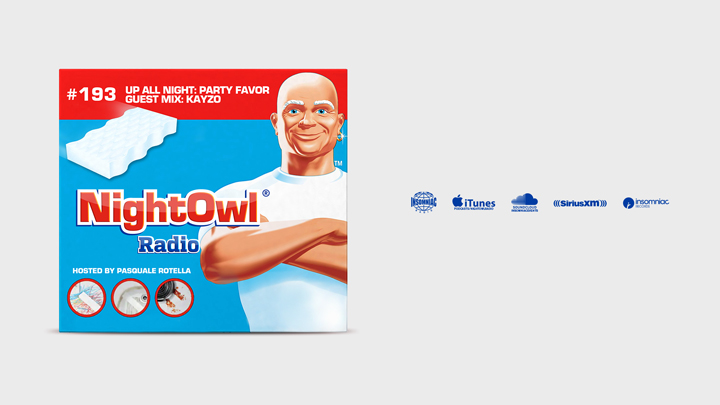 'Night Owl Radio' 193 Track List
MNNR "Lazers"
Blake Baxter "Tenth Planet" (Live Edit Mix)
Mike McFly "Freak Boiii"
Prok & Fitch & Green Velvet ft. Shamonique "WOW"
BYOR "Stop Talking"
LOOPERS "Feel It"
LOGE21 "Bring It Back"
Wenzday & B-Sides "Drop It Down"
CamelPhat & Cristoph ft. Jem Cooke "Breathe" (Eric Prydz Remix)
A*S*Y*S "The Acid"
John Christian "Uno"
ArtLec "New Day"
Ben Böhmer & Fritz Kalkbrenner "Rye"
UMEK "Brethren"
Eats Everything "Space Raiders" (Charlotte de Witte Remix)
Veerus "Hypnosis"
Calvin Harris "I'm Not Alone" (Thomas Schumacher Remix)
Party Favor – Up All Night
Metallica "Master of Puppets"
Cascada "Everytime We Touch"
Chris Lake & Green Velvet "Deceiver"
Kayzo Guest Mix
Aphrohead "In the Dark We Live" (Thee Lite) (Dave Clarke's 313 Remix)
Follow Party Favor on Facebook | Twitter | SoundCloud
Follow Kayzo on Facebook | Twitter | SoundCloud
---
Share
---
Tags
---
You might also like