SLANDER and SAYMYNAME Team Up on Celestial Burner "I Can't Escape" on Insomniac Records
Upcoming Event
Featuring the goosebump-inducing vocals of Feli Ferraro, the epic collaboration known as "I Can't Escape" from SLANDER and SAYMYNAME is destined to go down as one of the year's biggest hits. Centered on a timely narrative of being trapped in one's own mind and seeking a way out, the orchestral and piano-driven melodies at the core bring on an impressive mix of tension and release on the dancefloor. Don't let the emo vibes fool you, though: This one still packs a serious bite, as the anabolic drop and switchblade stabs make for a heavyweight dive sure to please the headbangers and heaven-trap dreamers alike.
"I'm stoked for this release," SAYMYNAME tells Insomniac. "SLANDER and I debuted it at kineticFIELD at EDC Las Vegas 2017, and I'm so glad we can finally share it with our fans officially with Insomniac!"
SLANDER told us that linking up with SAYMYNAME has been on their to-do list for quite some time now. With the stars finally aligning, the results speak for themselves.
"The main idea for the song came together in one day, which was amazing," SLANDER added. "Then we did a vocal session with Feli Ferraro a few weeks later to nail the topline. We really love this track, because it is emotional and heavy all at the same time, and that's what we were shooting for. Hope you guys enjoy it!"
This one drops today, so prepare for a wild ride when you hit the link below.
SLANDER and SAYMYNAME's "I Can't Escape" is available here.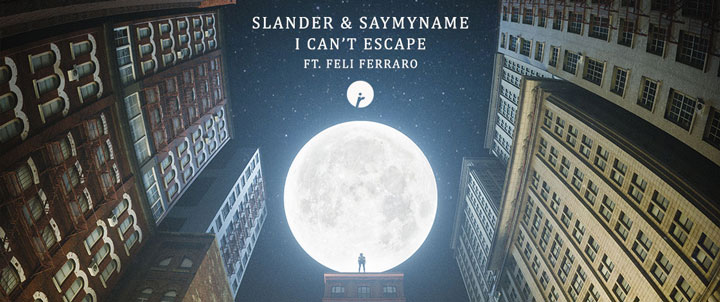 Follow Slander on Facebook | Twitter | SoundCloud
Follow SAYMYNAME on Facebook | Twitter | SoundCloud
Follow Insomniac Records on Facebook | Twitter | SoundCloud
---
Share
---
Tags
---
You might also like