'Night Owl Radio' 149 ft. Zedd Takeover
The second weekend of Electric Forest is currently going strong, and Pasquale is presently preoccupied while wandering through the woods, making sure the music and arts festival is on point. Since he's holding down the fort at Forest, he wanted to make sure the show was in good hands. And indeed, it is. Zedd is currently in Los Angeles, getting everything in line for his Zedd in the Park festival, which is bringing a solid daytime vibe into L.A. State Historic Park on Tuesday, July 3. On top of support from whethan, medasin, and Oliver Tree, the show will have legit food options and chill activities popping off.
As a precursor to the party, Zedd dips into some of the tracks he's been digging lately, including the intro he has planned for his set next week. He is an exemplary host and is only made better by the fact that his buddy whethan makes a cameo as his special guest. The two of them riff off of each other and have an absolute blast as they crack jokes and speak on all of the secret edits, remixes, and originals Zedd works into the programming.
Night Owl Radio is available via iTunes, so get to subscribing on your iOS devices.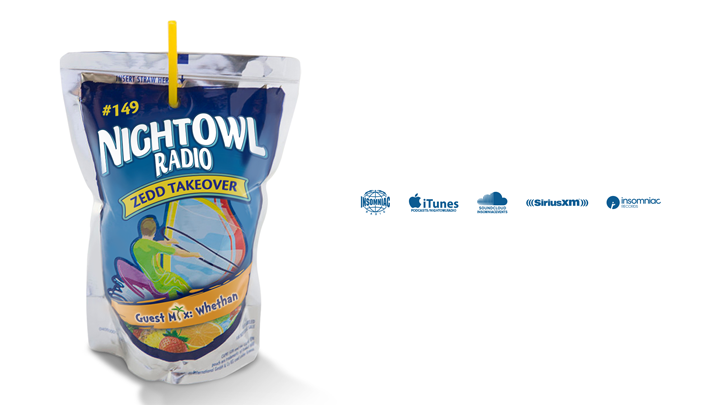 Night Owl Radio 149 Track List:

Zedd "Intro"
Magnificence & Julian Snijder vs. Axwell vs. CamelPhat & Shapov & A*M*E "Drop It Low" vs. "Barricade" vs. "Paradigm" (Magnificence Mashup)
ID "Oh What a Night" (Zedd Edit)
Zedd, Maren Morris, Grey "The Middle" (Curbi Remix)
Bougenvilla "Nagini"
Magnificence & Steff Da Campo "Out of My Mind"
Zedd ft. Matthew Koma & Miriam Bryant "Find You" (Coachella Edit)
ID "Summer 9000"
Zedd & Liam Payne "Get Low" (KUURO Remix) (Zedd Live Edit)
Fox Stephenson "Tico"
Herobust "Vertebreaker" (Habstrakt Remix)
Daft Punk "One More Time" (Zedd Remix)
Zedd "Addicted to Bababa" (Zedd Edit)
KDrew & Indiginis "Never Gonna Wait"
The Internet "Roll" (Burbank Funk) [Kaytranada Remix]
Brockhampton "Stains" (Whethan Bootleg)
Mura Masa ft. Octavian "Move Me"
Calvin Harris "Colours"
Whethan ft. Oh Wonder "Superlove"
Whethan ft. Broods "Be Like You"
Guru Josh Project "Infinity"
Zedd in the Park takes place Tuesday, July 3, 2018, at L.A. State Historic Park in Los Angeles, CA. Tickets are on sale now. For more information, visit the official website.
Follow Zedd on Facebook | Twitter | SoundCloud
---
Share
---
Tags
---
You might also like