Zedd 'True Colors': A Track-by-Track Review
Upcoming Event
Having hit the top 20 of the Billboard Hot 100 charts twice with his 2013-released album Clarity, Zedd aggressively pursues the elusive pop perfection of a number-one single on his synesthesia-inspired second studio album, True Colors. In 11 tracks, Zedd uses his album as a series of colorful aural darts. He targets our collective pleasure centers with pinpoint aim from an impressive array of angles. Oftentimes he hits the center, and it explodes in rich and expressive hues. Amazingly enough, even when he's just a bit off-target, this album still hurts so good.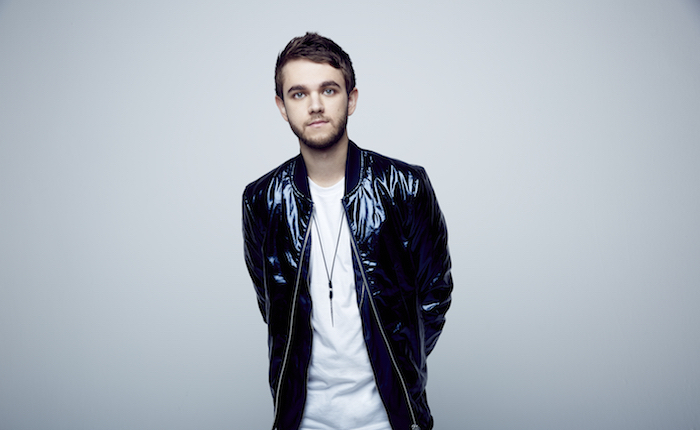 1. "Addicted to a Memory" ft. Bahari
Bahari's vocal here soars above the mix, which is fortunate, because what's going on below is a master class in sonic dissonance actually aiding the track's final presentation. Rapid-fire electro synths stomp against a steadily thumping bassline, but stick around for the end, as the track's 20-second coda is jaunty confection and sounds like winning the eighth level of Super Mario Bros.
2. "I Want You to Know" ft. Selena Gomez
In the album's most true-to-current-standards moment, Selena Gomez collab "I Want You to Know" sounds like every hyper-charged, progressive house, Swedish House Mafia track you've ever loved. The key here is that Gomez's performance is layered over a build that, if it were allowed to progress without vocals, would feel interminable. However, Gomez's engaging vocal is the perfect amount of sweet, gooey caramel to counter the salty synths that are nasty as hell here in the best way possible.
3. "Beautiful Now" ft. Jon Bellion
Lyrically, the trance-like and atmospheric "Beautiful" covers the most commonplace of magical club/festival moments: seeing the most beautiful woman you've ever seen before, and she's not wearing any underwear. In that temporary moment of euphoria, extrapolating it into a sexual encounter in the clouds makes sense. Zedd transforms a generic anthem into something much more obvious: that just-past-peak-hour, hands-up throw-down one would expect from Zedd's live sets.
4. "Transmission" ft. Logic & X Ambassadors
Ask any crossover-attempting electronic producer what they'd do if given access to alt-rap/rock band X Ambassadors, of "Jungle" fame, and blog-hyped emcee Logic on a production. Instead of running the trap, Zedd surprises with an undulating, minor key, synth-led, electro power ballad with a few bars tossed in for good measure. Zedd's desire to create a song that appeals to rap, rock and dance fans in equal measure—inspired by genre-free creative standards—is like touching all the bases even though you've smashed a home run.
5. "Done With Love"
Zedd throws the strong male lead vocal on "Done With Love" into a blender at the tail end of the initial build, and the track then spills into a thumping progressive banger. The simmering hi-hat that buoys the vocal is buried just deep enough in the mix that the bassline percolates with scintillating energy, which pays off with a well-delivered and gripping hook that features an explosive synth breakdown.
6. "True Colors"
Rumbling tribal energies are kept under cover, as Tim James' harrowing vocal performance is the standout here. If this one were to meet a color, it'd be a glowing orange, like an ember. James' power-ballad-style rendering of the lyrics lends something extra that puts this atmospheric production over the top. Expect remixes of this one in the styles of both tropical house and jungle terror, the two more propulsive sounds to which it bears a strong kinship in vibes.
7. "Straight Into the Fire"
The downright peppy vocal delivery of singer/songwriter Julia Michaels nearly bowls over anything Zedd could conceivably do on this production to take it to another level. This track is missing its calling as the cry from Dorothy to the Cowardly Lion in a 21st-century update of The Wizard of Oz. Zedd's funky filtering in the melody gives the track enough off-kilter quirks to make the entire song (vocal, too) a powerful earworm and one of the album's best overall productions.
8. "Papercut" ft. Troye Sivan
Daft Punk-inspired thumping house meets orchestral motivations on "Papercut," a track also noteworthy for Troye Sivan's ability to imbue hope, sadness, a temporary danger, and a guarded euphoria into lyrics for the temporarily lovelorn. The song is nearly eight minutes long because it tells a story that's cinematic in expectation. The production is never languorous, as Zedd taps deeply into his classical roots to create enough themes and variations happening in succession that the track eventually overwhelms desires to dance with the desire to stop and luxuriate in its overall beauty.
9. "Bumble Bee" with Botnek
Canadian electro house duo Botnek specialize in taking razor-sharp synths and carving up well-made house tracks into patchwork quilts of hard house madness. Instead of their usual insanity, Zedd comes along and aims the aural equivalent of rubber bullets at their mix, and the output is bizarrely magical. The zipping, tearing, and hither-and-to energy of the production mirror the flight of a bumblebee—classical fans, rejoice. It's the album's best mindbender of a production; throw in a thumping bassline, and it's certain to make a dancefloor go wild.
10. "Daisy"
Violins this high in the mix at the start of a track recall the Beatles and U2, and the orchestral feel of the synthesized elements—the bassline slumps along here, adding significantly to the unfettered and flowing energy of the melody—certainly could make this Zedd's pop answer to "Eleanor Rigby" or "Beautiful Day." Julia Michaels' spritely ebullience is here, too, her top-line adding significantly to the overall production.
11. "Illusion" ft. Echosmith
Echosmith's vocalist sings a song of heartbreak over a shared love that doesn't exist. The allusion to fairytales is perfect. Zedd impressively incorporates piano here in a manner consistent with the era of Phil Collins' pop/rock heyday and creates a synthetic bridge between trance and progressive house. It's another attempt by Zedd to blur lines between genres so that all sounds can grow in respect alongside the surging electronic music trend. As with many tracks on this album, their component parts are equally as impressive in breaking down the theory of their use as they are in marveling in the beauty apparent within their execution.
Zedd's True Colors is available now on Interscope Records.
Follow Zedd on Facebook | Twitter
---
Share
---
Tags
---
You might also like