'Night Owl Radio' 118 ft. G Jones & Eprom and Vini Vici
Upcoming Event
Even though Thanksgiving was totally yesterday, Pasquale didn't want to miss the opportunity to express his undying gratitude through a holiday special. He's got the full grill's worth of dope beats to feast on this week, many of which coincidentally have a solid throwback rave feel about them (and if you know anything about our host, then you'd know that's his jam). Dig in to them like that fridge of yours getting raided for leftovers.
Eprom and G Jones are two of bass music's most innovative figures, and they have made it a habit to hit up the lab together, collabing on the regular to crank out those face-frying concoctions. They've got insane chemistry together, so we wanted to let that low-end bonding shine through on our Up All Night segment. And it did, no doubt.
Our next guest is a duo that tends to operate on a totally different wavelength but still keep things equally as trippy and transcendental. Vini Vice have cemented themselves as a progressive psytrance act with unbelievable commercial crossover. Tomorrow, they have an appearance at Dreamstate SoCal down in the books (at the Sequence stage, if you're going to be there getting your trance on), so we had to get them on the guest mix to take us on a quick 30-minute psy trip.
Night Owl Radio is available via iTunes, so get to subscribing on your iOS devices.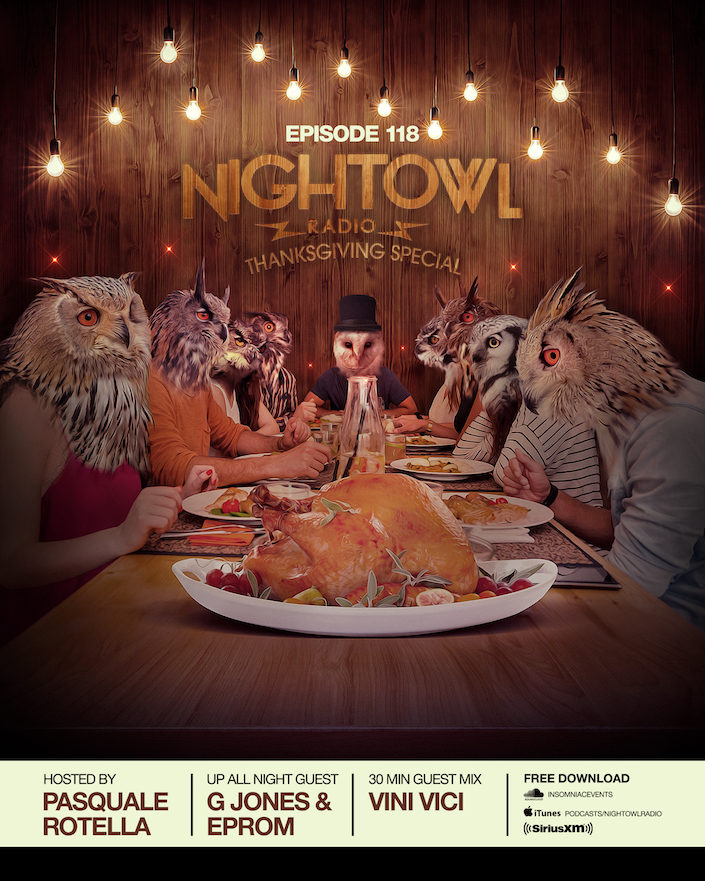 Track List:

Jorja Smith & Preditah "On My Mind" (Preditah VIP Mix)
Rico Tubbs "Chemistry" (Isenberg Remix)
Killed Kassette & Tuff Dub "Jungle"
Textasy "Wave Racer"
Fisher (OZ) "Stop It"
Riva Starr & Green Velvet "Keep Pushin'" (Harder)
Aitor Ronda "Tweezer"
Tonja Holma "Global"
Feed Me & Kill the Noise "Crazy Maybe" (No Mana Remix)
DISKORD "Lessgeddit"
Patrick Topping "Track Change"
G Jones "Helix"
G Jones & Eprom "Hysteria"
Eprom "Kumia"
1991 "Mayk Yu Myne?"
Adam F & Mind Vortex "Music Is My Life"
Dawn Wall "Problems"
Tantrum Desire "Grimm"
CONVEX "Nightowl Radio Mini-Mix"

Vini Vici Guest Mix

Bass Construction "Dance With Power"
---
Share
---
Tags
---
You might also like