The birth of our underground brand Factory 93 not only brought on an adrenaline rush reminiscent of the renegade warehouse era of raving—on which Insomniac was founded—but it also had us thinking back to all the people, places and parties that made this whole operation possible. And with that came a burning desire to crack open our collection and dust off the classic records we couldn't live without. Through our From the Crates series, we break out seminal and obscure cuts alike, imparting some knowledge in the process.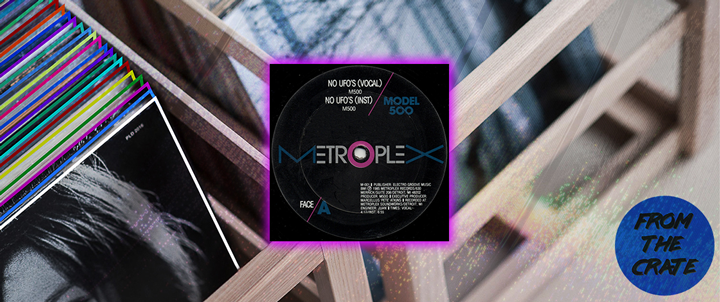 They say there is no hope
They say no UFOs
Why is no head hung high?
Maybe you'll see them fly
—Model 500, "No UFO's"
After releasing the 1983 album Enter as Cybotron (with Rick Davis), legendary Detroit DJ/producer Juan Atkins created his own solo project, called Model 500, and dropped "No UFO's" as his first single by himself on his own label, Metroplex.
"I've always liked to wonder, to lay back and look at the stars, and wonder about what's out there," he told Afropop in 2011. "I've been intrigued by all things having to do with outer space, space travel and time travel… all of these things that were in science fiction novels and films. And it just came out in the music. It was a natural progression for me to make futuristic music."
The record blew up locally and then in the Windy City, all at a time before the word "techno" had emerged to describe a new genre of music.
"'No UFO's' was a smash hit in Detroit coming out of the gate; it was released during the time where the Wizard, aka Jeff Mills, was on the radio," Juan wrote in the liner notes for a stunning 2017 remix release of the single, featuring new versions by Moodymann and Luciano. "As soon as [Mills] got his hands on it, he put it in heavy rotation in his mixes, and it became an instant smash hit in his radio show. Also, this was the time of house music in Chicago, so DJs like Farley 'Jackmaster' Funk, Bad Boy Bill, Ralphi Rosario, Julian Jumpin Perez, and Fast Eddie, among others, [played it]; therefore the record also became a smash hit in Chicago."
The vinyl single made it to Chicago thanks to Juan's emerging colleagues, who literally threw a bunch of copies in the car and drove them there.
"Derrick May and Blake Baxter used to drive Blake's pickup truck full of vinyl 12-inches to sell in Chicago, and from there, the records were exported to the UK," Juan continued. "That's one of the things I remember very vividly about that release. It was such a cornerstone and groundbreaking track in the development of techno music, house music, and EDM in general."
"Derrick's parents had moved to Chicago, but he was still in high school, so he had to stay here to finish up," Juan told Red Bull Music Academy in 2017. "But he would go there, and he would tell these stories about the clubs, who he'd met and radio shows he'd heard. That was my first introduction to Chicago. When I started Metroplex, he took some of my first records down there, my first copies of 'No UFO's.' He gave a copy to Farley Jackmaster Funk, and he broke that record over there. Farley made it the biggest record in Chicago. He made it bigger than it was in Detroit."
To hear Juan relay the history, "No UFO's" put techno on the map.
"When the record companies from England came to investigate this sound, they all landed in Chicago and discovered Detroit," he explained to Afropop. "They asked about my record 'No UFO's,' and the Chicago kids told them, 'That's them Detroit boys.' So they came to Detroit, and Neil Rushton came up with the idea to do a compilation for Virgin and call it The House Sound of Detroit. My track that I put on this record was called 'Techno Music.' And they were like, wait a minute—if he's deeming this record 'Techno Music,' and all the rest of this stuff is similar-sounding, let's call it Techno: The New Dance Sound of Detroit. Hence that album was released, and the name stuck."
Techno: The New Dance Sound of Detroit put Juan, Derrick, Blake, Kevin Saunderson, and others in hot demand in England and Europe, where they all still see significant income for their DJing and live music performances.
Model 500's debut has never left the international dancefloor conversation. An answer song called "Yes UFO's," with the same endearing punctuation error, came from Beautyon (aka Akin Fernandez of the UK label Irdial) in 1994, and the 2017 official remix release on Metroplex has given the foundational song brand-new life.
"The idea behind the remix 2017 is, why reinvent the wheel when we can get the source material that created the wheel in first place and reworked?" Juan wrote in the remix liner notes. "Also, I wanted to incorporate collaborations with some major players nowadays, like Moodymann and Luciano. That will make it possible to reach a newer, wider, and more diverse audience."
---
Share
---
Tags
---
You might also like