Insomniac's Metronome series features mixes from some of today's fastest-rising electronic stars, as well as championed legends. It takes listeners deep across a wide range of genres, movements, cultures, producers, artists and sounds that make up the diverse world of electronic music.
Stockholm-raised, globetrotting, multi-talent Adeline is an artist who simply refuses to sit still. Constantly defying expectations, she brings powerful and unique angles to everything she touches. She's small in stature, but her energy in the DJ booth is undeniable, and she boasts a strong and passionate singing voice. These were among the many traits that brought her from the "rolling Swedish countryside" to New York, Ibiza, London, and more. And at every step, her fans and reputation grew.
Her early days of DJing were strong enough to launch Adeline onto the biggest electronic radio show in Scandinavia, P3 Dans. Around that time, she began to help curate the burgeoning music platform SoundCloud. From there, she had a steady stream of gigs that crisscrossed many parts of the world. With her mixes also in demand, she's recorded sets for DGTL, Brunch in the Park, and Disco Knights. More recently, Adeline had a full set videoed for a midsummer celebration at NYC's the Crown, via Rekorderlig + Mixmag.
Naturally, producing became part of her wheelhouse, and her first big release, 2012's "Love Handles You," was not only put out by Get Physical's imprint Kindisch, but charted for four weeks in the top 20 of Beatport's Top 100. She's had similarly successful tracks on Culprit, Get Physical itself, and more. And while many of these releases feature Adeline's solid productions, many others feature her hypnotic and compelling vocals.
Still not content, Adeline moved forward as a live musician, as well, performing her first live set at MUTEK in 2016. Since then, she's performed regularly, with many fans lauding her ability to wrap captivating melodies over warbling basslines (topped with her signature singing, of course).
Today, Adeline is busier than ever, even by her own standards. She is constantly vacillating between DJ sets, live performances, and studio time for both producing and recording vocals. Still, she's found time today to drop another hot mix with us. This one is a journey of serious grooves and beats through a wide landscape of sounds. It's just the sort of set that started her upward trajectory to begin with.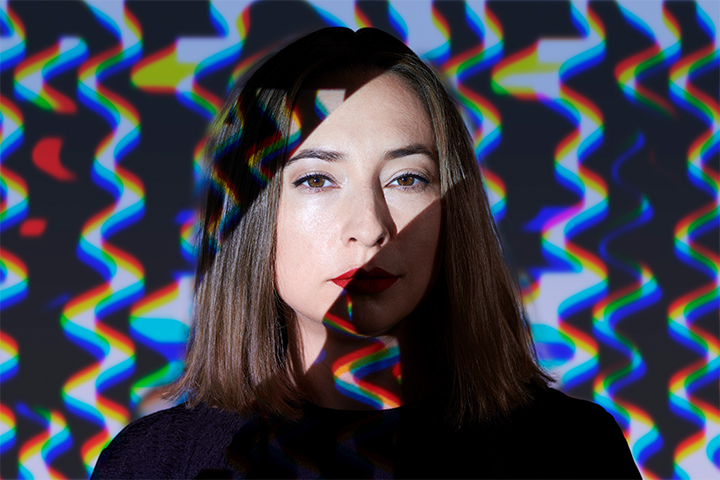 With so many irons in the fire, creatively, how do you both keep it all organized while maintaining that much energy?
This year, I've started to work with quite a few other people to help me out, as it does get heavy! To manage my own time, I meditate a lot and use an amazing planner called the High Performance Planner. I really recommend it! Gives a great overview of all your life's areas.
Speaking of energy, how was Miami? Get Lost looked like a huge party.
Get Lost was an amazing experience to be part of. It was so much fun to play and be part of such an incredible production. It's like a dreamland for ravers! I was living in Miami for a couple of months and really enjoyed it; it's a very easy city to live in—close to the beach, and great weather!
Also, what was that about your trip through the jungle?
I ended up spending a month in the jungle of Panama earlier this year. I was only meant to go for a week, but it turned into one of the most amazing experiences. My only promise to myself this year is to go with the flow, and so I did. I met some friends, and we went on a road trip, met cacao planters, did ecstatic cacao dance ceremonies, surfed, and learned to cook jungle food!
Where are you currently, and what's the plan there?
I'm currently in Mexico, and I'm on the road of flow again! After my gig here in Mexico City, I'm going to Bacalar for a few days, then I'll do another few gigs here in Mexico and Bolivia before heading to the States for some studio work, and then back to Europe and Ibiza for openings. I'm opening the Ibiza season at Zoo Project, where I am a resident, the 19th of May.
You've had a large amount of success for your DJ sets alone, which is something increasingly hard to do these days. What do you think sets you apart for fans and peers alike?
Onstage, I have a lot of energy—an energy I'd like to believe I transmit onto the room! I like to take the crowd with me on a journey, and I always keep it fun. Behind the scenes, I think perseverance is one of my strongest traits as an individual. I just never give up. I'm so passionate about music—this is my life—and I think it can be inspiring for others who are following or are about to follow their passion, whether it's in music or something else.
What are some of the best shows you think you've DJed, and how do you win over crowds when things feel more difficult?
One of my favorite shows to date was Get Lost. It was all so much bigger than expected, and people were up for the adventure! I also do love to play out in the Rabbit Hole at Zoo Project; it's the after-party venue, and as it's still early in the night, people are just GOING for it. It makes an amazing energy; people are letting everything go.
Your early productions yielded a large amount of success, and the rest have also been heavily lauded. What was the impetus to move from this to a live show?
That is something that is still in the works. When my album is done, it'll be coming together with that.
How does your live show differ from your studio productions?
The album will be a concept live show.
With all of your many talents, what does an ideal future look like?
I want to keep playing all over the world, DJing and live, and I'd like to settle down in a villa in Ibiza!
What's next for you this year? What else would you like to mention?
My next EP is coming on Crosstown Rebels this summer with a D'Julz remix, and I'm also starting my own label called Body Frequency!
Follow Adeline on Facebook | Twitter | SoundCloud
---
Share
---
Tags
---
You might also like