Metronome #169: Mihalis Safras
Insomniac's Metronome series features mixes from some of today's fastest-rising electronic stars, as well as championed legends. It takes listeners deep across a wide range of genres, movements, cultures, producers, artists and sounds that make up the diverse world of electronic music.
Anyone who swims in the waters of house and techno should know the name Mihalis Safras. The Greek veteran has been DJing for nearly 20 years and producing almost an equal amount of time. He's played major clubs and events the world over, from Berghain to Ibiza. Beyond wowing crowds, he typically wows other DJs with his continued insistence on playing mostly all-vinyl sets.
His tracks are always top-notch, whether they fall under house, techno, or any number of variations of those genres combined. Constantly charting across Beatport, he even made it onto one of Resident Advisor's most-charted artists lists. Safras has dropped tracks on the likes of Toolroom, Relief, Circus, Solä, and more—though naturally, many releases find their way onto his own label, Material.
His latest collaboration with Green Velvet—his sixth collab with the artist to date—has been making huge waves across the scene. "Microwave" is a massive throwback warehouse techno thumper with rough and raw hardware edges. He's currently on the road, which tends to be the norm for Safras, headlining across both North and South America (keep watch for that EDC Las Vegas date in May).
Mihalis Safras has been a talented and hard-working artist for quite a while, and things are sure to go up from here. Today, he brings us a rich mix, full of the kind of passionate music he's become famous for. It's a dancefloor-moving, four-on-the-floor journey, and it's definitely a taste of what's to come for his upcoming sets on the road.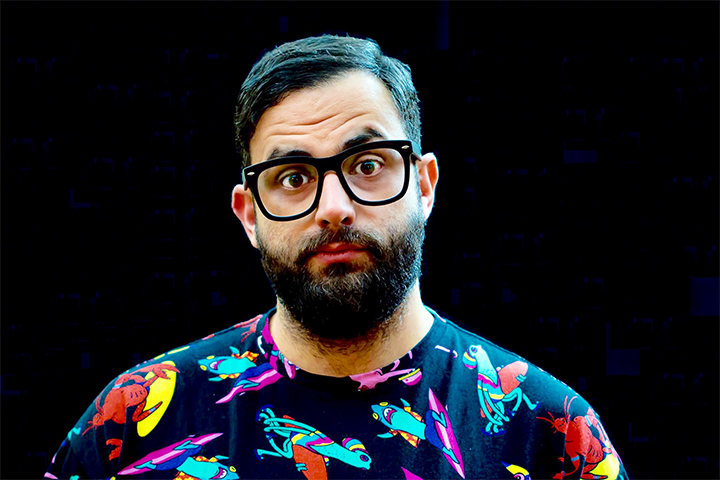 You recently played out in Spain. How was that?
That's right—had a show in Murcia and just made it. The story goes that my flight to Murcia was delayed five hours, and I was pretty sure I would miss the event. I ended up landing at 5am and went straight to the venue, where I was surprised to find a packed venue. I ended up playing for four hours straight to a full club. It was great.
You're about to head back to the US for some gigs next, correct?
I was in Miami a few weeks back, and I am returning to the States for the La La Land stage at EDC Las Vegas. It will be my first time to spin at such a huge festival, so I'm pretty excited. After that, I'll be heading to CRSSD in San Diego. 
Have you really been DJing for almost 20 years? Who were the artists, and what were the events, that originally inspired you to get involved in music?
Do not mention numbers, as it reveals my age… I am pretty fresh in the scene! The Detroit/Chicago scene back in the day was definitely the thing that made me wanna get involved. I'm so happy I made that choice now.
After you'd been working at DJing for a while, what was the first event you played where you finally felt like you'd made it, to some degree?
My first show was in a legendary club in Athens in 1999, called Berlin Club, a massive venue that had its door opened at 7am. I've never felt I made it, as it is a process that keeps moving on and will never stop.
Many DJs laud your adherence to playing vinyl out. You're so tight on the decks. How do you keep your records organized so you can flip through them as fast as, say, a DJ navigating a digital "crate" on a CDJ?
I am a visual type of guy; I like to see the covers of the vinyl, as that helps me select them. A tip I got back in the day is to get a green marker and write on the upper corner, so I can also find what I am looking for easier. I used to add a huge asterisk mark for the ones that were big tunes. Right now, things are changing and CDJs are the kings in the booth. But I've got no problem with that.
I've heard that, at least at one time, you were helping run six labels. Is that true, and what labels were those, besides Material?
I still run eight labels, including one drum & bass one. I love music in all its forms (plus, I used to be a D&B DJ really far back in the day). I run Material, Materialism, Material Limited, Playmobil, Pixelate, MrCarter, Tuna, Lit, and Syndikaat. Most of them used to have vinyl, but now I only press it for Material.
Your latest release is another with Green Velvet. It seems like there has been a huge response to this track. What was the process like creating it?
Yes, "Microwave" is our sixth collaboration within a year, which is pretty amazing. I think it is the most unique tune we've made, and the response is great so far. There is no "process" when it comes to working with GV. 🙂
You talked about changing your sound to keep up with the times. Is this something you find easy to do, or does it become frustrating periodically?
I find it easy to adapt, as every time period has its own unique sound, and I love evolving. After all, no matter what you produce, you produce to make people dance, right?
In a complete vacuum, with no worries of trends or status, what type of music would you like to make? What's a genre you don't produce in that you've always found fascinating?
For some reason, I like dubstep—not in the way of doing a track, but mostly in the sounds/samples that are used—futuristic. But I'm happy and blessed with what I do and wouldn't change that… unless you offer me a good souvlaki.
What styles do you see coming into popularity on the horizon?
I am not a fan of labelling styles. It's all house and techno; good DJs can go from one to another, according to where they spin. So, house and techno, baby!
What are some of the heavy-hitting records you plan to bring with you on your next stint of shows?
We have a lot of new upcoming tracks with Green Velvet that are going to be released in 2019 or later. Expect to listen to some fire in Las Vegas, San Diego and Seattle on my USA tour.
Anything else you'd like to mention or plug?
Leave hate aside, and enjoy music.
Mihalis Safras 'Metronome' Mix Track List

Claptone "Stay the Night" (Mihalis Safras remix)
Mihalis Safras "Action"
Mihalis Safras "Trip"
Vanilla Ace "Beatbox" (Alvaro Smart Remix)
Gigak – ID [Material Unreleased]
Mihalis Safras "Worry"
Gene Farris "Afrodisiac"
Mihalis Safras "Put Hands up"
Mihalis Safras "Girls"
Mihalis Safras & Green Velvet "Microwave"
Yvan Genkins "Love"
Julian Collazos "Traffico" (Mihalis Safras Edit)
ID – ID [Material Unreleased]
Follow Mihalis Safras on Facebook | Twitter | SoundCloud
---
Share
---
Tags
---
You might also like