Insomniac's 
Metronome
 series features mixes from some of today's fastest-rising electronic stars, as well as championed legends. It takes listeners deep across a wide range of genres, movements, cultures, producers, artists and sounds that make up the diverse world of electronic music.
No matter if you're at a dubstep or trap set, you're almost guaranteed to hear an Ephwurd track heating things up at one point or another. Since the project's inception in 2015, the eclectic bass house producer has been slinging out festival heaters left and right, like "Rock the Party" and "Vibrations," collaborating with everyone from Jauz to JVST SAY YES to create truly one-of-a-kind, genre-twisting productions.
The musical journey started young for L.A.-based Basie Hauser, who grew up soaking in influences from his Grammy-winning father Tim Hauser, a member of the legendary Jazz ensemble the Manhattan Transfer. Basie innately felt the pull toward electronic music, digging in deep to '90s dancefloor beats before going on to curate his own pulse-pumping bass house sound. While the last year has been quite transformative for Ephwurd, making the move from a duo to a solo act, Basie is deftly rising to the occasion with some mind-bending new tracks.
He's treated us to an hour-long Metronome mix, immediately setting things on fire with his newest track, "Hectic," while keeping the energy through the roof with a constant onslaught of bass house masterpieces and even a few Ephwurd IDs thereafter.
We also caught up with Basie to learn more about his unique musical upbringing, his favorite festival memories, and exciting news to come in 2019.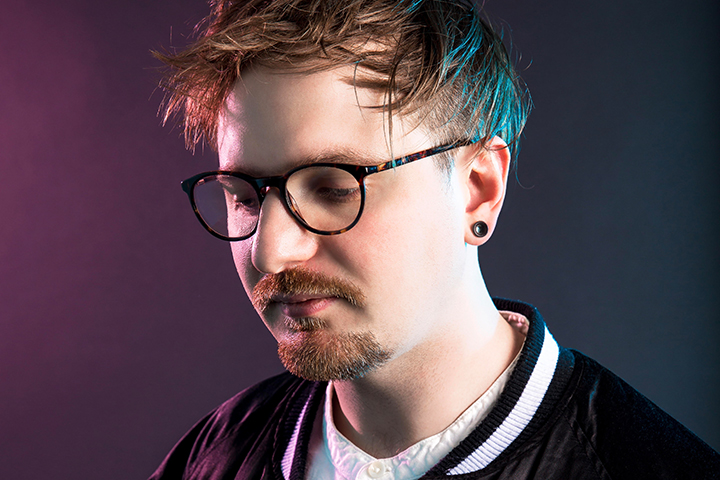 Many might not know that your father is Tim Hauser, a member of the Manhattan Transfer. Growing up with a father who has paved the way for jazz, what are some lessons you learned that helped you become a similarly influential artist in electronic music?
The main thing I learned from my father was the value of persistence and pushing through both the good and bad. When he decided he wanted to be a singer for a living, he ended up driving cabs around New York City at the age of 30 to make ends meet. He spent his nights in jazz clubs, networking and putting together his group. He never stopped and just kept going, and his dream evolved into a career that lasted 40 years. He never gave up on what he loved, and growing up around such passion showed me that no matter how hard things get, if you really love what you do, you'll fight through thick and thin to make it work.
Did you always feel a calling to follow your family's legacy into music?
When I look back on it, I guess I did. After high school, I had only applied to one college, which was CalArts, because they had the best music technology program at the time, and thankfully I got in. Once I was there, I knew sitting around in a classroom learning how to use Java or C++ was not for me.
I left after one year and dove right into working for Dim Mak Records, just so I could immerse myself in dance music culture. I think at that moment, I knew it's what I really wanted to do because, for once in my life, I found people who had the same interests as me. I finally felt I was able to learn from my peers and grow with the scene—much like my father, who had found jazz and dedicated his life to it. I guess it's the same calling but with a different sound.
When did you first feel the draw into electronic music, and how has your taste evolved since you first started producing?
The first time I heard Aphex Twin was a big moment for me. My friend played me his song "4" when I was 15, and my jaw dropped. I was blown away that some guy made something so complex in a bedroom studio. I knew that I wanted to do something similar. It took me about 10 years after that to fully get a grasp on production, but luckily, I finally got the hang of it. Now, I'll listen to that same record and actually find the engineering to be rather poor.
Modern-day production focuses so much on the quality of your mixes and how they are translated on both big and small systems. Naturally, songs made on old-school samplers back in the '90s/early 2000s just don't sound as big as they used to. I still love all of the old electronic music that I grew up with, but now I think they could use updated mixing and mastering. My overall taste is still the same, but now my ear is more technically trained.
Your genre-defying sound mixes in perfectly with so many different sets and never fails to get a party rocking. Are there any techniques or styles from jazz that you integrate into your own bass house productions?
I think the main thing from jazz that's incorporated in the Ephwurd sound are the samples. I love to sample old disco and acid jazz records that work well as fills or stabs. Anything that's energetic and "vintage" works really well to give the record some more character. I would like to start incorporating more jazz theory into records, but for now, the samples from older records do the job.
Your tracks are perfect for high-energy festival settings. What's your favorite memory of playing out one of your tracks at a festival?
Playing "Rock the Party" at the debut Ephwurd set at Escape 2015 was a pretty big moment for me. DJ Snake had gotten into a car crash that night, and luckily he was unharmed, but he missed his set. We ended up playing his slot in between Porter Robinson and Showtek for about 20,000 people. It was my first festival show ever, and it was such a massive crowd. I just felt my body flood with excitement when I saw everyone going mental over something that I had been a part of creating. I also almost shit my pants at the same time. Nothing can prepare you for that feeling.
You kick off your Metronome mix with your aptly named new track, "Hectic," just recently released on your own Eph'd Up Records. How did your creative process lead to this '90s dancefloor-meets-dubstep track?
Swage and I were hanging out one day, just playing around with ideas, and we came up with this super heavy, electro-sounding bass. From there, the track almost wrote itself. It had this hypnotically hard vibe to it, and the only word that came to mind with the bassline was "hectic." I knew at that moment, there was only one vocal that would work for the track, so I sampled myself saying the "It's gettin' kinda hectic" line. I'm a sucker for '90s music through and through, so I love to pay homage to it as often as possible.
Are there any up-and-coming artists in the bass house realm that you highlighted in the mix?
I have been a big fan of ATRIP lately. He just released a song on my label called "Beat Like," which is a straight heater. I also debuted a new artist called Siberian Express. It's his first track ever, and I absolutely love it. It's called "GonDem," and I'm very excited to be releasing it this March on my label. I've been discovering so many new artists just through people dropping me demos via email, so I'm always on the lookout for dope bass house tunes.
You also included a few banging Ephwurd IDs. Any idea when we can expect to see those released?
A couple of them will never come out. I just like to play them out, but it's kinda fun to have songs that will never be released to the public. If people want to hear them, they have to tune in to the mixes or hear them in live sets. It kinda keeps some of the mystery still involved with the artist. There are a couple of IDs I'm playing out in the mix that should be released this year, though. 🙂
Are there any exciting new Ephwurd announcements we can expect on the horizon?
I've been doing a lot of collabs lately, and they should all be coming out this year! I had the opportunity to work with one of my electro house idols, the Bloody Beetroots, this year, which was an honor and a privilege. I am really excited about the work we have done together so far and can't wait to see how kids react to the songs. I am also finally releasing other artists on my label, which has been super exiting, so everyone can expect a lot of new material from the artists that I believe in.
Ephwurd Metronome Mix Track List

Ephwurd & Swage "Hectic"
Ephwurd & ID – ID
ID – ID
Atrip "One More Time"
Joyryde "I Ware House" (Matroda Remix)
Featurecast "Keep on Jumping"
TV Noise "Ratata"
Malaa "Bling Bling"
Ephwurd "Everywhere I Go" (VIP)
Jvst Say Yes "Give It Time"
Throttle "Money Maker"
Ephwurd – ID
TV Noise "Bring It Back"
Throttle "Like this"
Ephwurd "Bring It Back"
Joyryde "Hot Drum"
Eric Prydz "Pjanoo"
Chocolate Puma & Tommie Sunshine ft. MX2 "Tear This Mother Down"
Adromulus "Phantom"
Solee "Impressed"
Twoloud "All About That Bass"
Delayers "@ss Down"
Shift K3y "Rhythm of the Drum"
Halsey "Alone" (Calvin Harris Remix)
Iannam "Body Move"
Seth Hills "Whisper"
Matroda "They Call Me"
Damien N Drix "Talking"
Ephwurd "Vibrations"
Habstrakt "Darkness"
Hasse De Moor "All Night"
Ibranovski "Primal Riot"
Siberian Express & Kitone "Move to the Sound"
Space Laces "Kaiju"
Wolfgang Gartner "The Champ"
Bro Safari & Boombox Cartel "Flip" (Crankdat ReCrank)
Fatboy Slim "Star 69"
Armand Van Helden "The Funk Phenomena"
Ephwurd ft. Oneeva "Function"
Max Vangeli & Timmy Trumpet "Booty Shake"
Subshock & Evangelos vs. Gerald Le Funk "2Bae"
Follow Ephwurd on Facebook | Twitter | SoundCloud
---
Share
---
Tags
---
You might also like