Metronome #154: Pigeon Hole
Insomniac's Metronome series features mixes from some of today's fastest-rising electronic stars, as well as championed legends. It takes listeners deep across a wide range of genres, movements, cultures, producers, artists and sounds that make up the diverse world of electronic music.
What started out as a mutual love of hip-hop and gangsta rap between childhood friends in Victoria, B.C., has since formed the foundation for Colin McCue and Lee Napthine's meteoric rise in the West Coast bass music scene, under their Pigeon Hole moniker.
Having found early success in the mid-2000s as part of the underground hip-hop collective Sweatshop Union, it wasn't until Colin and Lee stumbled across the bass music scene that they went into the lab and began channeling their extensive roots in hip-hop with an eye toward merging it with their newfound love of the burgeoning West Coast bass music scene.
Fast-forward to the present, and the duo continues to blaze a trail to the top with a unique sound that is all their own. Centered on a hip-hop, trap, dubstep, and straight-up boundary-blurring aesthetic, Pigeon Hole has surfaced on imprints ranging from Sleeveless to Saturate, with high-profile appearances everywhere from Shambhala, Emissions, Serenity Gathering, all the way to Burning Man, cementing their reputation as heavy-hitters deserving of the support their tunes have been receiving from the likes of Bassnectar and Minnesota. Speaking of Minnesota, one of the duo's most recent accolades includes being tapped as the first artists to be signed to Minnesota's newly minted Outer Realms imprint.
As the duo continues to make big moves and crush the competition with heavy bass and halftime rhythms, we figured it was high time to lock in a proper Metronome mix from them to really get a feel for the kind of beast we're dealing with. Featuring the venomous lead single "Wolves" from their forthcoming Noise Parade EP on Outer Realms, the mix features an unchained glimpse into the anabolic vision that Colin and Lee are pushing as Pigeon Hole. Check it up top.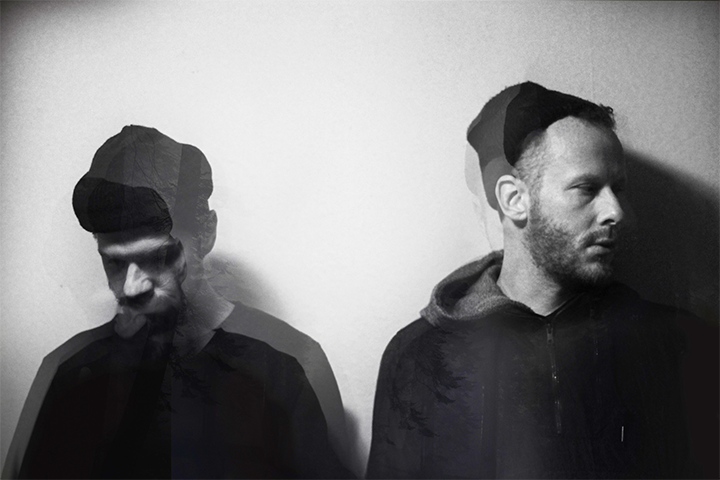 Give us a glimpse into the origin of Pigeon Hole. How did you guys meet, and how did that budding friendship eventually lead to this project?
Colin: We met as kids in elementary school. We were both really into hip-hop and one day just kind of mentioned or admitted that we also actually wanted to rap. We went through high school playing hip-hop shows and eventually started up a group with some of our homies, called Sweatshop Union. We toured all over North America with the project and released six or seven records, I think. It was an awesome time, but feels like a lifetime ago.
Lee: We came from small-town Canada. Hip-hop fans in the '90s were rare as leprechauns. We bonded over Wu-Tang, Death Row Records, and shit like that. We had some friends from Vancouver that put us on in the city, and we became part of the underground rap scene there, which eventually came together to put out an album. We named the project Sweatshop Union. It popped off more than we expected, and we ended up touring with them for over a decade. It was fun—constant competition having to earn your spot on songs with that many producers and emcees.
Before the very first beat was crafted, did you have a vision, philosophy, or aesthetic you guys were pushing toward or using as a kind of framework for the Pigeon Hole project?
C: We started out as hip-hop producers, and our main goal was to always have grit and an underground vibe to our beats. We grew up loving gangsta rap like Dre and Snoop, as well as groups like Wu-Tang. It was all sample-based music in those early days. Obviously, since then, our whole sound has changed so much, but that West Coast gangster rap influence is still a strong part of what we do. It's a nostalgic thing, I guess.
L: There wasn't any framework at first. When we first started bringing electronic music into our sound, it was a mess of underground rap and… dubstep, maybe? We made some cool songs but had no idea what we were doing. The West Coast bass tunes we're making now is us finding a place for all the shit we grew up listening to, in a way that makes sense with the music we currently like.
Pushing the boundaries is par for the course in bass music these days, but you guys seem to have it dialed in. Deconstruct your own sound and how you see those disparate influences and boundaries being blurred. How do you balance that impulse with making sure it's still straight-up dance music and not too left-field?
C: One common theme in our music has always been trying to push ourselves to try something different, even back in our sampling days. We work on tunes in a pretty linear fashion—meaning we start at the beginning and try to keep it evolving and interesting till the end. Then, once we're done, we do it all over again in the mix-down process.
L: We pick a vibe and intent for the track. So long as we stay true to the original intention and tone of it, we just have fun and see where it goes.
From Burning Man to Coachella and Lightning in a Bottle, you guys have been crushing it on the live front, as well. How does your approach to your live sets differ or align with the vibe you're pushing in the studio?
C: Our live sets are straight raw energy. That's our outlet; that's where we feel most alive. You spend all this time in the studio, making these songs, hoping to share them with people. When that time finally comes, it's the most amazing feeling, and we don't hold back.
Speaking of the studio, you guys have had quite the year, and this signing to Outer Realms is huge—not just for the beats, but because you're the first artists Minnesota has brought in on the imprint. Tell us how that came together and what your relationship with Minnesota is and has been over the years.
C: Minnesota is a G. We've been fans of his music for years, and when we heard some clips on Instagram of him rinsing some of our tunes, it was amazing. He's been super supportive of what we're doing, and we couldn't be happier to be doing these releases with the label.
This lead single "Wolves" is so sick! For some, this might be their introduction to you guys and your sound. Set up the tune for us, how it came together, and how it does (and maybe even doesn't) represent your sound, vibe, brand, or the story you guys hope to tell in the coming years.
C: "Wolves" is actually a re-imaging of the first track off [our album] Age Like Astronauts. It's just a really powerful song. When we play that tune, I feel invincible, like I can walk on air. It's heavy—probably our heaviest tune yet.
L: The old tune was called "Wolf Pack." We've been howling at crowds for years. The vibe is right on this new version. It's raw, heavy, and keeps the energy high.
If you were to host a proper Pigeon Hole–curated stage at a festival, what artists would you feature and/or bring along for the ride?
C: Would definitely have artists like Carmack, Zeke Beats, and Huxley Anne. Would love to see Noisia. Just a lot of homies, as well. One of my favorite things is seeing friends like Stylust, Neon Steve, or Def 3 crushing it—that shit just makes me happy.
We imagine a lot of those very same artists appear on this sick-ass Metronome mix you just turned in. Before we jump into it, give us any final shouts and words of advice/caution before we hit play.
C: Play it loud… make sure you play it loud.
L: Yeah, it's not easy listening. Loud.a.f.
Pigeon Hole 'Metronome' Mix Track List:

Pigeon Hole "Front Row"
Esseks "Badness"
G-REX "Wook Blaster"
TVBOO "Supah Bounce"
Sndwvs "Bells"
tokey "high breed"
Shades ft. Killa P "Alarma"
Ellis Delta "Beat so Fat"
Pigeon Hole "Chambers"
Mad Zach "Brootle"
Minnesota "Dark Crystal" (Pigeon Hole Remix)
Thelem "Tuck it" vs. Paradox "Toprock"
Razat "d shiiet – razat"
Pigeon Hole "Symbols"
Kursa "All Stars Die" vs. Nas "It Ain't Hard to Tell"
Pigeon Hole "Wolves"
Noer the Boy "Tour"
Chark "Phlegm"
Little Snae "HXD"
DMVU "Bloccd" (TYNAN Flip)
Took "Take"
Clāme "Dober"
Lokane "Body Double"
klink "KLINK X KATTIE"
Eprom & Salva "All Day"
Sister Mary "Swords"
Pigeon Hole "Dodge Ball"
Follow Pigeon Hole on Facebook | Twitter | SoundCloud
---
Share
---
Tags
---
You might also like