Insomniac's Metronome series features mixes from some of today's fastest-rising electronic stars, as well as championed legends. It takes listeners deep across a wide range of genres, movements, cultures, producers, artists and sounds that make up the diverse world of electronic music.
In the four years since Convex clinched his Discovery Project victory, the L.A.-bred artist has grown into a bona fide dance music powerhouse. His genre-blurring journey has seen him slingshot between a gang of styles, all the while never loosening his grip on melodies that can always improve your mood. From rock to Melbourne bounce, trap to trance, Convex works his expansive influences into a dizzying culmination of versatile beats—and that widespread appeal is echoed by the support he's earned across the board from artists such as Tiësto, Snails, Wax Motif, and Black Tiger Sex Machine.
His artistic abilities shine well beyond his ability to craft floor-filling bangers and chill-inducing bliss. He's also established a strong visual aesthetic, with his background in graffiti guiding the visuals he commissions to accompany his music. Having a sharp eye and an unbiased ear has made Convex a hot commodity, and it's the reason why he's already touched down at festivals like Beyond Wonderland, Countdown, EDC Las Vegas, and one-off club nights all over the map.
He's got loads of unreleased music in the pipeline, and we're stoked to preview some of it in the form of his Metronome mix. We also had a brief exchange with Convex to hear about how Discovery Project helped kick-start his career, his Focus Fire side project, and the undying love he has for his fans.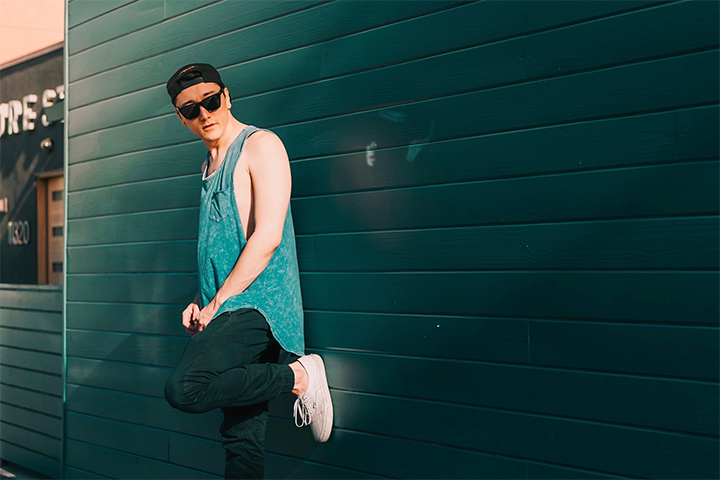 It's been almost five years since your induction into the Discovery Project squad. Looking back on it now, how did that experience affect your career?
Discovery Project is one of my all-time favorite memories. At that time, playing a festival like EDC Las Vegas was a pipe dream, so to win and have my music be validated was incredible. But I think even more important than the validation, was the fact that I instantly knew what I was meant to do that night. Everything just seemed to flow exactly as I had imagined it would.
I think it impacted my career in two main ways. One, it put me in the company of artists who I knew were on another level; I always try to surround myself with people who are better than me, because it's a huge motivator to keep pushing myself and my music. Two, Insomniac has been a giant supporter of my music and career, and that never would have happened without Discovery Project, so I'm very grateful.
Can you talk a little bit about your side project Focus Fire? How did that come about, and where do you see things going over the next year?
I first met Christian, the other half of Focus Fire, at Nocturnal Wonderland, actually. I haven't run into many people who are as passionate about music as I am, but Christian is definitely one of those people. That, along with him just being a really good dude, has made him one of my best friends.
I think Focus Fire has really allowed me to experiment with some harder sounds and cool new techniques. It's cool to be in a duo. Having a solo project is nice, but I'd be lying if I said it doesn't get lonely at times. Having someone there to bounce ideas off of, or just talk with, makes all the difference. I don't want to announce too much right now, because it seems that some secrecy is part of the game plan these days, but expect some insane new music and shows with a very unique visual aspect. I'm super excited about the future of that project.
You did a pretty unique meet-and-greet in San Francisco. How did that come about, and how did it differ from the standard club meet-and-greet?
I've always seen the people that support my music as a family. I appreciate all of them more than they know. So, I really just wanted to do something that I would do with my family. Food has always been a big part of my life, since my mom was a chef and used to cook incredible meals for houseguests. I think everyone sees sharing a meal as a sign of closeness, so I thought it would be cool to share dinner with some of my Convex family. Ramen felt like the right choice for that chilly weekend in the Bay Area. I'm 100 percent going to be doing that same giveaway for another show.
You have a pretty well refined visual aesthetic that goes along with your music. How did you go about developing that?
I've always been an extremely visual person, and I used to do a lot of graffiti art when I was a kid. So, a lot of times, I'll see the visual aspect when I'm writing the music. I have to give a lot of credit to my friend Trevor (@_Motus)—somehow, he knows exactly what I am thinking when I describe something. It's like some kind of mind-mesh, where he takes the traditional elements and symbols I like and then "future-izes" them to fit the music. I think one of the best examples of this aesthetic is the Remembrance EP on IN / ROTATION that we did, featuring "Dainichi." I really like having a consistent visual theme at my live shows—something immersive, so an audience can experience the art fully.
You've made some pretty drastic shifts in genre, from the time you were in rock music until now. How have all these shifts played into your sound?
Hopefully, not too drastic! I'm a huge fan of pushing the boundaries of genres and hybridizing stuff—maybe it comes from being a guitar player and having played nearly every genre of music. I think combining things is one of the cool things about electronic music, because we have so many instruments and sounds at our disposal.
Combining worlds and sounds has really become a central part of my project; the idea of an emotional journey within one song is what music is all about. Guitar has made me pretty aware of melodic lines, so even when I am not working with a vocalist, there is a strong melodic element in every song. Writing everything from bass house to hybrid trap to midtempo has made it much easier for me to break rules, which I think is a good thing.
You used to row in college. The DJ life isn't always conducive to physical fitness. How do you take care of your mental and physical health with such a daunting schedule?
My legs hurt just hearing the word "crew." Actually, I still love the sport. It's funny that you ask about it specifically, because it taught me a lot about not quitting. Things in music can get tough, just like the workouts. But if we don't find the will to push forward, what's the point?
Hitting the gym is definitely sporadic, due to my work, unfortunately. I typically lift with my college friends and either surf or snowboard to rebalance myself. When I was younger, I was really into yoga, and I'm revisiting that to de-stress, because it does get really intense out there. To be super honest, I think mental health is the more important aspect, nowadays. There's so much competition, that things can get overwhelming. We each have to work just to keep our perspective, to see the positives.
Convex 'Metronome' Mix Track List:

Convex – ID
ARMNMHR & Convex "Won't Come Back" (ID Remix)
Focus Fire – ID
JAYCEEOH & Effin – ID
Convex – ID
Flosstradamus & TroyBoi "Soundclash" w/ VONGLOE – ID
Lookas "Off Guard" (ID Remix)
Flux Pavilion "I Can't Stop" (Convex Remix)
Kodak Black "Roll in Peace"
Nero "Must Be the Feeling" (BLOSSO & AMBIVALEN Remix)
BLVK SHEEP – ID
Nitti Gritti & Maliboux – ID
Skrillex & Wiwek "Killa" (CONVEX flip)
Boombox Cartel "Moon Love" (ID Remix)
Cardi B "Drip"
Destructo & Wax Motif "Catching Plays" (Convex Remix)
Eliminate "Disco"
Adventure Club "Without You" (Convex & SHARPS Remix)
ChainLynx – ID
Convex – ID
Convex "Bad Kids" (BLVK SHEEP Remix)
Convex – ID
RL GRIME "Pressure" (BLANKE Remix)
Convex – ID
Daft Punk "Harder, Better, Faster, Stronger" w/ KUURO "Possessions"
Fransis Derelle, X&G, Nate Lowpass, AWOLTALK – ID
Convex – ID
NGHTMRE & Snails "Only Want U" (Convex Remix)
Fox Stevenson "The Heat"
Trinergy & Nitro Fun & the Brig "Catch the Wave"
Convex ft. Tyler Shamy – ID
Convex is playing at Nocturnal Wonderland 2018, which takes place Friday, September 14, and Saturday, September 15, at Glen Helen Regional Park in San Bernardino, CA. Tickets are on sale now.
Follow Convex on Facebook | Twitter | SoundCloud
---
Share
---
Tags
---
You might also like