Metronome #138: Rickyxsan
Insomniac's Metronome series features mixes from some of today's fastest-rising electronic stars, as well as championed legends. It takes listeners deep across a wide range of genres, movements, cultures, producers, artists and sounds that make up the diverse world of electronic music.
The East L.A. native known as Rickyxsan has come a long way from his early years slanging beats from his "mom's garage" as a teenager. Having been deep into the production game from his early teens, Rickyxsan's ever-prolific and genre-blurring production he was posting up from the MySpace days earned him a steady following of die-hard fans, which suddenly multiplied once names like Diplo, Skrillex, Steve Aoki, and Deorro came calling.
Able to bust the heavyweight sounds of trap, hip-hop, and dubstep in a flex all his own, the young producer is on the verge of becoming a household name among bassheads for his smoking originals on imprints like Never Say Die and Deadbeats, with recent remixes for Boombox Cartel and Zomboy further elevating his game. With 2017 in particular looking like the match that lit the fuse and launching Rickyxsan into the stratosphere, he'll be the first to tell you that not only is he determined to keep it humble, but also that the best he has to offer is still to come.
To reflect on just how far he's come from those OG East L.A. days, as well as offering us a glimpse into what the future holds, we tapped Rickyxsan for an in-depth chat and speaker-busting Metronome mix that's guaranteed to put a little rumble in your world.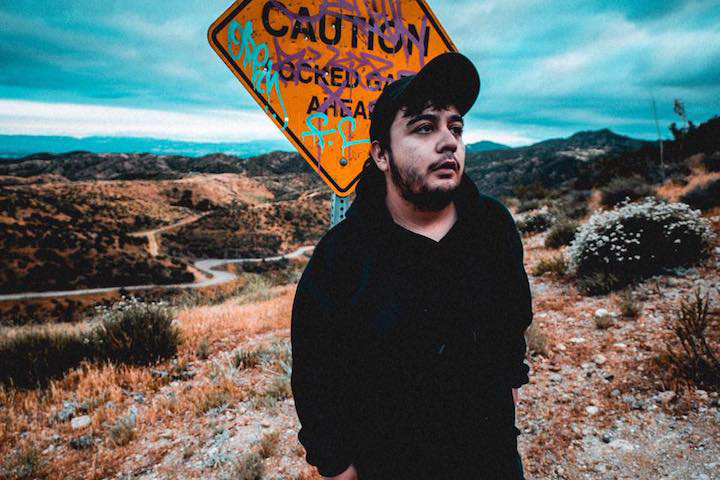 Let's start at the beginning. Put us back in your "mom's basement" growing up. What kind of kid were you, and what kind of music were you listening to?
Growing up, hip-hop was my main love—and still is to this day. I was that kid who was pretty popular in school but at the same time, alone. Back then, iPods became a popular thing to have in school, and my iPod music ranged from Mike Jones to My Chemical Romance, and everything in between.
We heard your middle school years were all about G-Unit and 3-6 Mafia, as well. Is that true? Tell us what kind of memories that music brings back for you.
Yeah, G-Unit during their prime years, to me, were like One Direction and 12-year-old girls today (laughs). The best memories I have are driving down Whittier Blvd in a 2003 Nissan Altima with the 6-CD changer (which was a super game-changer at the time), bumping that dirty South, aka Paul Wall, etc… Something about the beats and the way they flowed on top of the beats really moved me; the music was always about having a good time, and all I wanted to have was a damn good ol' time.
When does electronic music enter the picture?
Around sixth grade is when I started listening to all of Daft Punk's discography and electronic music, which slowly started to take over my life. Then, I dug deeper and found the underground hardstyle, when DJ Isaac, Darkraver and Deaz D. were poppin'.
What about dubstep and trap?
Dubstep came into my life in high school—2009, to be exact. I just loved how aggressive the sound design was. That took over my life completely, and I've never looked back. Then, trap came in because I decided to bring the hip-hop vibes in me, but with a twist. Hip-hop was aggressive with the heavy 808s, and I wanted to keep the same aggressive energy that both hip-hop and dubstep carry.
At what point in all this does the production bug bite you and put you onto the path you're on now?
I've been producing for over 10 years under the same name, have been uploading my music to SoundCloud consistently, and basically grew my following very organically. I produced a bunch of genres before trap and dub came into play.
I started producing at the age of 13 and uploaded music to MySpace, as well, but eventually with many years of progressing, people began to find my music and eventually play it in their sets. Take Diplo, for instance: Dude found my bootleg of one of his originals that I gave my own spin to. All it took was for him to drop it, and people began talking about it, because it was different than what others were making at the time. It was up from there.
What we love about your sound is that there's a little haze of smooth and dreamy vibes in there. Any classical or jazz influences you're drawing from? Any other unusual influences that people might not expect or assume you're pulling from?
YES! I get a lot of drum inspiration from classical coffee table jazz. A lot of drum pattern inspiration with hats and percussions come directly from jazz, and sometimes chord progressions. Shirley Horn, Freddie Hubbard, and Etta James are some of the names I listen to. I'm also a huge fan of Robert Rich. His music is very ambient—such a slow, soft atmosphere vibe. My favorite song by him is "Generosity of Solitude Pt. 1 & 2." He gives me beautiful vibes.
The past few years have been a mad blur for you, no doubt. Have you had a chance to soak it all in and realize just how far you've come from your mom's basement?
It's unbelievable, but I try not to think about it too much, as I'd like to keep myself grounded and keep pushing, like my 15-year-old self would. But some of the things that stand out are that I now have direct contact with everyone I've looked up to. It's so crazy that a few years ago, I was playing these guys' music, and now they're playing mine. But I keep myself grounded at all times and keep pushing, because I still have a long way to go.
We're stoked to have you represent for us on this Metronome mix. Especially for all those who may not know what that Rickyxsan sound is all about, what should they be expecting when you drop into the mix?
Expect hard drops and new music from me and some friends of mine, who I love dearly! Expect a mix of some of today's hip-hop that I'm currently listening to, as well. I want y'all to enjoy your workout, or drive to work/school, etc… Expect to get pumped, 'cause there's a lot of high energy in this mix. Most importantly, I hope you enjoy the sounds.
Let us know what we should be looking out for in the new year, and hit us with any final shouts before we jump into the mix.
I got a lot of new music and remixes lined up for the new year; huge collaborations and mixtapes are on the way. That's as much as I can say right now, but a lot of big stuff is coming. Shout out to my family and my team for holding it down, shout out to all my supporters and everyone that fucks with the vision! And finally, shout out to Insomniac for having me on here. I appreciate you all and hope you guys enjoy this mix as much as I enjoyed recording for y'all! Peace!
Rickyxsan Metronome Mix Track List:

Rickyxsan & Ricky Remedy - ID
David Banner "Like a Pimp"
Boombox Cartel "Jefe" (Rickyxsan Remix)
Boombox Cartel "Jefe" (Acraze Jersey Flip)
Skrillex & Moodygood - ID
Benni Benassi "Satisfaction"
Rickyxsan - ID 2
Ricky Remedy "Countdown"
Quix & Krane "Next World"
Ricky Remedy - ID (Go Stupid)
Graves "Say Things"
Skrillex ft. Rick Ross "Purple Lamborghini"
Rickyxsan "XIII" (Unreleased)
Rickyxsan & Jaykode "Started"
Ayo & Teo "Rolex"
Montell2099 "SUSU"
Rihanna x Sza "Consideration" (Rickyxsan Remix)
Rickyxsan "8.0"
Rickyxsan - ID
Smokepurpp "Phantom"
Hydraulix & Oski "Ducksworth"
Follow Rickyxsan on Facebook | Twitter | SoundCloud
---
Share
---
Tags
---
You might also like