Meat Beat Manifesto "Helter Skelter"
The birth of our underground brand Factory 93 not only brought on an adrenaline rush reminiscent of the renegade warehouse era of raving—on which Insomniac was founded—but it also had us thinking back to all the people, places and parties that made this whole operation possible. And with that came a burning desire to crack open our collection and dust off the classic records we couldn't live without. Through our From the Crate series, we break out seminal and obscure cuts alike, imparting some knowledge in the process.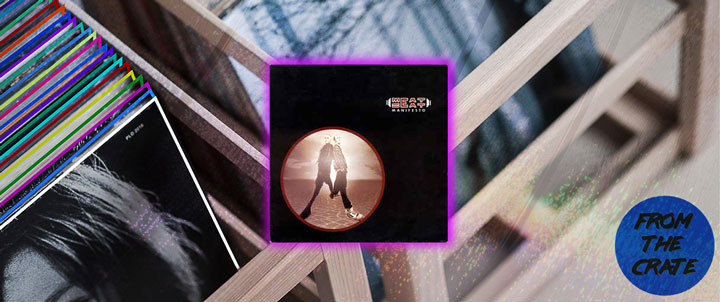 "Helter Skelter" exploded brains in the early '90s with a daring wildness that inspired breakbeat, jungle, and techno artists for years to come. A work of sample-delic genius, it fused disparate sonic elements—borrowed from Revolting Cocks, Uroy, 23 Skidoo, and the movie A Clockwork Orange—with an unstoppable pulse.
The song was combined with another, "Dogstar Man," in a bracing eight-minute proto-mashup on Meat Beat Manifesto's third album, 99% (1990). It was also released as a single with B-side "Radio Babylon," a highly influential dub cut that took on a life of its own as an after-hours hit that was soon sampled on Future Sound of London's unstoppable electronic hit "Papua New Guinea."
Producer Jack Dangers recently told Igloo Magazine that these tracks all came about together and are intimately connected.
"That was initially a remix of some of the tracks off of 99% that just turned into its own thing. It was going be a version of 'Psyche-Out,' and it turned into 'Helter Skelter,' which I spent like a week doing. It was a bunch of different songs, to be honest with you. It wasn't just one song; it was all elements of three or four and then just sort of turned into its own thing. Like, after the first day, I realized it was going to be a good song anyway, so I abandoned the remix idea. Spent a week doing 'Helter Skelter,' and then I had like two days left in the studio, and then I did a version of 'Helter Skelter' which turned into 'Radio Babylon.' From these ideas came something completely different."
The words "Helter Skelter" had vivid meaning before Dangers got a hold of them. The Beatles named a 1968 song "Helter Skelter," which was meant to describe the thrill and fear of being on a ride, but the infamous killer Charles Manson took it to be coded language about the coming of a race war and used it to fuel his followers to murder.
Meat Beat's "Helter Skelter" takes on new dimensions if you see it performed live alongside the visuals that Dangers creates; he's as talented a video editor as he is a music producer. It's fascinating to see the visual context of some of the samples in the song, such as the telltale screaming taken from an infamous movie scene.
"That's [Malcolm] McDowell from A Clockwork Orange; they have him strapped up with his eyes open," he explained to Slug Magazine in 2005. "That is one of the most memorable visuals in film history. When you see the visual, you go, 'Wow.' It's that nerdy-geek-collective sort of thing, like finding a sample in a song."
And the Meat Beat goes on: The latest album, Impossible Star, was just released last week.
---
Share
---
Tags
---
You might also like