JSTJR Unleashes His Global Bass Firepower on HARD Summer 2018 Mixtape
Upcoming Event
JSTJR is a name that has been slowly making its way up the ranks. Putting in the time and hard work, this DJ/producer has been building to the major payoff since moving to L.A. from the Boston area a short while ago. A self-described open-format DJ, JSTJR definitely leans heavily from the directions of moombahton, dancehall, kuduro, and similar low-end flavors.
The members of his growing fan base have been getting up and grinding down to straight-up electric sets at the likes of the Mad Decent Block Party, Holy Ship!v , Coachella, a variety of Insomniac parties, and more. So, it's no surprise these talents go beyond the decks and into the studio as well. Not only has JSTJR done remixes for the likes of Valentino Kahn, Buraka Som Sistema, and DJ Snake, but originals like "Tiguere," featuring next-level vocals by Jenn Morel, have been bringing the house down in sets.
Regardless of where the winds take this powerhouse, the one constant is the kind of tune that melts faces while putting bodies to serious work. Today, we sit down and pick the brain of JSTJR about where this penchant for gritty get-down music comes from. Even better, he is dropping a mix in celebration of his upcoming set at HARD Summer to bring tangible proof to the firepower of all the words above.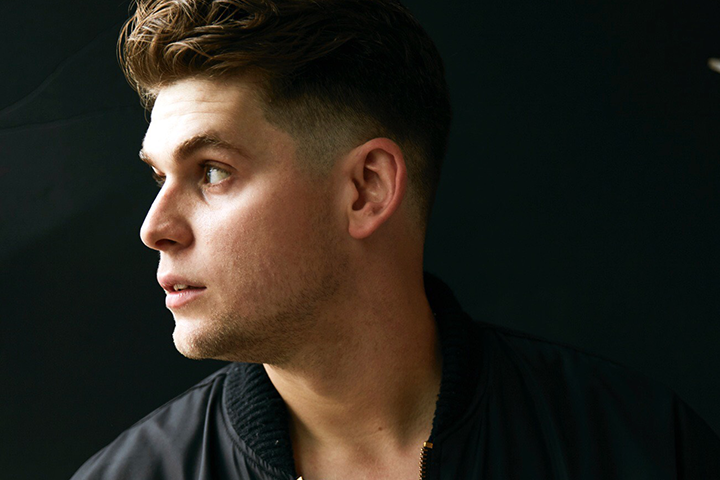 You tend to gravitate toward a lot of international sounds. What would you say started you down this path?
I started down this path due to a need to be original and find my own sound.
Do you think that original spark still exists through your music, or do you think it's evolved into something else?
It's definitely evolved, but it still exists. After the first few years of discovering all types of amazing, original sounds from around the world, I've realized what drives me to create is a culmination of things from that initial discovery period.
Your recent track "Tiguere" is straight fire (of course, the help of Jenn Morel goes a long way). Have you been getting the response you'd expected from crowds?
Very much so! We debuted the song at EDC Mexico; it was such an awesome experience. No crowd bigger than testing out at our own parties had heard it before, and the response was incredible! We've performed it together a couple more times, and it goes over very well!
It has a real verse-chorus composition, but you've also said there's a more dance-oriented VIP version in the works. Do you think you'll move further in this direction or keep your production style predominately in the DJ world?
I think I'll stay more toward the DJ/dance music but will forever be making lyric-driven music, as well—a healthy combination of the two.
You like to take risks when on the decks, in order to try out tracks that go beyond hits and into your own personal tastes. What's the most outside-the-box track you'd want to get a crowd into?
Getting the crowd into a bit of underground baile funk from Brazil is always a little tough but super rewarding. It's a very unique sound and different from what Americans would expect to hear, but it's starting to proliferate into the mainstream, so it's gotten easier. I'm always trying to challenge the room and prove to them they can dance to A LOT of different sounds—not just their favorite genre.
What was your inspiration for the HARD Summer mixtape you've left with us today? What are a couple lesser-known tracks there we should keep our ears out for?
I'm always just trying to keep my mixes fresh and include a lot of music that no one has heard before but I think they'll love. I've played a few tracks from some up-and-comers, like Primoz, Who's John, and Damian Avila. I like what those guys are doing a lot; I'd keep an eye out for their new music!
Speaking of being a selector, you recently made LA Weekly's "Top 20 DJs in L.A. Right Now" list. What did it feel like to see your name alongside both contemporary peers like AC Slater and legendary artists like Peanut Butter Wolf?
It was amazing to be included on this list. I really do pride myself on being a DJ and a selector, so it was validating to know that my efforts aren't going unnoticed.
There was also some buzz about you working on your own label. What kind of artists would you like to put out?
I will be championing artists like myself, who take time to explore influences from different corners of the globe and use that knowledge to create some quality club/dance music—unique, underground, and infectious tracks.
What else do you have in the works that people should know about?
The label will be a really cool, multifaceted, and unique experience—more than just releasing some music. Be ready for some cool stuff.
Finally, here's an unfair, strong-opinion question: What is the greatest moombahton track of all time? (It doesn't have to be the "Firepower" remix, but it totally can be…)
That's really tough. I'm not going to pick a track, but I'll say it's definitely something by Munchi. He has influenced multiple generations of global bass music.
HARD Summer 2018 takes place Saturday, August 4, and Sunday, August 5, at the Speedway in Fontana, CA. Tickets are on sale now. For more information, visit the official website.
Follow JSTJR on Facebook | Twitter | SoundCloud
Follow HARD on Facebook | Twitter | SoundCloud
---
Share
---
Tags
---
You might also like