Jack Beats Shakes Things Up on Fiery 2-Track 'Vibrate' EP on Insomniac Records
Jack Beats have been a household name since their rise during the party resurgence of the mid-2000s. The UK duo—made of DJ Plus One and Beni G—hit the ground running with their big sounds and wild sets. Their early efforts met the energetic style of noughties electro-house, with the warbling leads of bassline, driven even further by the flourishing of dubstep-style LFO shifts. They wandered through the sounds of Baltimore club, US heavy bass, Dutch house, and more. More than a decade later, they're still going strong, pushing their skills ever onward.
Jack Beats' newest release—a fiery one-two punch of an EP for Insomniac Records, titled Vibrate—is serious business in many directions. The title track is a stripped-down, heavy-hitting party jam. Led by some very grimey horns and a 2-step-leaning beat, Jack Beats shake things up with the MC skills of the Cool Kids' Sir Michael Rocks, who adds a very contemporary American flow to the mix. "Vibrate" continually goes big and then drops down to a near zero before ratcheting back up, creating a dynamic for maximum crowd response.
On the opposite end of the spectrum is "Keep On." It's an equally massive track, but in every way different from its sibling tune. This is an oceanic, deep and driving four-on-the-floor thumper. Taking the time to roll slowly and lowly in, Jack Beats match an ominous mood to a hypnotic rhythm before pulling a 303 bassline into the mix. "Keep On" casts a midnight warehouse feel with acid sounds that almost harken back to the '90s rave era. Leaving plenty of reverberating air for the parts to breathe in, the tension and energy are still nonstop.
Though very different in approach, both tracks on Vibrate feel connected to each other, and to the fundamental sounds of Jack Beats. Hot on the heels of releases with the likes of DJ Zinc and the Night Bass crew, it's clear they have no desire to rest on their laurels, and this release is more proof that Jack Beats still have plenty of tricks up their sleeves.
Stream the two joints up top, and then dive into our chat with Jack Beats below.
Jack Beats' Vibrate EP is available here.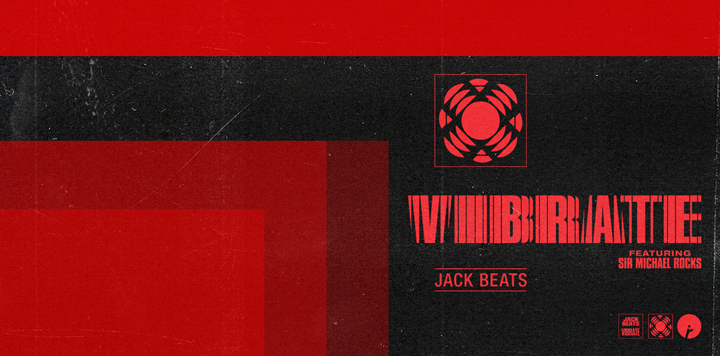 Both cuts on the Vibrate EP are very different from each other. What was the thought process behind that?
"Vibrate" was just a breakaway from doing a track with a bassline, really. We often have experimented with different tempos or sounds, so this was just that, hudmo on house. "Keep On" was an old track we always liked but never found a home for; seemed right for this release, so we properly finished it.
How does your production process compare now with what is was like when you were writing tracks like "What" and "Get Down"?
Writing those early tunes was a different time in technology, where although we were both fully in the box, it wasn't nearly as advanced. We were using UAD plugs right from the start, and back then definitely characterized our sound. The one plugin most relevant to those tunes particularly ("What" / "Get Down") I'd prob say is the Oxford Inflator on the end. It was def what sonically defined that era of tunes for us.
You also were almost as well known early on for your remixes as much as for your originals (like for Boy 8 Bit, Deekline, Blaqstarr, and Fake Blood, to barely scratch the surface). What were some of your favorites to work on, and which ones are you most proud of?
Proud of all of our remixes and a lot of faves, too. They've all got so many different memories attached, both making them and then playing them out. The Big Boi remix, we were both gassed 'cause we got "Shutterbug" parts with Scott Storch drums, haha. "Jack Got Jacked" just because it was made in such an organic way and did so much for starting us off. Our Florence & the Machine remix, La Roux—those ones from that era encapsulate a really special time for us, too, working out of Niall's basement in Hackney and my studio in West London (Saga Centre).
Speaking of the "old days," you've been tight with AC Slater since at least the "Jack Got Jacked" remix. How did you get linked up with his Night Bass crew? What makes that night and label so unique?
Sorta answered in the question—it's because of our long friendship with AC from 10+ years, which is why it was just normal that we'd release stuff on Night Bass. AC said right when he started it, if you wanna ever put out something experimental and different that all of us lot all like, but nobody was into or understands, then let's release it. Working with friends is one of the best things that music allows you to do.
You also have a history of pulling from diverse sounds such as bassline, drum & bass, electro house, and even Dutch house and Baltimore club and beyond. How do you synthesize all those sounds into your work, and what are some of the musical styles that excite you at the moment?
I would say the parts of tunes that are synthesized or not often varies, but generally speaking, basslines/leads/pads, etc. are always designed on synths. Drums these days are a mix of sampled and designed drums. Specific samples are sometimes redone/replayed on synths, but usually we use and process the sample itself for its unique sound. 
How do you build a solid DJ set out of all these diverse genres?
DJ sets are normally just built on our own productions and remixes/edits. Then, a mix of tunes we're supporting/into also. We have a long history in dance music and knowledge, so that comes into it when we select what to play—especially drawing older tunes. 
Going back a bit, how did you link up with Insomniac Records to put this new EP out?
Our history is longstanding with Insomniac at almost a decade playing for them, so it was just a natural thing to do a release, to be honest, as we know the guys so well. They loved Vibrate, linked up the vocal, and here we are.
You're doing a US tour in support of Vibrate. What do you have planned for the fans?
Upcoming tour is gonna be sick 'cause first, we will have brand-new visuals for it. Also, am bringing Mika (Born Dirty), who's not only an amazing DJ but a really good friend, too, so you know the shows are definitely gonna be special. Expect dark, bass-heavy underground club music.
What else do you have planned for 2018?
Collabs with Zinc, Born Dirty, Taiki Nulight, AC Slater, and Dillon Nathaniel.
Follow Jack Beats on Facebook | Twitter | SoundCloud
Follow Sir Michael Rocks on Facebook | Twitter | SoundCloud
Follow Insomniac Records on Facebook | Twitter | SoundCloud
---
Share
---
Tags
---
You might also like