ILLENIUM Explores the Bold and Beautiful Shades of Bass With His Nocturnal Wonderland 2018 Mix
Upcoming Event
Here at Insomniac, we're massive fans of bass music—so much so, that our doctors might worry about the amount of headbanging we log week after week. But beyond the ear-shattering bass that soundtracks our weekly rail-riding adventures, we're also huge fans of emotional and melodic music.
But who says we can't have both?
If you've been keeping your ears tuned to SoundCloud and Spotify, you may have noticed the skyrocketing rise of a sound dubbed "melodic bass," which, as its name implies, melds the softer melodies of pop with the gut-wrenching drops and intensity of bass music. Often associated with the future bass movement and used interchangeably with "melodic dubstep," melodic bass is one of the most buzzing sounds in the electronic scene today. You can thank ILLENIUM for that.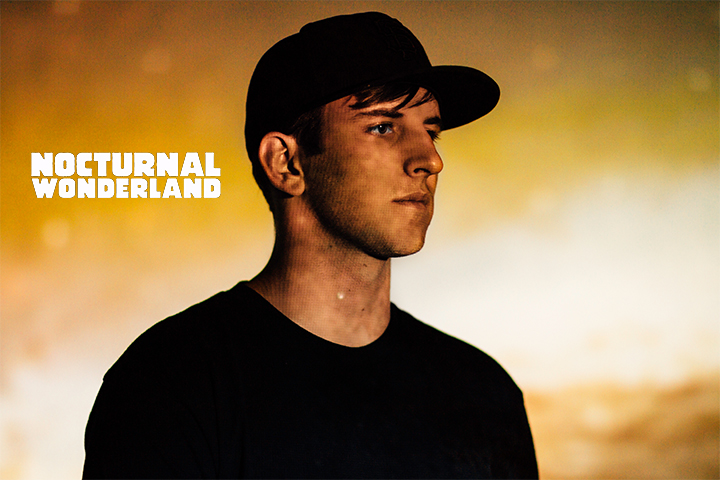 Born Nick Miller, ILLENIUM is undoubtedly the front runner in the melodic bass scene, a genre he's helped elevate to international levels in a matter of five short years. He made initial waves with a triplet of EPs: Illenium (2013), Risen (2014), and Painted White (2015). But it was his breakout 2016 debut album, Ashes, that truly turned ears in the bass world. By the time he released his critically acclaimed follow-up album Awake one year later, he was sitting atop the melodic bass throne, with the stats to prove it: With more than 100 million streams, Awake notched the #1 spot in the iTunes Electronic Dance Charts in 12 countries.
Via Awake, ILLENIUM helped uncover the softer, more beautiful sides of bass music, which often get drowned out by neck-breaking dubstep drops and the headbanging ways of bass culture, for fans and producers alike.
"Having that contrast is what makes [bass music] so amazing," ILLENIUM says. "Music, to me, is an emotional journey where the lows accentuate the highs, and the heavy, grimy parts make the beautiful moments stand out even more. I've made songs on both sides of the spectrum, and I think it's natural to combine the two."
It's true. At the core of ILLENIUM's sound is a fine balance of pretty pop tunes with enough bass bravado to stun festival crowds into a daze. It's a style that has seen the rising producer mix it up with a range of artists and genres. One minute, he's dropping bass bombs with dubstep gods like Excision ("Gold [Stupid Love]"), Kill the Noise ("Don't Give Up on Me"), and Zeds Dead ("Where the Wild Things Are"), and the next, he's crafting delicious, pop-leaning bops alongside dance acts like Gryffin ("Feel Good") and vocalist Kerli ("Sound of Walking Away").
"I personally gravitate toward vocal-driven songs with a story," ILLENIUM says, "but sometimes I want to listen to ear-shattering bass—different music for different moods. I like that the genre has variety."
That variety in sound is key to ILLENIUM's musical freedom, which has allowed him to bounce around styles, all the while keeping melody-based music central to his sonic identity. As for his future sound, you can expect him to continue the shapeshifting ways he's followed since day one.
"My melodic roots will always be there, but I love being able to move around and combine different styles," ILLENIUM says. "My music has changed since I first started producing, and [it] will continue to change—that's what keeps it interesting. I don't want to keep releasing the same song over and over."
If you thought ILLENIUM's music hit you in the feels, you won't want to miss his live performances. The dude has made a name for himself on the live electronic circuit via his full-on live shows, where he combines keyboards, drum pads, lights, and visuals to turn his music into an IRL multimedia experience with as much heart as his tunes.
"I try to make my shows just as much of an emotional journey as my music," ILLENIUM says. "Lots of thought goes into keeping people interested throughout the whole performance. It's an art all its own to translate the emotion of a song visually and in a live setting, but I have an awesome team that is just as passionate about it as I am."
For now, you can hear ILLENIUM's bass-traveling sound in full effect in an exclusive mix he's dropped off ahead of his performance at the 23rd annual Nocturnal Wonderland, which returns to Southern California Friday, September 14, and Saturday, September 15, at Glen Helen Regional Park in San Bernardino, CA. Much like his music, the mix explores the full spectrum of bass music, from dank dubstep drops and trap-tinged beats to, of course, beautiful melodic bass harmonies. Press play on ILLENIUM's mix up top.
ILLENIUM's Nocturnal Wonderland 2018 Mix Tracklist:

Snavs "Lust"
Zeds Dead x ILLENIUM "Where the Wild Things Are" (Dr. Ozi Remix)
ILLENIUM "Needed You"
Kill the Noise & ILLENIUM ft. Mako "Don't Give Up on Me"
ILLENIUM "Leaving" (Away Remix)
Boombox Cartel ft. Taranchyla "Dem Fraid" (Haanter Rework)
ORIENTAL CRAVINGS & BEAUZ "Baba Yaga"
ILLENIUM & Nevve "Fractures" (Trivecta Remix)
Max Styler & TWERL "Wasted Time"
ILLENIUM & Kerli "Sound of Walking Away"
ILLENIUM "Crawl"
Noisia "The Entangled" (Camo & Krooked Remix)
Louis the Child "Last to Leave"
Catch Illenium at Nocturnal Wonderland 2018, which takes place Friday, September 14, and Saturday, September 15, at Glen Helen Regional Park in San Bernardino, CA. Tickets are on sale now.
Follow ILLENIUM on Facebook | Twitter | SoundCloud
Follow Nocturnal Wonderland on Facebook | Twitter | Instagram
---
Share
---
Tags
---
You might also like