'Night Owl Radio' 418 ft. Nocturnal Wonderland 2023 Mega-Mix
This week is the NOCTURNAL WONDERLAND 2023 MEGA MIX.
Night Owl Radio is available via iTunes, so get to subscribing on your iOS devices.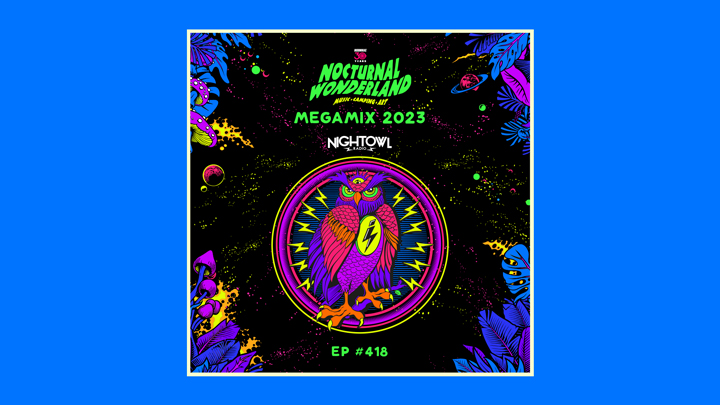 'Night Owl Radio' 418 Track List

Odd Mob, OMNOM "Bees"
BOMBAYS "VEINS"
NITTI x Valentino Khan "What You Got"
AC Slater ft. Devyn Sawyer "On the Road"
Blossom "Ride 4 U"
HoneyLuv ft. Cakes Da Killa "Bring It Back"
Nitti Gritti & Marten Hørger "Want You"
Odd Mob "LEFT TO RIGHT" (Space Laces Remix)
Black V Neck "Daddy's Back"
Ravell x Jack Trades "Calling"
Ferreck Dawn & Todd Terry "Get on Down"
Haylee Wood & Fredy Lane "Outta Town"
JOYRYDE "IM GONE"
TOBEHONEST "Sirens"
Jason Ross & Seven Lions ft. Emilie Brandt "Known You Before"
Solardo & Joshwa "VIP Business"
Gryffin "Dreams" (RemK Remix)
Biscits "Do You Feel It"
TONG "Feel the Boogie"
Shiba San, AYAREZ "Twist It"
Lil Jon & Ghastly "Dance"
Gem & Tauri "Crownless"
Shadow Child & Claude VonStroke "Steel Thing"
CHANEY "Strong"
San Pacho "Soundboy"
Goodboys & Benny Benassi "Further Away"
London Grammar "Sights" (Dennis Ferrer Remix)
Dombresky ft. Discrete "Bless Me"
FrostTop "Headrush"
VNSSA "Touch Me"
Dimension "DJ Turn It Up" (Dimension House Remix)
Dimension "DJ Turn It Up"
Skellytn ft. UNDY "Dance With the Devil"
Pendulum & Bullet for My Valentine "Halo"
Black Tiger Sex Machine x Riot Ten ft. Thrashout "Out of My Head"
Dabin, Kai Wachi, Lø Spirit "Hollow" (PhaseOne Remix)
ATLiens & SVDDEN DEATH "Purgatory" (LEVEL UP Remix)
Alison Wonderland "Safe Life" (VILLA Remix)
Sullivan King & Wooli "Let Me Go"
Space Laces & Getter "Choppaz"
MIRR.IMG, Corey Divine, Bustic "Malfunction 2.0"
Ray Volpe "EAT SLEEP RAGE"
Bear Grillz, Kompany "Red Alert"
Nathan Dawe, Joel Corry, Ella Henderson "0800 HEAVEN" (Joel Corry VIP Remix)
DJ Icey "Skan"
Dack Janiels "CERTIFIED"
Subtronics x HOL! "Mind Pluck"
Champagne Drip "Energy Healing"
Eptic "2 the Grave"
YOOKiE x Hekler "Wraith"
Soltan "Alamut Conflict"
Subscribe to the Insomniac Events YouTube channel now.
Nocturnal Wonderland 2021 takes place Saturday, September 16, and Sunday, September 17, at Glen Helen Regional Park in San Bernardino, CA. Tickets are on sale now.
Follow Nocturnal Wonderland on Facebook | Twitter | Instagram
---
Share
---
Tags
---
You might also like