Cut From the Catalog: Savage Society
Record labels have long been the gatekeepers of the dance music space, as they continuously define and reshape tastes via releases, endless talent scouting, and the curation of brand-hosted parties. In our Cut From the Catalog series, we big-up established and buzzing imprints alike, by taking a look at the organization's ops while running through a retrospective mix built solely from their respective catalogs.
Ever since Salar Saedi (aka Blankface) and Arthur Darbinyan (aka SVGMAZE) came together to form the almighty Savage Society crew in 2013, the soundscape of the Los Angeles underground hasn't been the same. Building upon the foundation of an already bumping bass music scene, Savage Society quickly established itself as a force to be reckoned with as its ever-expanding roster and straight roughneck vibes electrified a new generation of artists and fans alike.
As the crew prepare to link up with Bassrush for their four-year anniversary celebration in Los Angeles this Friday night, we thought we'd touch down with cofounders Salar and Arthur for a glimpse into the creation of the imprint and how the crew plans to keep crushing its way into the future. As if that weren't enough, label boss Blankface hits us with a rib-rattling 31-track mix that offers up a reminder of just how much heat the squad is packing.
Savage Society's takeover hits the Belasco Theater this week, with special guest Phiso and label stalwarts like Blankface, SVGMAZE, BloodThinnerz, Definitive, Tokez, Animal, and Benzmixer. It's shaping up to be one for the ages. Consider yourself warned!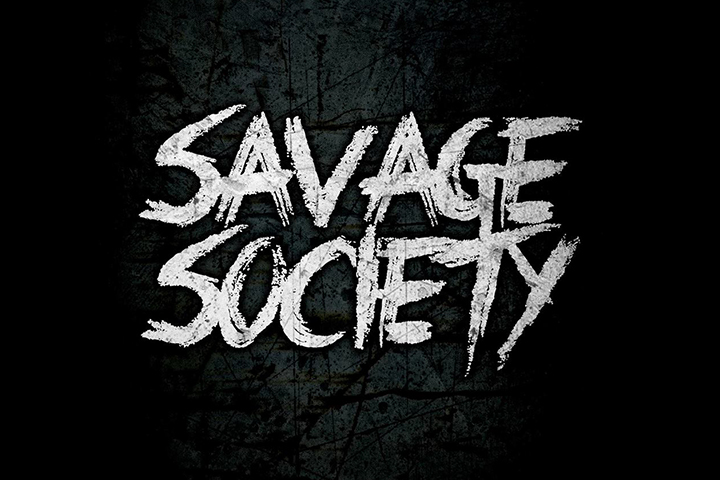 Before we get into the label, let's go back to your own roots. Where'd you grow up, and what kind of music do you remember listening to in your early years?
Salar: I grew up in [Orange County]… I was really into bands like Slipknot, System of a Down, and Metallica, before moving on to bands like the Acacia Strain, Oceano, and stuff like that.
Arthur: I grew up in L.A. and Laughlin [NV], and most of my childhood was spent listening to hip-hop, weird techno, and metal bands.
At what point does electronic music—specifically dubstep—enter your world? What was it about that sound that captured your attention and still has you buzzing to this day?
Salar: I heard dubstep back in '09 for the first time. I was digging for music and found a pack with mixed genres. Finding music from Benga, Rusko, Caspa, Skream, and so many more… I had never heard anything like it. The way the basslines moved had me hooked!
Arthur: It was early 2009 for me, as well; Benga, Jakes, Funtcase, Mala, Skream, and Chase & Status really got my attention, which inspired my creative writing process to take off.
How did you two come together?
Arthur: Kevin from BloodThinnerz introduced me to Salar's music online. We started exchanging our music quite often… SoundCloud helped everyone reach out and get together in person, too, so that paved the way on how the Savages formed.
Salar: After finding out that we lived so close to each other and had the same interest in music, it only felt right to stick together. Eventually, we started meeting other people and expanding it.
At what point was Savage Society born proper?
Salar/Arthur: It all started over a phone call, going back and forth on ideas we liked the most, with the word "Savage" and another word to fit to describe our world. We wanted to provide a platform for ourselves to share music, while expanding our sound to more regions. Benzmixer, Blankface, BloodThinnerz, Deemed, Definitive, M A Z E, and Tokez—that's the original crew.
Now it's not just a label; you guys also envision it as a collective. Talk a bit about that aspect of it, how that continues to shape the brand, and what it stands for.
Salar/Arthur: Everyone on the team is very dedicated to their craft. We stick together and communicate among ourselves, and it has really sculpted a strong engagement with the label as a whole. It really helps to surround yourself with people who motivate, inspire, and constructively criticize your work, and I believe the brand is a direct reflection of that—to move and build as a collective.
What does Savage Society stand for, musically and philosophically?
Salar/Arthur: The label is an imprint within our scene. The name speaks for itself, and we hope others can gain a positive message to put themselves out there, be expressive, and don't be average!
You've got a heavyweight crew on tap now, but who were some of the first artists you released and/or welcomed as fam back in the day? What was it about their sound/attitude/vibe that made them "fit" the Savage Society ethos?
Salar/Arthur: We had Wobad on our roster for a while, until he took off with his other project Dabow; awesome guy since day one, and all his stuff is quality. With releasing, originally it was only the guys in the collective. We wanted to keep it tight-knit. Now, we are extending arms to close friends who need to find a home for some of their music. As far as what fits, the sounds we look to implement with the image are primarily raw, groovy, heavy, and straight-to-the-point.
Where does a term like "riddim" fit within the Savage Society world? For some, it's a dirty word; for others, it's a religion. What's your official stance on the word, the subgenre, and all the riddim lovers and haters out there?
Salar: That word grew like a virus that could not be stopped, and it's only getting bigger. Let's get it straight: It's all dubstep. Just like in all genres, it's now used to describe a certain style of dubstep.
Arthur: It's basically a more specific term for a genre that people are newly discovering: dubstep. To some, the variations in style are what might be offsetting. "Riddim" is like calling water "H20"—that's how I see it.
Before we go, we can't help but give a shout-out to our Bassrush fam for orchestrating your debut at EDC and the upcoming anniversary party here in L.A. We imagine you guys are hyped for both shows, so let us know what you're feeling and what the fans out there should be expecting when you guys hit the decks!
Salar/Arthur: Special thanks to Tony Merino for supporting us. We're very excited and eagerly waiting for both events! Expect lots of new material from all of us—we've been stacking up on plenty of originals.
Any final shout-outs before we go?
Shout-out to Daniel Bisbing, Paul O'Loughlin, John Dadzie, and all the producer homies. Every single promoter that has brought us out all over the world, but most importantly, all our fans! We have plenty of collaborations with other labels, artists and more on the way, so keep watch!
Savage Society Cut From the Catalog Mix Track List:

ID – ID
BloodThinnerz "Biohazard"
Badphaze "Filter Bass 2014"
Ganon "Curriculum"
Trilla "Groundhog"
ID – ID
Digitist, Executioner & Ranga "Shunk"
SubFiltronik "Blood Goblinz" (VIP)
Benzmixer "Bakaface" (Blankface 2018 VIP)
Aweminus x Getorix x Chibs x Definitive "Green Card"
ID – ID
BloodThinnerz & Deemed "Ape Shit" (VIP)
BloodThinnerz "Ressurect"
Definitive "Unknown Isomer" (BloodThinnerz Remix)
Definitive "Terror Wave" (CHMST Remix)
SVGMAZE "Z00TED" (VIP)
Digitist "Autochoppa"
ID – ID
Deemed "Diskord"
Svdden Death x Yakz "Shut Em Down" (Aweminus Remix)
BENZMIXER & AKIRA "ANGER MANAGEMENT" (AKIRA VIP)
ID – ID
Bukez Finezt "Thuggery"
BADPHAZE "FROM OUTA SPACE" (Blankface VIP)
Spass "Hi Tek" (Bukez Finezt Remix)
Blankface ".44 Magnum"
Obey "Mr. Happy" (Deemed VIP)
Rawtee "Flossin Fleax" (VIP)
ID – ID
Blankface "Malstrom"
Rawtekk "Dynasty" (VIP)
The Savage Society four-year anniversary takes place on Friday, April 27, 2018, at Belasco Theater in Los Angeles, CA. Tickets are on sale now.
Follow Blankface on Facebook | Twitter | SoundCloud
Follow SVGMAZE on Facebook | Twitter | SoundCloud
Follow Savage Society on Facebook | Twitter | SoundCloud
FollowBassrush on Facebook | Twitter | SoundCloud | Instagram
---
Share
---
Tags
---
You might also like