The birth of our underground brand Factory 93 not only brought on an adrenaline rush reminiscent of the renegade warehouse era of raving—on which Insomniac was founded—but it also had us thinking back to all the people, places and parties that made this whole operation possible. And with that came a burning desire to crack open our collection and dust off the classic records we couldn't live without. Through our From the Crate series, we break out both seminal and obscure cuts alike, imparting some knowledge in the process.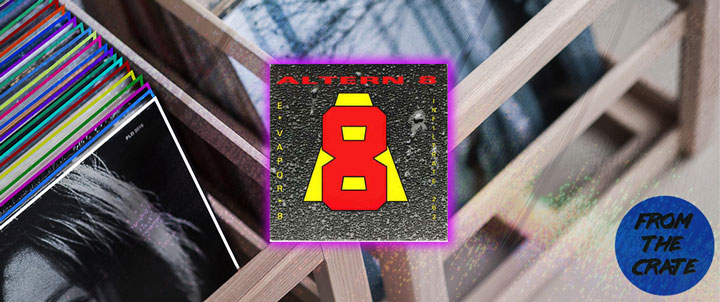 "E-vapor-8" was a mainstream UK hit, as well as an underground anthem for Stafford, England's Altern-8 (Mark Archer and Chris Peat) in 1992. The masked rave superheroes were indelibly influenced by late-'80s Detroit techno pioneers like Derrick May, and the tune samples heavily from May's iconic 1987 song "Strings of Life" (under the alias Rhythim Is Rhythim).
"It was one of only two or three samples we ever cleared, but Derrick was cool with it, and as he was one of my main influences, I wanted it to be done properly with credits," Archer told Skiddle in 2014.
May knew and respected Altern-8 by this point, thanks to Neil Rushton, whose label Network Records nurtured Detroit techno artists and related sounds in England. Altern-8 was signed (as Nexus 21) to Network in 1990, and Rushton flew them to Michigan to meet May and the rest of the hallowed "Belleville Three," Juan Atkins and Kevin Saunderson.
But when he first heard their work a few years earlier, May wasn't too happy.
"Neil had been in a club in Detroit prior to our trip when they played our track 'Real Love,' which sampled Derrick May's 'Wiggin' [as Mayday] wholesale," Archer recalled in his 2016 memoir The Man Behind the Mask—a book that Derrick May recommended he write. "We nicked the bassline and kick drum, sampled and looped them and put a drum over the top. Derrick May heard this and was very angry. 'Who sampled my tune? I'm going to break their fucking legs!' Neil had to calm him down. 'It's cool, it's cool. They're with us.' 'Well, bring them over, then.' We smoothed it all over when we met him and assured him that we wanted to do proper Detroit techno that wasn't just a rip-off. We wanted to learn how to do it properly, as lots of people classed our records as Detroit techno."
Altern-8 was clearly pretty obsessed with "Strings of Life." Prior to "E-vapor-8," they recorded their friend's reaction to the track—him saying, "It's going mental in the club!" when May played it at a party called Amnesia and sampled it for the song "Activ 8." May's set made it to a coveted mixtape that everyone in the area had. "E-vapor-8" also contained samples from a great night out.
"I was always at [English club] Shelley's; if we weren't doing a PA, I'd be there," Archer told Crack in 2016. "We'd got a tape cut of 'Activ 8,' and they let us test it there… I noticed that after the club finished, everyone would stand around their cars, playing their shitty little stereos. I thought it would be cool if there was a decent sound system, so when we needed shots for the video, we did a set in the car park. Thing is, word spread and people came from all over; there were more outside dancing on cars than had got in the club. There was also a radio presenter going round interviewing everyone and doing a kind of voiceover. He turned up so he could take his interview to Radio Stoke, but they didn't want it. There were so many little sound bites that we pressed what he recorded onto 12″. The intro of 'E-vapor-8' was him that night. In the end, the police turned up; we tried to carry on until they said we'd spend the night in a cell if we didn't stop."
"I preferred 'Infiltrate 202' and 'Activ 8' myself, but the song that everyone seemed to rave over was 'E-vapor-8," Archer wrote in his book. "We recorded [hypeman] Butler shouting 'evaporate' at the end of this gig at Aintree in Liverpool, to appear on the track. Butler wasn't happy. 'It doesn't mean anything!' Everyone thinks it says, 'Move out the way,' and to this day, I still get that shouted at me in the street. 'Move out the way!' I had no idea as to why they were doing this, for years, until someone said, it's from 'E-vapor-8.' 'Move out the way!' We were no longer just a rave act, we were a part of pop culture, getting played along Right Said Fred's 'Deeply Dippy' at 'Sharon and Tracy' [bridge and tunnel] clubs—which of course wasn't so great, on many levels."
"E-vapor-8" entered the UK pop charts at #10 and peaked at #6, which earned them an invitation to perform on Top of the Pops—England's biggest music-related television program at the time. Guests who came on the show were asked to lip-sync and mime playing their instruments instead of playing live.
Archer recalls in the book how an interview they did before their appearance ruined everything.
"As we were standing in the corridor, they asked me, 'So, what do you think of Top of the Pops, then?' I explained that although it looked like a proper gig, it was nothing of the sort. Everyone was herded about, and an Akai sampler played crowd noise. 'It's a bit crap, really, innit?' We didn't really think it was crap; we were just giving an insider's point of view. However, they took that quote and made it massive on the page. So, we got banned from Top of the Pops. We went to Network the following week and were told the news. I felt like a proper dick. I know all publicity is good publicity, but we had shot ourselves in the foot—majorly."
Luckily, the gig didn't prevent "E-vapor-8" or Altern-8 from making its way Stateside and soundtracking the emerging rave scene.
---
Share
---
Tags
---
You might also like