'Night Owl Radio' 115 ft. K?D and Skream
Pasquale took a week off on the previous episode, using that free time to make sure every aspect of Escape: Psycho Circus was as close to perfect as humanly possible (you might have spotted him bouncing around the crowd, sporting a red hoodie, with E.T. by his side). He goes straight back to business on this show, ready to tear through the hottest tracks that he stumbled upon while he was gone.
EDC Orlando is next on the agenda, and both of our guests are artists on the lineup that you should catch by any means necessary. We already made our point about K?D in this must-see piece for Orlando, and the man of mystery strengthens our argument by acing his Up All Night appearance.
There should be no convincing needed to get you stoked for Skream, who has been a staple of the scene for what feels like forever. But on the off chance you still haven't made up your mind, the tech-fueled guest mix he delivers should put an end to every last one of your doubts.
Night Owl Radio is available via iTunes, so get to subscribing on your iOS devices.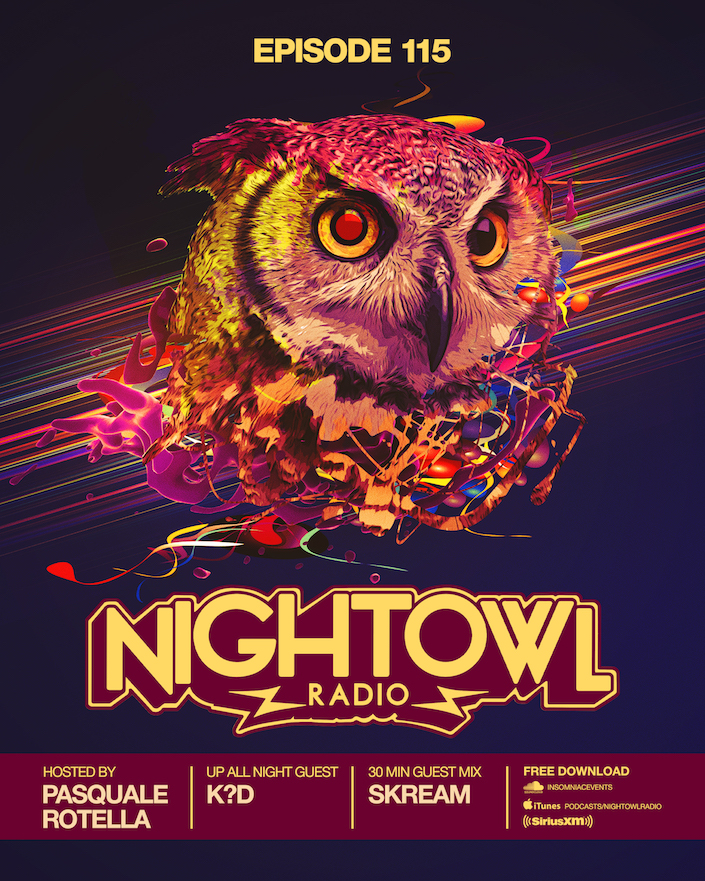 Track List:

Damon Hess & Becca B "Ready & Waiting" (Block & Crown Remix)
Solardo "Fall Down" (Carlo Lio Remix)
Damon Hess "Hectic"
Fisher "Ya Didn't"
G Jones & EPROM "Hysteria"
Antoine Delvig "Hangover"
Francis Mercier "Skankers"

Escape Shouts

Pryda "Stay With Me"
Will Clarke "Ain't No Ho"
Pablo Calamari & Wildfire "Horns AF!"
Lliam Taylor x LondonBridge "Creepin'"
Matthias Tanzmann "Elrow"
LO'99 ft. Elizabeth Rose "From the Start" (Hood Rich Remix)
Enrico Sangiuliano "Astral Projection"
Daft Punk "Doin' It Right" (K?D Remix)
Illenium "It's All on U" (K?D Remix)
K?D ft. Lolaby "Somewhere Far Away From Here"
Rabbit in the Moon "Dark Lord"
Duckworthsound & Holly "Gang Signs"
Oli Furness "Pitch Box" (DJ Swagger Remix)

Skream Guest Mix

Roni Size & Reprazent "Brown Paper Bag"
---
Share
---
Tags
---
You might also like