Yellow Claw: Boldly Going Where No Trap Has Gone Before

Amsterdam trio Yellow Claw have a brand all their own. Listening to their songs, elements of trap, hardstyle, hip-hop, dubstep, electro and moombahton all peek through, creating a unique genre they affectionately call Amsterdam trap. Although Yellow Claw have only been around for a few years, the individual members—Jim, Nils and Leo—all have storied histories within dance music as producers, DJs and MCs. Maybe it's this inadvertent training that helped them gel and skyrocket to the top of the Dutch charts within such a short period of time. Now following up their seminal Amsterdam Trap Music Vol.1 EP with Amsterdam Trap Music Vol.2 on Mad Decent, YC's Jim Aasgier reflects on the trio's beginnings and where they go from here.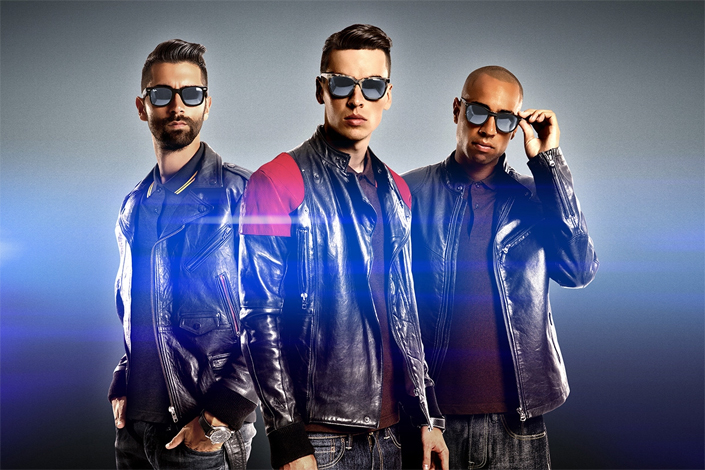 Yellow Claw has been around for only a couple years. What were you doing before that?
Nils and I both used to DJ. For me, it was more of a fun thing to do. I used to play hip-hop and R&B records: Neptunes, A Tribe Called Quest, that kind of stuff. After a while, the sound of it bored me. This was around the uprising of dubstep and the dirty South kind of beats. Nils and I started mixing those two up and trying to play sets of both hip-hop and dubstep, and I think globally that was happening and led to this trap sound. And that was that.
How did the three of you decide to come together and do Yellow Claw?
I knew Leo because I directed music videos—I direct our own music videos as well—and I did one of his videos when he was still an R&B singer. Nils was a fellow DJ, and I liked his style. There was this open spot at a big club in Amsterdam, and they called Nils and asked him to fill in for a night. Nils called me and asked if I wanted to play together with him. The club said the night needed a name. The club's name was Jimmy Woo. I looked it up and saw that it was an old-school comic figure, and he was killed by someone called Yellow Claw, so that's what we named it. We experimented that night with different styles of music, and it was a big success. This was about two-and-a-half years ago, and from there, other people asked us to come and play their clubs. It developed naturally and really fast. This whole trap movement, we were some of the first to get out there with one or two songs that were popular on the internet. We had a few songs that all the big artists [like] Flosstradamus, RL Grime, Baauer and Diplo played, and that helped push us through the ranks.
What was the moment where you felt like, as a group, you made it?
I remember someone sending me a video of Holy Ship from a couple years ago. I think it was Skrillex or RL Grime or Baauer—people I really look up to—and they played our "Jah No Partial" remix. Everyone went wild, and we were like, "How did they get this song?" Then there was another moment where someone told us our song was #1 on Hype Machine, and I'm thinking, "What the fuck is Hype Machine?" A couple of months later, Skrillex played our song "Kaolo" in the after-movie for his tour. We didn't even know until the video came out. After that at Ultra—I didn't even really know what Ultra was at the time—there was a live feed with Flosstradamus, and they played three of our songs in their set. When I woke up in the morning, I had maybe 50 messages on my phone, and my Twitter was blowing up. That was a big moment.
You have created a lot of music under Yellow Claw in the past couple years—what's the balance for you between content and performance?
I don't think that's something that's specifically "now." I like it better if an artist only plays his own tracks because there are a lot of guys just spinning everything out there that's hot, and it's easy. Our focus as Yellow Claw from the beginning was to work up to a point where we have enough tracks to play a set of 80-90% original material. I think we play 95% our own material now.
If you got booked and were told you couldn't play any Yellow Claw songs, what would you play?
I don't know, we only have our own music. We get kind of out of contact with what's happening. As a DJ, you're concerned with what's a hot track, and it takes up so much time. But now we know what tracks we have, and we think about what new songs would suit that and make those. For instance, we could say, "We need something more for the beginning of the set that has more of a buildup." We see everything as fitting into the full picture.
Do you ever experiment outside of the Yellow Claw sound?
We would like to, but we've been playing so much that if we get studio time, we're so grateful for it. It gets down to doing the most needed things. I guess we have a couple of songs that aren't completely "our sound." It's fun, but then it's like, "What the fuck are we gonna do with this song?" and then it just lies around. They never get released, they never get played. For us, the live performance is number one, and the music we make, we do it to increase that performance. Even in the productions, sometimes we'll leave space for Leo for when we play it live. A Yellow Claw set, for me, should feel like a drag race. From the moment we start, it becomes harder and more intense. There's a buildup throughout the set. At the end, we want the crowd to be exhausted and the DJ that goes on after to think, "What the fuck am I supposed to do now?" If the DJ that plays after isn't discouraged, then we didn't do a very good job.
On that note, what do you think makes a great opener?
There are only two kinds of openers—the good ones, and the ones that totally suck. I used to open a lot for DJs, and it's a courtesy thing. He should serve it up and get the crowd to a certain point. It's a job to get them there. Nowadays the "DJ's DJs" are kind of extinct, and the DJs around now are mostly producers who started on their laptops. I don't hate on it, but me and Nils have been DJs for 10 years. We started on vinyl, and that's a whole different idea of DJing. You would have money for one song a week. What is the song I am buying this week? Can you imagine? What one song am I gonna spend twelve bucks on? You're lucky if there's a b-side. It's like a constant game of chess. Can I buy that? Nah, because I need that one. And it used to be that a crate of records was somebody's sound, and now anyone can walk in the club with 20,000 songs on his laptop. I think the guys that have the actual history of DJing are in a good position right now because a lot of producers really can't live up to the reputation when DJing. This is no hate, you just see it. These kids have a big song, and then some manager puts them onstage.
You take the live aspect of what you do very seriously. Does that mean no partying while on the road?
I think I stopped drinking maybe three or four years ago. There's a lot of time lost in drinking. We don't drink on tour or when we're DJing. You know what it is—every party you go to, every set you play—if you drink, it's going to be wonderful. You can never have any critique on what you do or what you sound like. I've seen DJs play drunk. It doesn't look good.
What's the dynamic like for you guys in the studio?
Nils is the more technical guy—he's the guy that knows everything about the programs. I played piano all my life, and I studied piano in conservatory, so I naturally fill that space. I'm at the keyboard and focus on the toning elements and the more musical parts of it. Our EP that just came out on Mad Decent is both hard and has a musical quality to it. I'm an idiot with the programs. I know a couple of things that I need to know for my end of it, and I tend to only use that stuff. Leo is always coming up with crazy ideas. We can have something finished, then he comes in and says something that triggers us to start all over. We're DJs that decided to learn how to produce for functional reasons and are still learning a lot.
Speaking of collabs, what was it like working with your collaborators on Amsterdam Trap Music Vol.2?
Wacka Flocka is one of the nicest persons you will ever meet. He is very genuine, and in the studio, he is really open to new stuff and the perspective of what a DJ/electronic producer wants from him. For him, it's a completely different game from his usual hip-hop stuff, but it's cool to see him really master it. I think we made three or four songs in total, including a very cool verse of him on our song "SHOTGUN," which we shot a video for last winter. Diplo is that guy that knows it all, knows everybody, and has done it all, and he's not afraid to share some of that wisdom. So hanging out with him in the studio or just grabbing dinner is just very inspiring. Beenie Man is truly the king of dancehall. We were very fortunate that he dug our sound and could really work on that beat. I'm still amazed with his delivery, since this is normally not his kind of music.
What can fans expect from this EP that is different from previous Yellow Claw songs? How have you guys evolved?
Amsterdam Trap Music Vol.1 was all about really looking for those crazy sounds—the sounds that will blow up your speakers. Amsterdam Trap Music Vol.2 is all about guarding that sound and putting some real music in there, really getting on the keyboard and playing stuff. We worked with different vocalists and are still searching to make it that big-room festival, trappish hardstyle EDM, speedbubbling sound that is Amsterdam trap music for us. It's all about going wild, wilder, wildest in the studio. Nils started a project yesterday that is called "Kaolo 3." This is probably the start for Amsterdam Trap Music Vol.3. Where this will take us—we don't know—hopefully to a place no man has gone before.
Follow Yellow Claw on Facebook | Twitter
---
Share
---
Tags
---
You might also like