Where's Wilson? Fighting Anxiety and Depression 1 Volleyball at a Time
Ba BOOM.
BA DOOM.
DOOM.
A man in a white doctor's coat steps out from behind a surgical curtain.
"That may sound like heavy bass. But it's your heart… in the middle of a panic attack."
He turns to face another, more dramatic camera angle.
"Music festivals can be a great adventure. We all know that," he says with a knowing smirk. "But what happens when things… get a little too adventurous? We all have our limits. In the vast, sometimes strange, and always noisy landscape of modern music festivals—rubbing shoulders with thousands of strangers? Well, we've all felt a little… anxiety."
The word "ANXIETY" flashes across the screen in red letters.
"That's where I come in. I'm Dr. Nickels Haffenhole, Ph.D., and today I'm here to help you."
Dr. Haffenhole evaporates in a puff of purple glitter-smoke. In his place appears a wildly dressed squad of smiling weirdos.
"WE'RE 'WHERE'S WILSON?'! AND WE'RE HERE TO HELP!"
One of their number—a tall, slender man with short, brown hair—steps forward. He holds before him a remarkable staff, the type one might expect a wizard to carry. Like an inverted exclamation point, it is crowned with a distinctively marked volleyball.
It bears the imprint of a single human hand.
"I'm John Crossley, cofounder of Where's Wilson," he says serenely. "Let me tell you a little bit about our special organization."
The scene cuts to John sitting in a green rocking chair across from a dazzlingly handsome journalist who, with a shaved head and a cavalry officer's mustache, brings his own odd brand of gravitas to the interview.
Insomniac: Where's Wilson is more than a nonprofit that contributes and raises money to help fund research toward treating and helping anxiety and depression. It's an active, growing collective that attends festivals and lends itself to establishing, spreading, and maintaining good vibrations at festivals—which, for some, can be pretty intimidating. How did this all kick off?
John: It all started at a 2016 festival in Florida with a group of nine people, who we'd somehow crammed in a two-bedroom in Tampa. During the course of the weekend, my friend Adam Wilson had continuously gone missing. One minute we're walking to another stage, the next you'd turn around and Wilson was gone… only to pop up an hour later, smiling, with chicken fingers and beers. During that weekend, we realized we needed our own totem to help us find one another.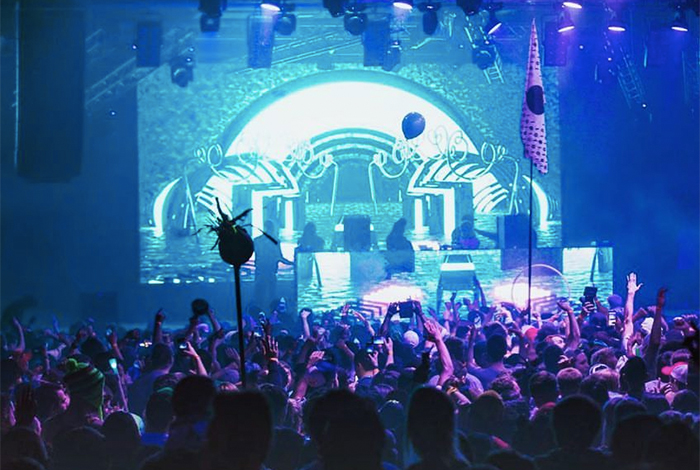 Our friend Lauren suggested that it be the Wilson volleyball, since it was Adam who was constantly missing. By August, we were walking into our next festival in Atlanta, with Wilson floating six feet above us. At the end of the weekend, our squad had doubled.
So, it grew on its own at first. When did you know you had something special on your hands?
From the beginning, the "love and acceptance" vibe just flowed around us—people everywhere yelling, "WIIIILSON!" It was shortly after our second festival with the Wilson volleyball, at EDC Orlando '16, when the epiphany came: "Every one of us is seeking that acceptance and love, the same kind that Wilson provides to Tom Hanks in the movie Castaway. But in the midst of that search we can sometimes run into the opposite emotions." After discussing it with our ever-growing squad, we decided we should use the totem to raise awareness for anxiety and depression, one music festival at a time—to be a reminder and a symbol for those that need it most.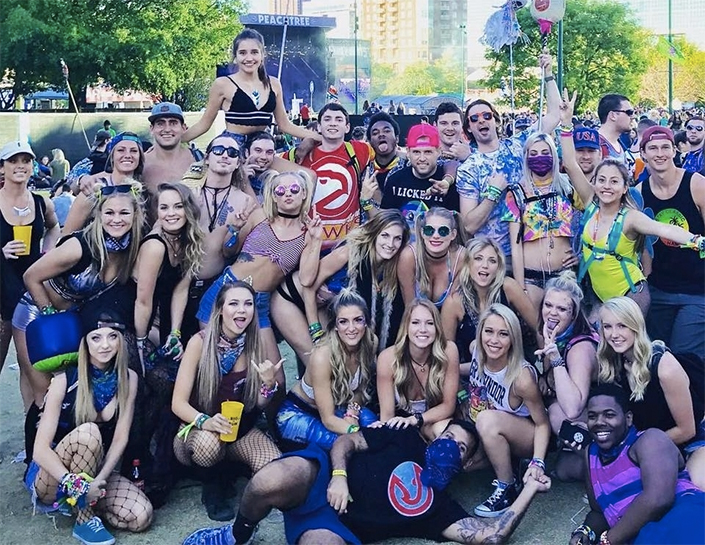 From here, we registered as a company, launched @Wilsontotem on all major social media platforms, created a custom bracelet via Electric Family, started a GoFundMe campaign, and launched our own website, letting festival people know how to participate—and how they might financially help by purchasing a custom bracelet or T-shirt.
Tell us a bit about your own, personal experiences with dance music fests.
Like most people, I was blown away by the first festival Adam and I went to. Somewhere along the way, we made a lot of really close friends and experienced love in the form of acceptance. It didn't matter where we came from, what we looked like, or how we dressed. We found ourselves immersed in the most beautiful part of life. Now we're simply organizing to spread it.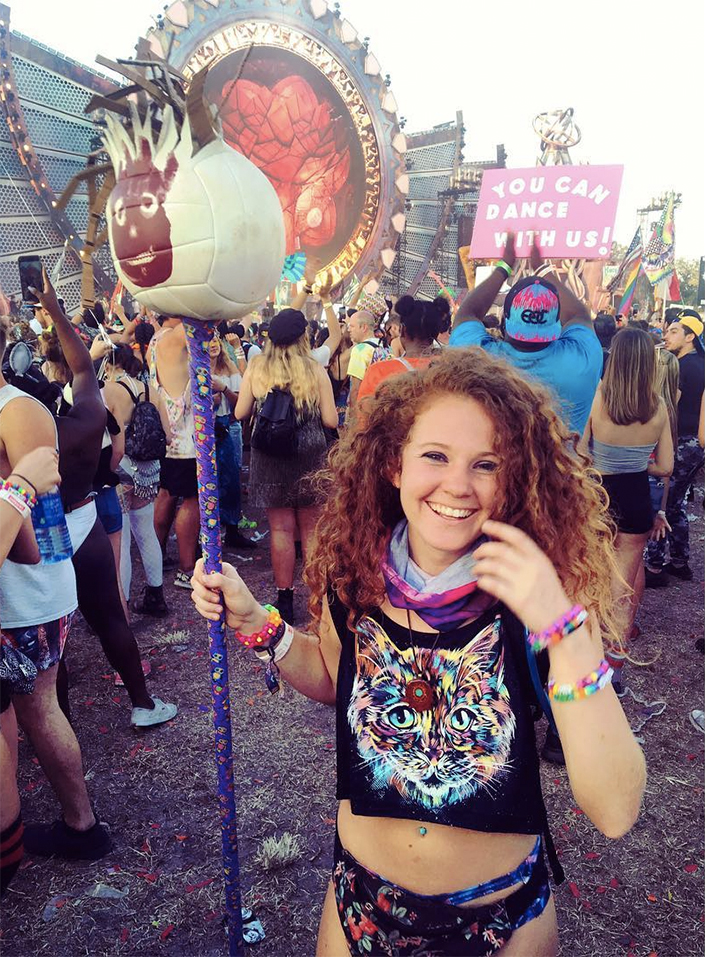 How does offering help with anxiety and depression relate directly to dance music, and more specifically festivals?
Neither anxiety nor depression have a race or religion; they visit people of all backgrounds and genders. But it often takes a horrifying event, such as Chester Bennington taking his own life, to get us to sit up and take notice. These things can be overcome with the love of others. Where's Wilson? doesn't pretend to understand anxiety and depression, nor are we certified to assist those suffering from it. But we will assist in connecting individuals with professionals that will help, such as NAMI (National Alliance on Mental Illness).
The festival industry as a whole is filled with individuals looking to foster new friends, or create intimacy with the ones they have—individuals searching for their Wilson. Where's Wilson? is here to be a symbol and remind everyone that you are not alone, that you will always be accepted and loved, no matter your circumstances. Should the moment come when you need professional help, we'll do everything we can to connect you with people that can.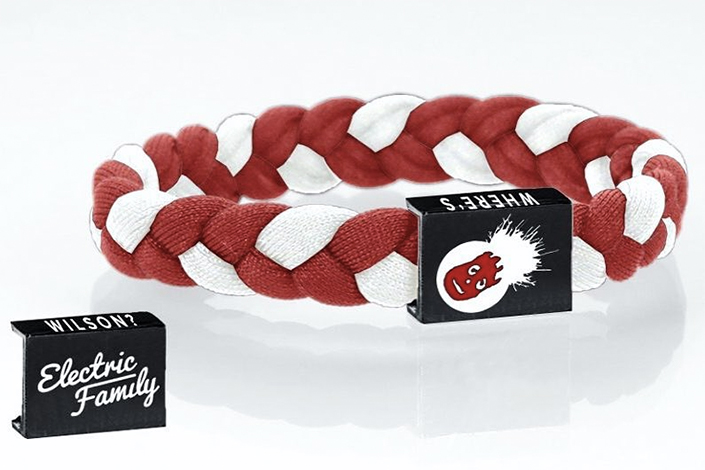 What sort of response have you gotten to the group?
By the time summer of 2017 arrived, Where's Wilson? was made up of 60+ beautiful souls, from all over the US. We've had 395,000 people interact with our Snapchat filter and over 245,000 people participate in our most recent contest on Facebook. At every festival, people line up to get their picture taken with Wilson—allowing us to tell them who we are and what we do. Our '17 Electric Forest crew reported seeing at least three other Wilsons floating around that weekend!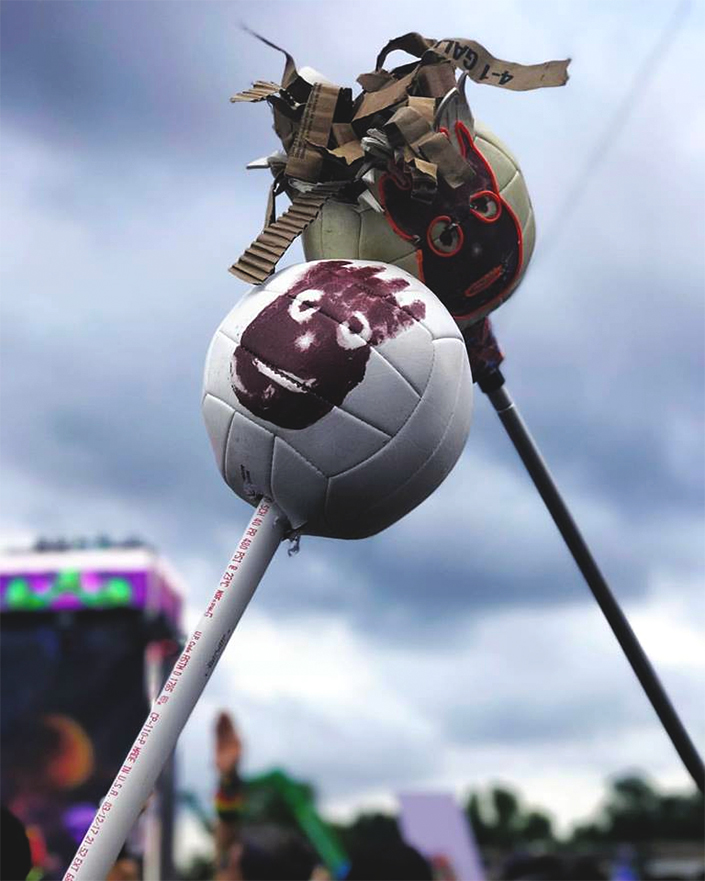 *The image shifts from the interview to colorful images of people at festivals, having the time of their lives.
Narrator: "Our lives are filled with symbols, brands, trademarks, and iconography—most of it corporate."
However.
Occasionally an individual human being, or a group, puts the feeling first and the symbol second. And that's when it's safe. Something to believe in. To get behind.
Where's Wilson? is completely volunteer-based. No one receives pay of any kind, and they're able to donate up to 40 percent of their budget to organizations that help those suffering from anxiety and depression. Visit Wilson online. Tell a story, buy a bracelet, get something off your chest.
Smile.
Follow Where's Wilson? on Facebook | Twitter | Instagram | Snapchat
---
Share
---
Tags
---
You might also like