We Brought a Totem to Las Vegas Motor Speedway on Race Day, and Here's What Happened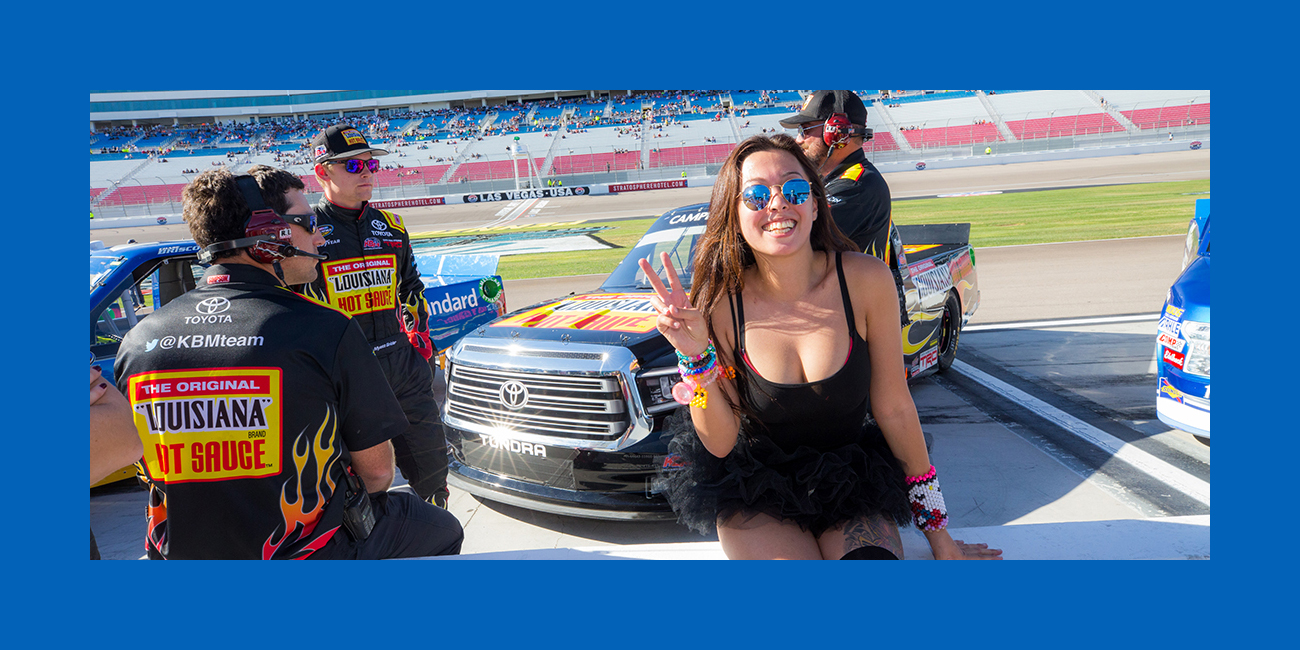 As I sit alone in the dark—feet plastered to the freezing tile of my kitchen floor, eyes glued to the suffering now unfolding on TV—I am crippled with an indescribable feeling of heartache, despair and misery. It's 10:26 pm on Sunday, October 1, and we have just endured the deadliest mass shooting in modern US history.
Vegas is my home. It's also home to some of the world's greatest offerings, including music festivals like Route 91 and EDC. When it came time to write this article, my heart immediately went to those affected by the tragedy. It is with this story that I remind people: Nothing is more important than love and solidarity. In a world plagued by senseless atrocities, I find comfort in knowing there are more good people than bad—people who come from all walks of life, including different cultures and communities. Among those are the citizens of Las Vegas.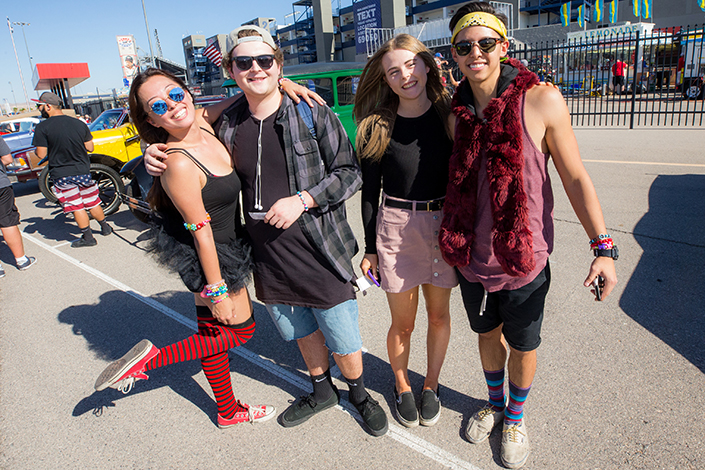 Turn back the clock 36 hours. Unaware of the events to come, I bustled with energy as I put on my black tutu and my favorite kandi and made my way to Las Vegas Motor Speedway. For three days out of the year, it is home to EDC, but for the other 362 days, it hosts a completely different kind of full-throttle entertainment. We went to the Speedway to see if we could find any like-minded souls during race day. What we discovered was profoundly uplifting.
My heart pounded as I pulled up to the parking lot. The track stood there in all its glory, the familiar sound of bass now replaced with the thunderous roar of cars zooming across the concrete. Donning red-and-black tights, my beloved red Chucks, and a tutu you would never see at a NASCAR race (oy vey!), I marched down the stairs of the iconic arena, waving my totem loud and proud, as guests began to look my way.
Three hours later, I would leave pleasantly surprised, reflecting on the dozens of conversations, hugs and interactions I enjoyed that day. In a single afternoon, I learned so much about the spirit of NASCAR and, more importantly, how they feel about raving.
"It's the good life!" said Las Vegas native and avid car enthusiast Mike Snodgrass, 54. "I wish I was younger so I could go for fun. I've worked EDC several times in the past—to make sure there are no power outages or anything—and it looks like a blast. I would recommend going, especially if you've never been."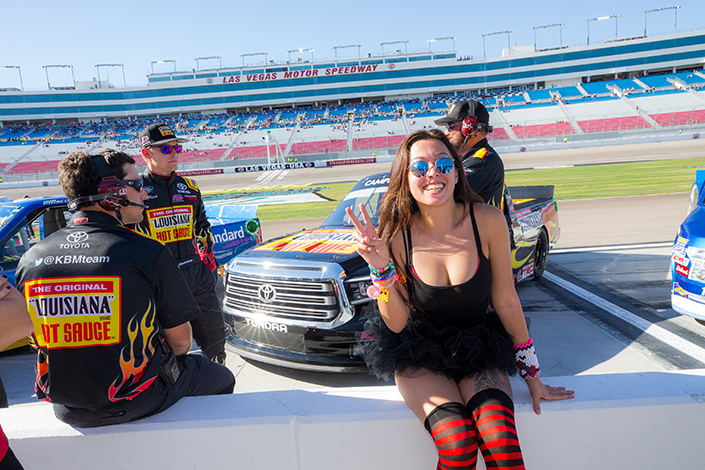 Fellow car show attendee Dave Alexander, a man in his 60s, laughed and said, "I've heard of EDC but would never go—it's way too wild for me!" His wife Teresa added, "Let the kids have fun! We used to have fun back in our day, but it was in the desert, with no supervision. The good thing about EDC is that it's in a controlled setting."
College student Amanda Smith had recently attended her first EDC. She said she would love to go again but is moving out of state. On the flip side, Utah residents Emma and Gavin, 18 and 19 respectively, told us they have never been to the festival but would love to go, should there ever be an opportunity.
We also spoke with a young girl named Destiny, who looked no older than 16. When asked what she thinks of EDC, she replied, "I have no idea what that even means."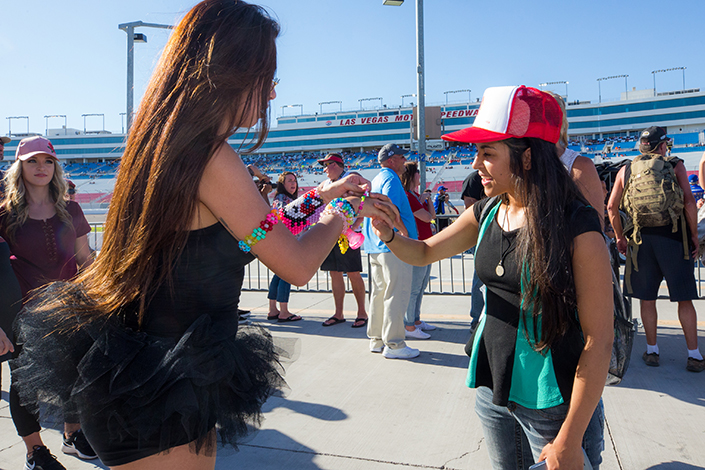 Baffled, I grabbed her hand and pulled her close. I probably seemed like a crazy person, but she went along with it anyway (thanks, Destiny!). I proceeded to explain the mantra of "PLUR," pulling out a beaded bracelet as I described the importance of the sacred acronym.
"Peace, love, unity and respect," I said as I transferred the bracelet to her wrist. "We cherish these four words because they are—and always will be—the most important aspects of our society." I could feel the exchange of positivity as she radiated with exuberance. She thanked me for the gift and hugged me before she left.
These were just some of the many reactions I encountered during my time at the Speedway. Although I was nervous at the beginning, my heart warmed at the overwhelmingly positive response these men and women had for the rave community, regardless of their age, background, or familiarity with EDC.
Today, as I look back on this experience and the immense sorrow that quickly followed, I realize that now, more than ever, our lives aren't measured just in years. As a wise man once said, they are "measured in the lives of people we touch around us"—whether that be good or bad.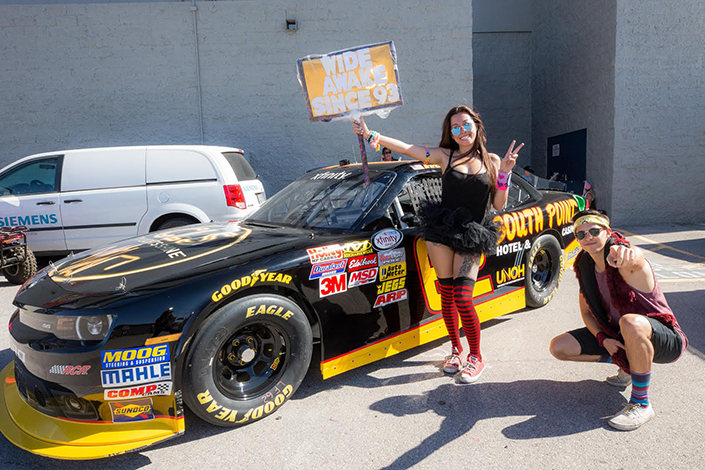 Despite the somber cloud that now hangs over Las Vegas, I know in my heart of hearts that people are fundamentally good. I knew it that day at the NASCAR race, and I feel it every time I'm around my fellow ravers. I see it everyday in the people who have come together to support us during this time of need, and I am hopeful for a better tomorrow, thanks to the remarkable strength, depth, compassion, and unity shown by the world these past few days.
Whether you like NASCAR, EDM, country music, or anything in between, I wish you the best in all your future adventures. Take risks, be kind, tell people you love them, laugh at everything, and seize each opportunity—for tomorrow is never guaranteed.
Our hearts go out to those affected by the Route 91 Harvest Festival tragedy. Please take a moment of silence to honor our fellow festivalgoers and their friends and family.
---
Share
---
Tags
---
You might also like