The Rest Is History: Dim Mak
Upcoming Event
The Rest Is History analyzes the most relevant and noteworthy record labels in the electronic music realm today. Via in-depth interviews and a deep exploration into the imprint's discographies and storied past, the series chronicles these labels from inception as they cross into eternal electronic music history.
Editor's Note: The author of this feature was a full-time Dim Mak employee from 2013–14.
You wouldn't recognize the old-school Dim Mak sound today if you fired up the very first vinyl the label printed almost 20 years ago. The thrashing guitars, the battering double bass pedals, and the distorted growls of the label's past acts are a foreign language when compared to the bombastic beats, the heavy bass, and the house and electro supremacy of Dim Mak's current roster. The metamorphosis from a punk and hardcore label to mainstage dominators and leaders of the modern-day EDM boom is an untold mystery that could be explained only through a deep dive within the Dim Mak vaults, all the way into today's digital libraries.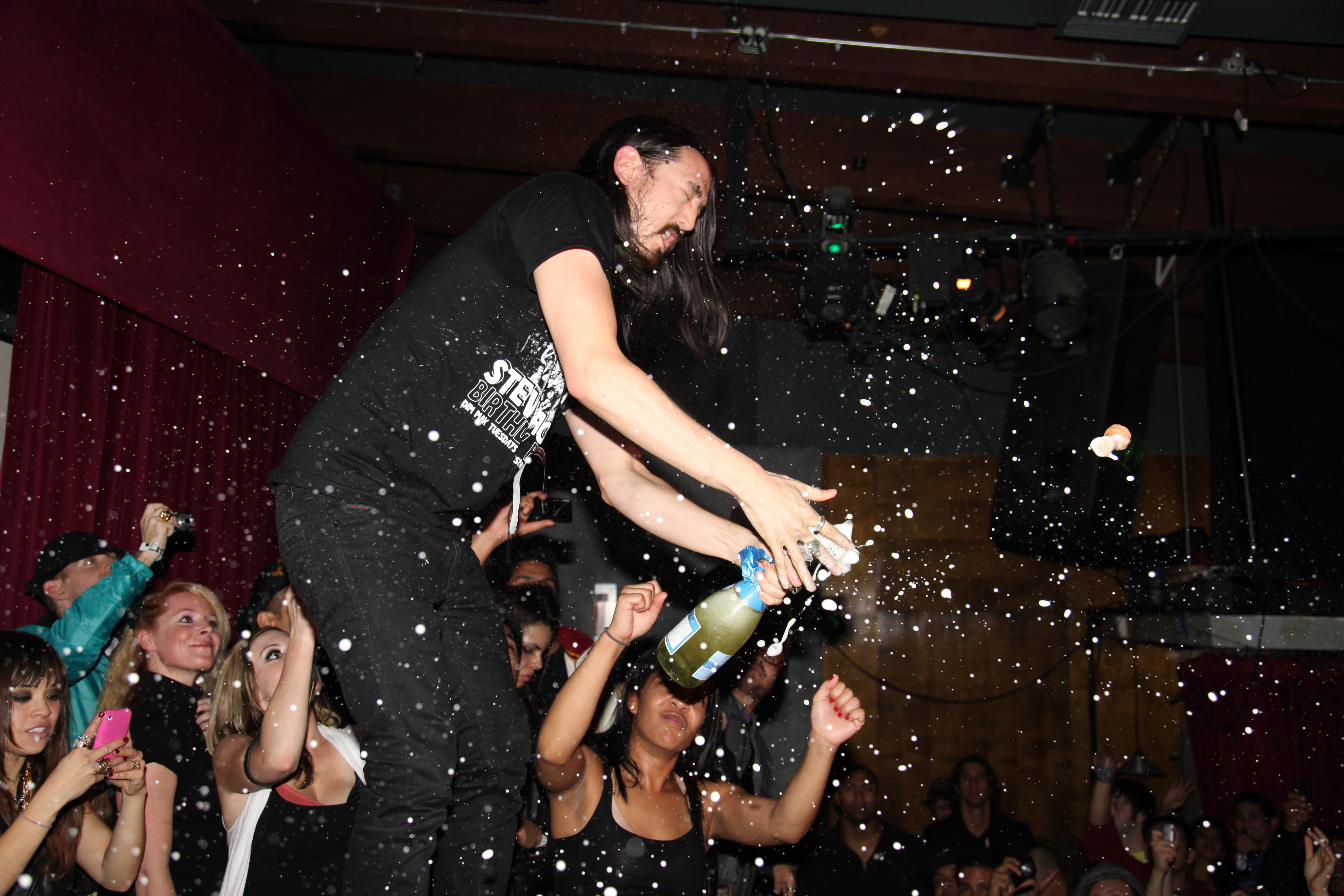 A lot has changed in music in the past two decades. Technology has disrupted everything. Trends and fads have launched and died. Bands have crashed and burned. Labels have come and gone. The times, they are a-changin', but Dim Mak has survived it all via a continuous roster of cutting-edge artists and sounds. Powered by the label's DIY mantra—"By Any Means Necessary," instilled by their fearless leader Steve Aoki—Dim Mak has persevered on a long, arduous journey to become one of the exemplary pillars of modern independent music.
As the label approaches the 20-year benchmark, The Rest Is History explores Dim Mak's trajectory as Aoki and crew took the fledgling label from operating out of his tiny Hollywood apartment to becoming a bona fide cultural institution within electronic music and beyond.
Aoki's College Years and the Launch of Dim Mak (1996)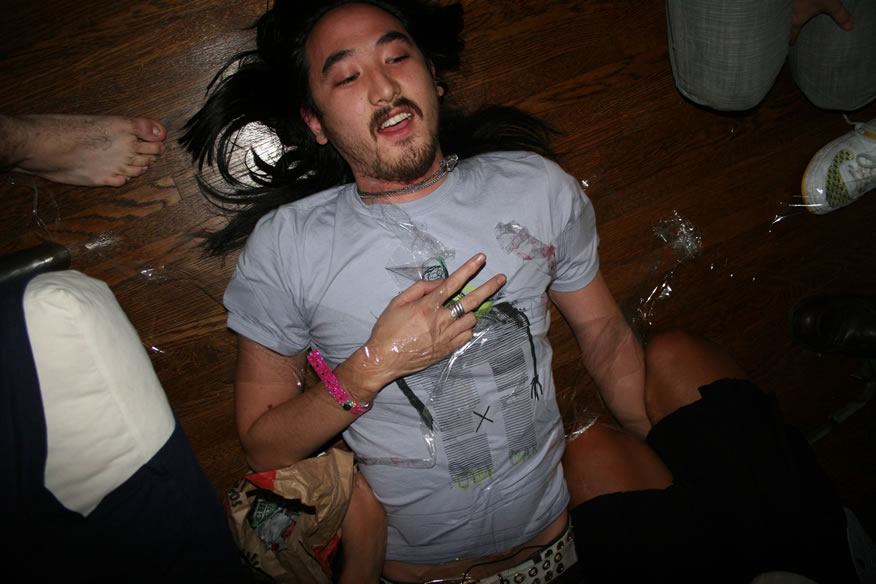 Through and through, the sound of Dim Mak yesteryear up to today is defined by Aoki's eclectic tastes. Prior to becoming the internationally touring, Grammy-nominated artist he is now, Aoki was once a punk rock and hardcore kid growing up on the streets of Newport Beach, in California's Orange County.
"I was a sophomore in high school, and I got a mixtape from a friend of mine. I literally just felt passionately involved with the scene," a rebellious Aoki reminisces about his earliest musical memories as a young punk. "This was the first time where I understood music as a lifestyle. You listen to songs, you listen to groups, but you don't necessarily need to change your clothes to look like them. This is when I did that. Everything I did was what other straight-edge hardcore kids did back then. I became vegetarian. I shaved my head. I started reading into lyrics more deeply. I started playing guitar. I started singing in a band. All that stuff is what hardcore kids did."
There was no looking back for Aoki once he hit the hardcore scene, and he later elevated his commitment to the movement during his college years at the University of California, Santa Barbara, as a double major in women's studies and sociology. His involvement in the scene ran the gamut, from playing in multiple bands to writing his own column in a local punk magazine.
From his UCSB dorm, Aoki also operated the Pickle Patch, which functioned as a makeshift punk rock venue that hosted everyone from Jimmy Eat
World and At the Drive-In to !!! and the Locust. Such legendary performances from then-unknown artists marked the first glimpses of Aoki as a budding tastemaker, which would become his launching pad into cultural relevancy years down the line.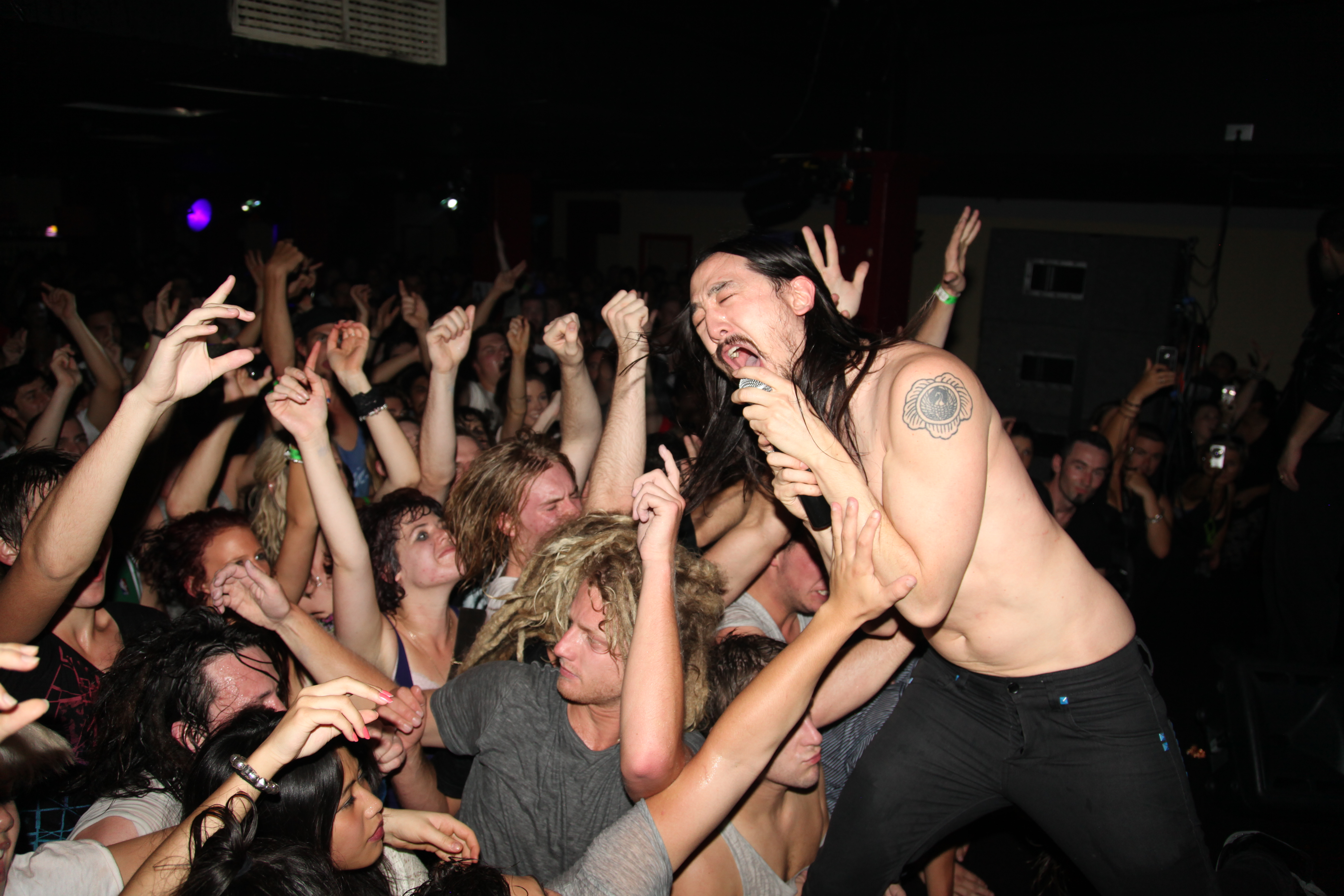 The many hats Aoki wore served one purpose: to contribute to the punk and hardcore communities. Never one to fully quench his thirst for creative expression—a trait that would carry on throughout his career as a businessman and artist—Aoki founded Dim Mak in 1996, at the age of 19, as his ultimate artistic outlet and contribution to the scene.
"Once I get involved with something, I want to be a really productive member in the group. I'm not like a guy that hides in the background," says Aoki.
The Early Years: Punk, Hardcore, and Indie Rock (2000–05)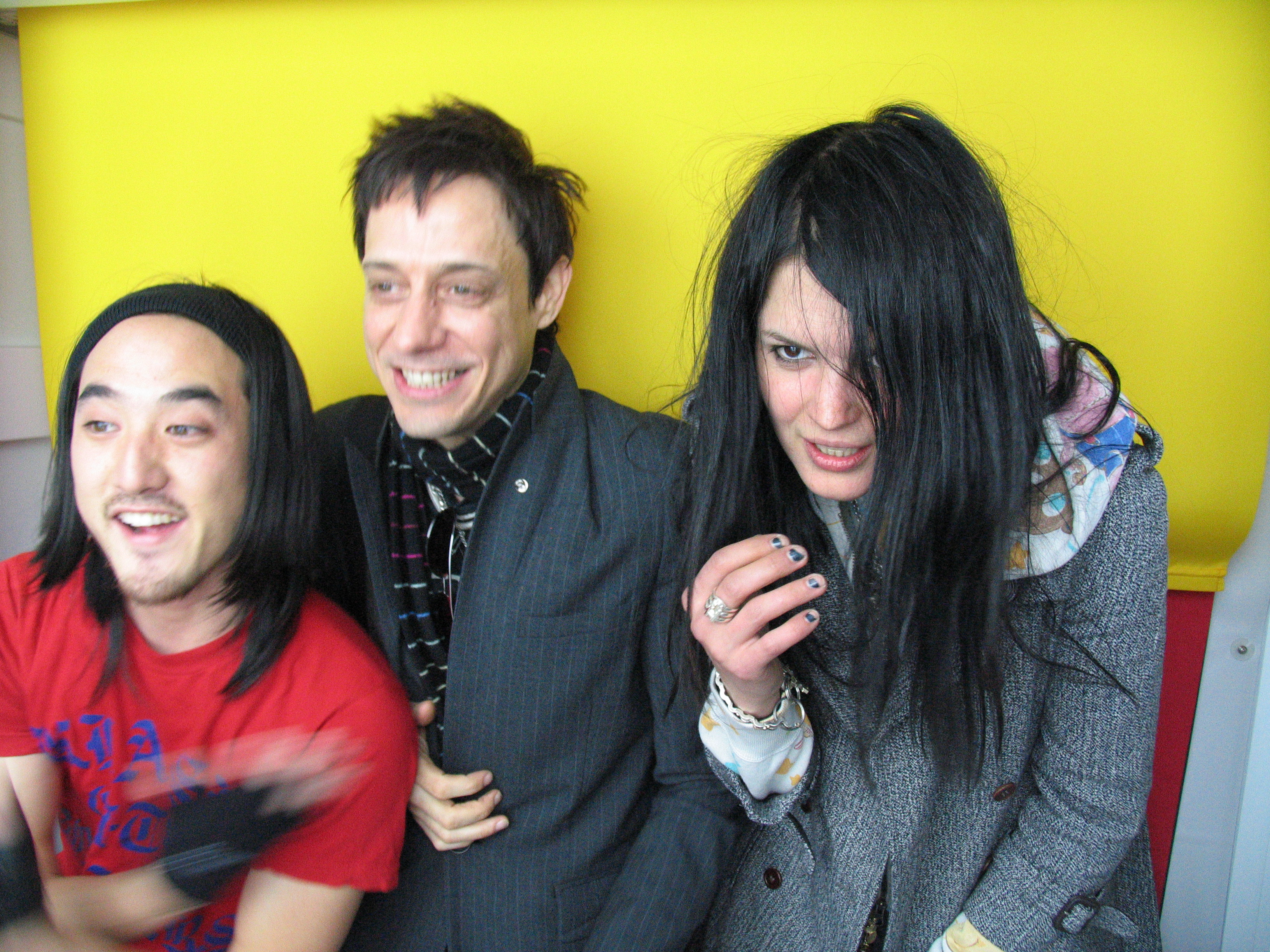 Dim Mak launched as the end of 20th century neared. Following Aoki's personal tastes, the label's roots were embedded in punk and hardcore, as proven with the imprint's debut release: the self-titled 7-inch vinyl from Southern California hardcore group Stickfigurecarousel. Completely self-funded via $400 saved up from summer jobs, as the story goes, the two-track project is still the grittiest, rawest, and heaviest in the entirety of Dim Mak's discography. Stickfigurecarousel goes for the jugular with a hardcore sound that borders on metal and will frighten uptight parents to this day. The release set the tone for the label's early beginnings and announced to the world in a loud, scary, and screaming manner: We have arrived.
From there followed future landmark projects from numerous tastemaker acts: the Kills (Black Rooster, 2002), Battles (B EP, 2004), the Gossip (Undead in NYC, 2003; Real Damage, 2005), and Pretty Girls Make Graves (self-titled, 2001), one of the label's first major projects.
Bloc Party and Silent Alarm (2005)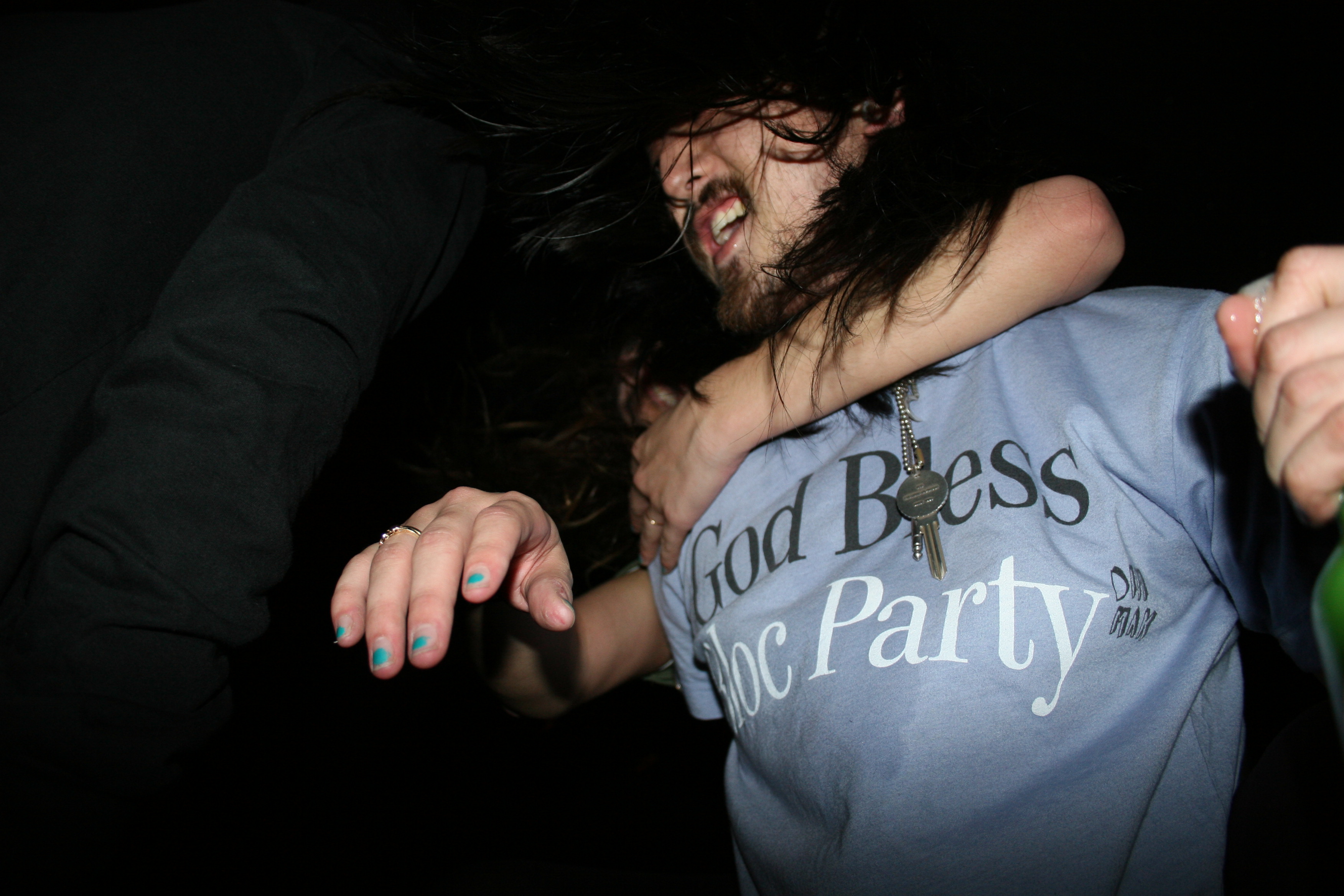 In 2003, up-and-coming UK indie rockers Bloc Party mailed a copy of their track "She's Hearing Voices" to Aoki himself. He became an instant fan and immediately snatched them up. Dim Mak then entered the major leagues with the release of Bloc Party's debut studio album Silent Alarm in 2005, a cosigned deal with Vice, and Dim Mak's first major label deal. With the wildfire success of Silent Alarm, Aoki kicked open the industry doors, and Dim Mak was now a legit player in the independent circuit. Outside investments rolled in. The label began to pull profits for the first time ever—Silent Alarm sold 350,000 physical copies in the pre-digital days of music sales, according to Aoki—and was finally able to afford an actual employee; prior to that, Aoki relied on roughly 13 interns to handle everything. More importantly, the industry began to notice Aoki as a trusted tastemaker due the success of Bloc Party and many other indie acts he helped break.
"That year, I was definitely on the cutting edge of finding artists that were about to become global," says Aoki proudly.
The Party: Dim Mak Tuesdays and Banana Split Sundaes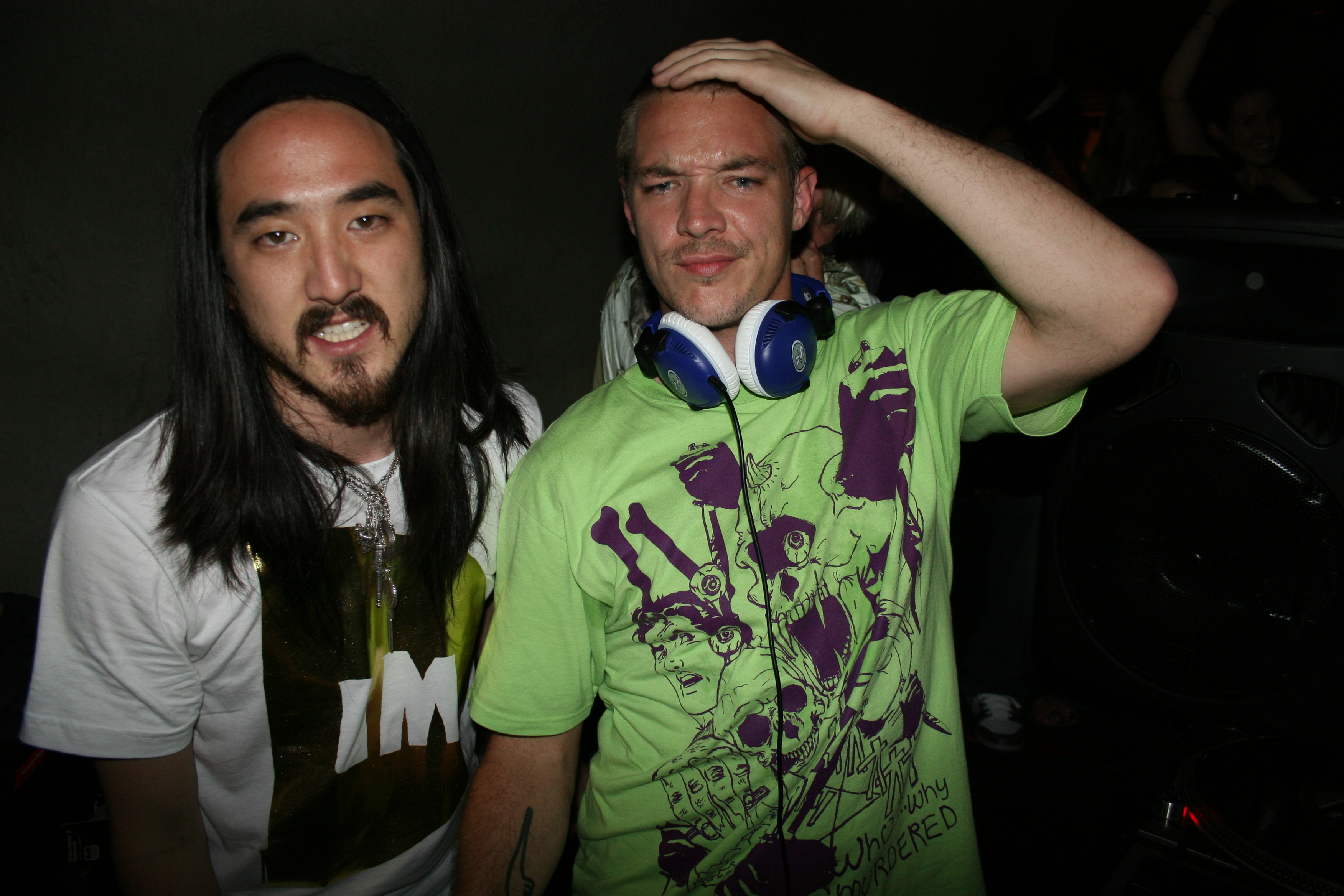 As the label began to really take off, Aoki soon launched his infamous party series. Launching as early as 2003 and held weekly at Cinespace (later renamed Dim Mak Studios), the now-defunct party became the mecca of Los Angeles nightlife. Packed to the brim with eager partygoers looking for a chance to rub shoulders with the music industry and nightlife elite, Dim Mak Tuesdays welcomed celebrities and performers of all shapes, sizes, and walks of life. Many of today's biggest stars graced the stage at one point: Lady Gaga, will.i.am of the Black Eyed Peas, electro royalty Justice, and Daft Punk's Thomas Bangalter. High-profile performances from the upper echelons of cool also included Santigold, Diplo and Kid Cudi, as well as celebrity DJ sets and appearances from the likes of Lindsay Lohan and Kanye West. It was the party to top all parties on the West Coast.
Backed on the success of Dim Mak Tuesdays, Aoki and Dim Mak also launched the Sunday weekly Banana Split Sundaes at Los Angeles nightclub LAX with the late DJ AM and the former weekly Dim Mak Sundays party at Hollywood club Drai's.
It was during the heyday of Dim Mak Tuesdays and the associated weekly events that Aoki began to cut his teeth as a DJ himself. These club nights set the basis
for the forthcoming solo career of Steve Aoki, formerly known as Kid Millionaire. They allowed him the opportunity to share new and unreleased music from the Dim Mak arsenal and elsewhere, and it is where he gained his training to soon become the best performer in the electronic music sphere, hands down.
His skills did not go unnoticed, either. In 2007 alone, he won Best Party Rocker DJ by BPM magazine, Best DJ of the Year by Paper magazine, and Best Set of the Season at the Ibiza Awards. This all led up to his win of Best Mix Album of the Year at the 2008 Billboard Awards for Pillowface and His Airplane Chronicles, his debut mix album released on Thrive Records that same year. All these accolades set an early foundation for a lengthy career full of more awards and nominations, including Grammy consideration, in Aoki's prolonged successful solo artist career.
The Electro Years: The Bloody Beetroots and MSTRKFRT (2005–09)
All eyes were on Dim Mak as they plowed through as the new leaders on the indie scene, but a new sound was arising from across the pond and invading the States. The term being tossed around was electro, and it was reminiscent of the electronica days of '90s in America.
Always one to spot trends if not create them, Aoki caught wind of this new movement and became one of the earliest adopters and innovators of the bubbling electro and electro house genres that would soon dominate the US during the mid and late 2000s. It was this timely alignment that eventually allowed Dim Mak to become a voice of youth culture within electronic music.
Luckily for Dim Mak, they had a secret weapon no other label could match: Italian electro house and dance-punk innovators the Bloody Beetroots. Led by the revolutionary and charismatic rocker Sir Bob Cornelius Rifo, the Bloody Beetroots embodied everything Dim Mak stood for: punk rock ethos, rebel aesthetics, electrifying live performance chops, and a sound that could be described only as futurist.
The Bloody Beetroots forevermore altered and shaped dance culture worldwide with the groundbreaking single "Warp 1.9," featuring Aoki's screeching scream-sing vocals, and their ruthless debut album, Romborama. "Warp 1.9" and the Bloody Beetroots once again placed Dim Mak light years ahead of their competitors and helped distinguish the label as a global force to be reckoned within the burgeoning electro house genre.
Earlier in 2009, Dim Mak made a major splash with electro house godfathers MSTRKFRT and their trailblazing full-length album Fist of God, which essentially set the stage for Romborama. MSTRKFRT was one of the first electronic acts of the early 21st century to enlist major pop and hip-hop collaborators, including Ghostface Killah ("Word Up") and John Legend, who performed the track "Heartbreaker" alongside the duo on Late Show With David Letterman. It was one Dim Mak's first invasions into the American pop culture mainstream, with many more to come in the near future. Ultimately, Fist of God was the alley-oop to the slam-dunk of Romborama.
"That was our first entryway into electronic dance music and the world," says Aoki about the tidal-wave impact of the Bloody Beetroots and Romborama. "Bloody Beetroots and MSTRKRFT were two artists that were both very much electro. Back then, it was not mainstream. It was the punk of rock 'n' roll. It waved the flag: 'We're the punks on the side, and we're making a lot of noise. And if you want to hear it, you can join us, but for the most part, you won't like us. It's too noisy, too much distortion, too abrasive.' I love it; this is my scene—not necessarily because of the sound, but because of the ideology. We don't care what you think; we're going to do our thing. We're not trying to please anyone."
The deadly combo of the Bloody Beetroots and MSTRKFRT—alongside other notable electronic-based acts like Fischerspooner, Klaxons, Battles, the Gossip, Dada Life, and countless others—marked an artistic change for Dim Mak. Moving from the mosh pits at local bars and clubs to the international festival stages, this sonic shift laid the groundwork for Dim Mak to become one of the leading figures in the American and global electronic music realm.
As the saying goes: The rest is history.
Follow Dim Mak on Facebook | Twitter | SoundCloud
Follow Steve Aoki on Facebook | Twitter | SoundCloud
---
Share
---
Tags
---
You might also like